Supercharge Your Click Through Rates (CTR)
Stuck in a creative rut? This module will empower you to write better and more powerful ads than ever before.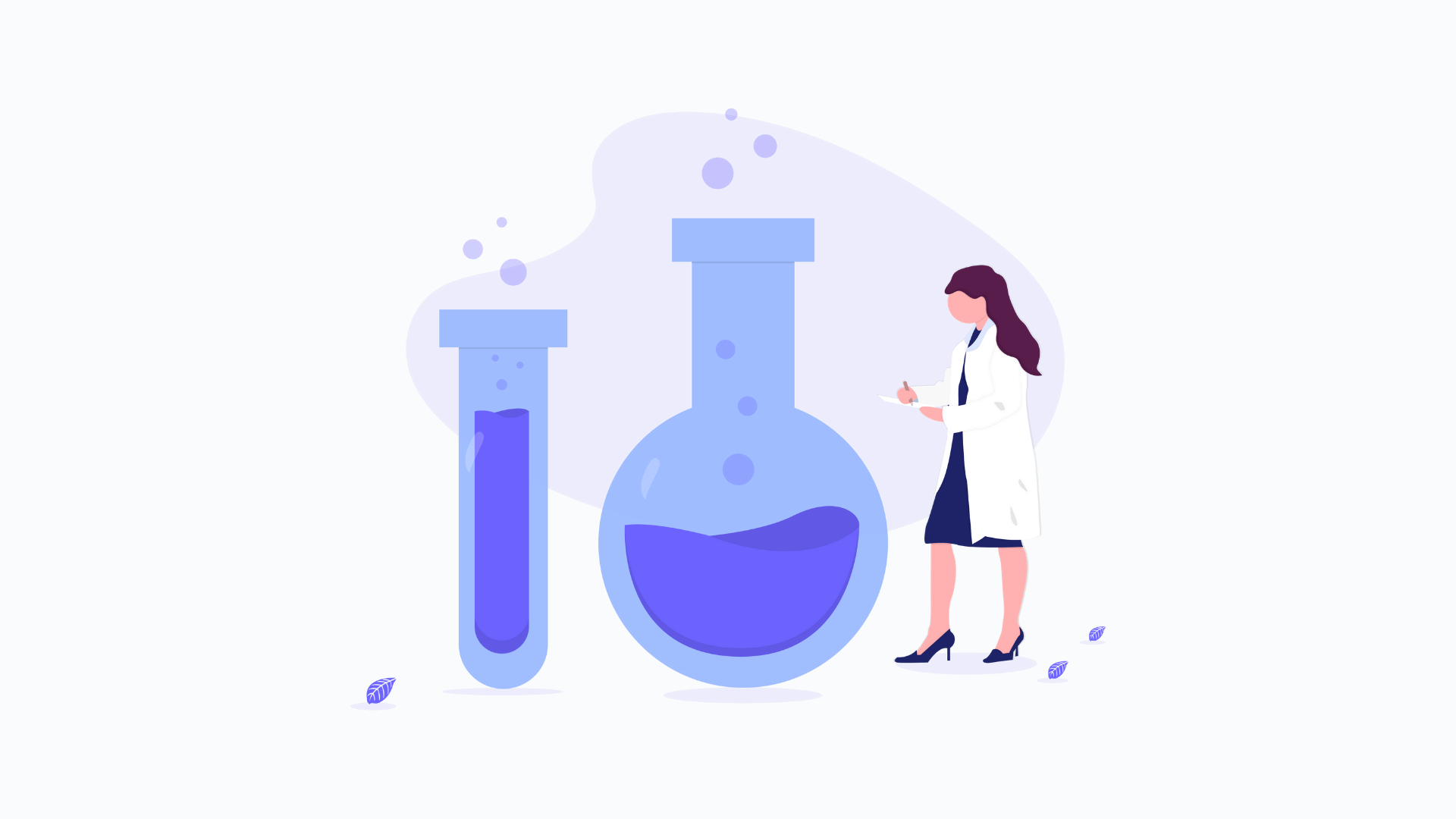 If you own a local service business, I'd like to ask you a simple question: are you really selling a service? Or are you selling something else? And if so, what is that something you sell?
Spend some time thinking about this question because chances are it doesn't matter what industry you're in—pool cleaning, lawn care, or something in between—there's much more to what you do than simply solving problems.
And if you're able to pinpoint what it is that you sell (hint: it's not a simple service), by the time your competitors figure out you're crushing it online, you're going to be so far ahead of them that it's going to be extremely hard (read: too expensive) for them to catch up.
You see, when it comes to writing Google ads, most people find a decent ad formula that works and slightly tweak it. This strategy works for a while, but over time leaves you feeling like you're stuck in a rut. A tiny change here. A small update there. Rinse and repeat.
Worse yet, this strategy leads to "me-too" messaging, which makes it nearly impossible for potential customers to differentiate between you and your competition. Everyone sounds the same. So it's no wonder potential customers turn to the lowest bidder.
But you don't have to feel this way. And your business doesn't have to blend right in.
Not only can you get REAL results from your Google Ads efforts, but you can stop the competition from doing the same to you. Today, I'm going to show you leverage the power of emotion to supercharge your ads' Click-Through Rates (CTR).
The Many Faces of the Same Ad
99% of local service businesses miss dozens of entirely different, superb hooks because they only test adjectives, verbs, URLs, and commas. Simply put, these companies (or whoever is in charge of marketing for them) think they're testing completely different ads, but really are just testing the same ad (with slight tweaks) over and over again. This approach leads to stagnation.
You see, as your Google Ads campaigns develop, there is a natural tendency to resist change because you don't want to hurt your overall CTR and drop in the rankings. Here's an example of a very successful Google Ads campaign that is also stuck in a rut:
August 2019
Terminix® – Official Site | Guaranteed Defense From Pests

www.terminix.com
Get A Free Pest Control Quote From Terminix®. Relentless Pest Control. No More Pests. Need An Exterminator? Save $50 on Pest Control Termite Protection Pest Control.
November 2019
Terminix® – Official Site | Local Service

www.terminix.com
Uninvited Visitors? Put Your Pest Problem Behind You With Guaranteed Solutions. Friendly & Courteous Technicians Protect Your Home From Pests. Get Your Free Quote. Compare Pest Plans. Multiple Pests.
January 2020
Terminix® – Official Site | Get a Free Pest Control Quote

www.terminix.com
Get Guaranteed Solutions From Terminix®. Roaches. Ants. Rodents. Local Service. Request a Quote. Multiple Pests Serviced. We Know Pests. Compare Pest Plans. Services: Year-Round Protection, Treatment
But you don't have to remain stuck in this vicious cycle of complacency. What I am about to show you will help you approach potential customers from a completely different, surprising direction. This simple tool enables you to break out of your rut and consistently score high CTRs.
It's called the Killer Ad Copy Kit, and it has nine formulas. In this module, I will share two of the most potent formulas with you, which on their own, have the power to place your local service business onto the exponential growth curve.
Now, you may be thinking, "Wait… There are really only a few things I can think of to say to my target audience, and it's tough not to sound like everyone else in my industry."
Does this sound like you?
If you're nodding your head right now, I have good news for you…
There are literally hundreds, if not thousands, of things you can write in a tiny Google Ad, which means there's no such thing as a market you can't break into or do better in—even if you've been relying on the same old control ad for weeks, months, or years.
The Killer Ad Copy Kit will help you write fresh copy for your…
Search & Display Ads

Website & Landing Pages

Email Marketing Campaigns

And so much more!
You see, with the Killer Ad Copy Kit, experimenting with new ads is simple and straightforward. You no longer need to comb through blog posts or "borrow" copy from your competitors for your ads. These are simple formulas you can apply to your Google Ads account right away.
Formula #1: Relationships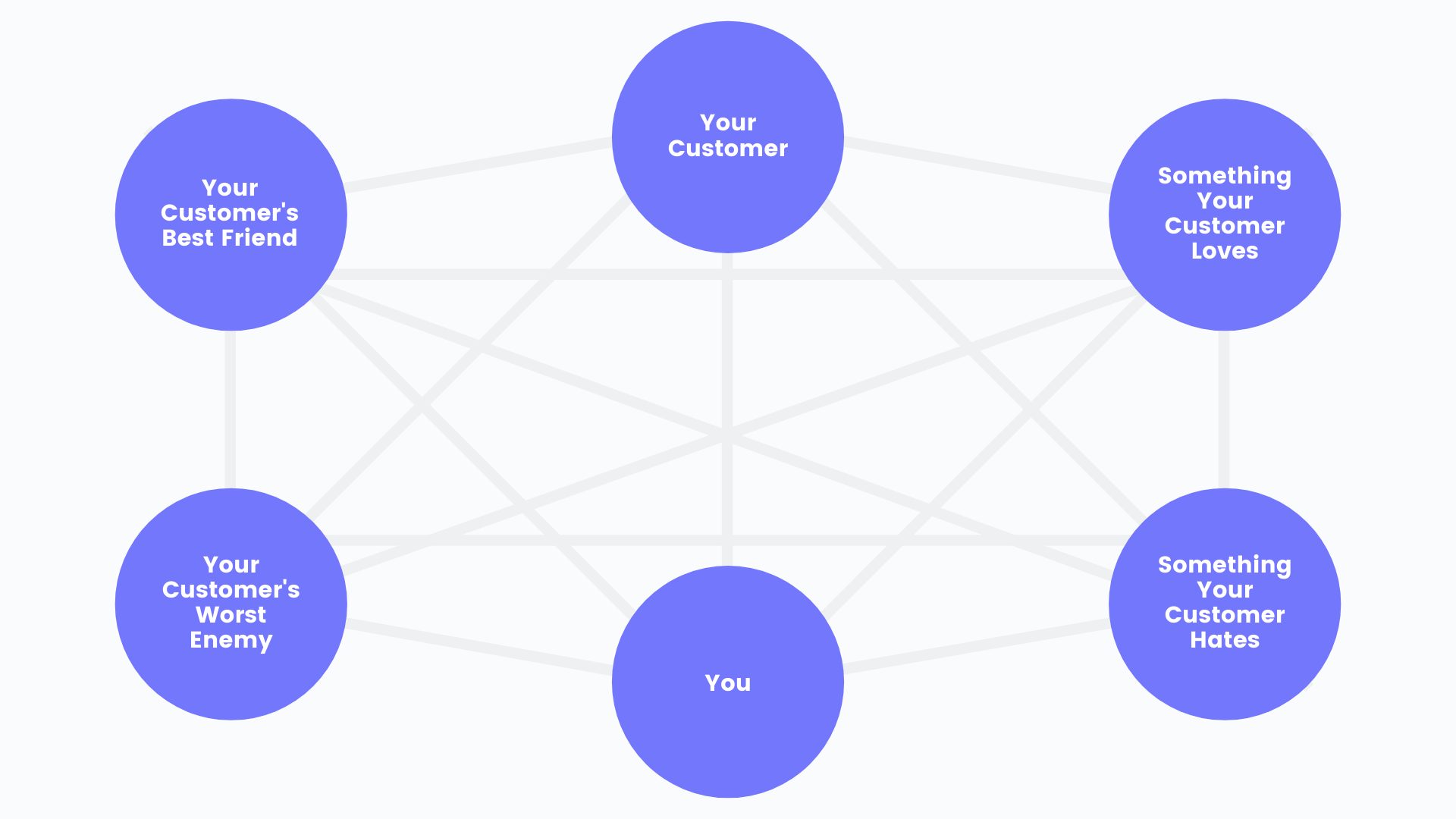 This picture shows 15 different relationships: (1) your customer, (2) a thing your customer loves, (3) a thing your customer hates, (4) you – the advertiser, (5) your customer's worst enemy, (6) your customer's best friend, and the symbiotic relationship between each of them. 
Now, most ads are about something a company sells or some really obvious problem related to the keyword. Again, writing ads in this manner leads to "me too" messaging. For example, check out the top three ads for the term pest control near me. All three mention pricing and trust/guarantees. This type of language is found in almost every single market.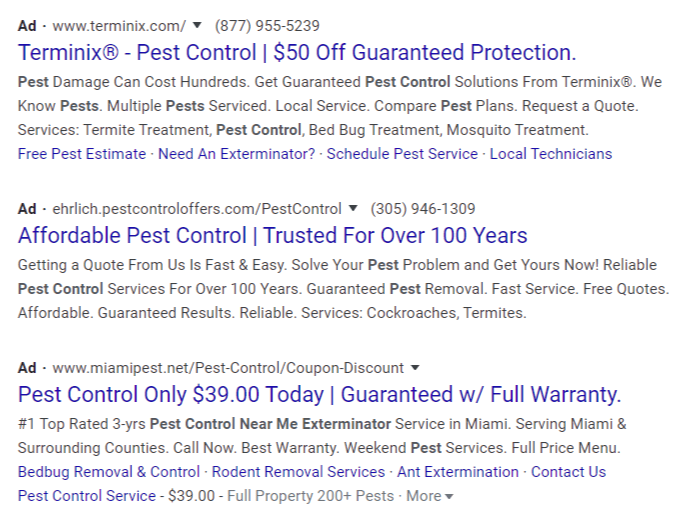 However, the Killer Ad Copy Kit gives you all sorts of hooks. For example, the number one thing a potential customer hates might be cockroaches in their kitchen:
Uh Oh, It's Breeding Season—Get A Free Roach Quote

www.example.com/cockroach/free-quote
One Female Cockroach Will Hatch 30-40 Eggs During The Summer. Catch Them In The Act!
Or their best friend might be their pet(s), and the number-one enemy is fleas and ticks:
Protect Your Furry Friends—Say Goodbye To Fleas & Ticks

www.example.com/cockroach/treatment
We Know How Important Your Pets Are To You. Get Rid Of Fleas & Ticks For Good!
How about an ad that's about a homeowner's worst enemy (termites) AND the thing your customer loves the most (their home sweet home):
Termites Cause $5B In Damages—Protect Your Beloved Home

www.example.com/termite/treatment
Instead Of Letting Your Greatest Investment Become Another Statistic, Protect Your Home!
See how much emotion you can elicit when you focus on the relationship between key stakeholders in your customer's world? This is what separates the pros from the average joes.
Now, I do not promise every ad you write using this first formula will be a home run. In fact, I can almost guarantee that will not happen. However, you'll find a handful of variations that spawn from this copywriting technique that help you cut through the noise.
Formula #2: Senses
The second formula relies on the following senses: visual, auditory, and kinesthetic. This means you must focus your copy on what a potential customer sees, hears, and feels. Most people process information in one of these three ways, so it makes sense to appeal to their senses.
Visual:
Roaches Invading Your Kitchen?—No More Unwanted Guests

www.example.com/termite/treatment
Home Is Where The Heart Is. Let Us Kick Household Pests To The Curb!
Auditory:
What's That Noise You Hear?—Six Signs You Have Rodents

www.example.com/rodent/control
You'll Hear Them Before You Ever See Them. We Get Rid Of Mice & Rats For Good!
Kinesthetic:
Itchy Bites & Unsightly Welts?—Free Mosquito Control Quote

www.example.com/mosquito/control
We Know How Annoying Mosquitoes Can Be. Our Barrier Spray Kills Them On Contact!
So far, I've shown you two formulas, which for 99 percent of local service businesses, will be enough to help you evolve from a competent competitor into a lean, mean marketing machine. There are, however, seven more formulas. So if you want to go deeper with the Killer Ad Copy Kit, you can download the cheat sheet right here.
Now, you can write new, fresh ads on command. Ready to begin? Start by using the first formula for your own local service business. Then test a few variations in your Google Ads account—not next week, not tomorrow, not later, but right freaking now. The sooner you put the Killer Ad Copy Kit to work, the faster your CTRs and Conversions will skyrocket.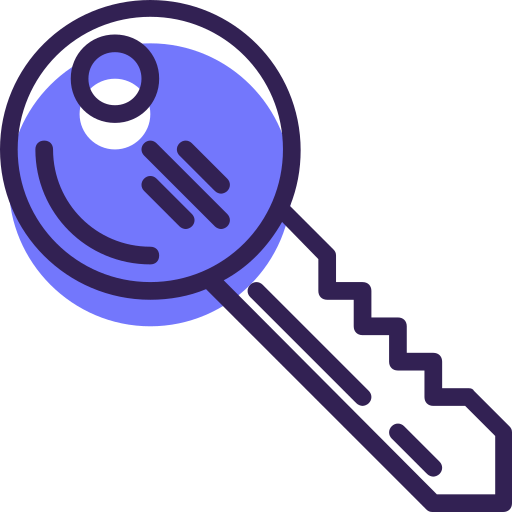 Get your FREE keyword list
Do you own a local service business? Well, you're in luck! We've created a simple spreadsheet (with our favorite search terms) for the following industries:
Download the PDF to read it at a later time OR subscribe to our newsletter to receive future updates.