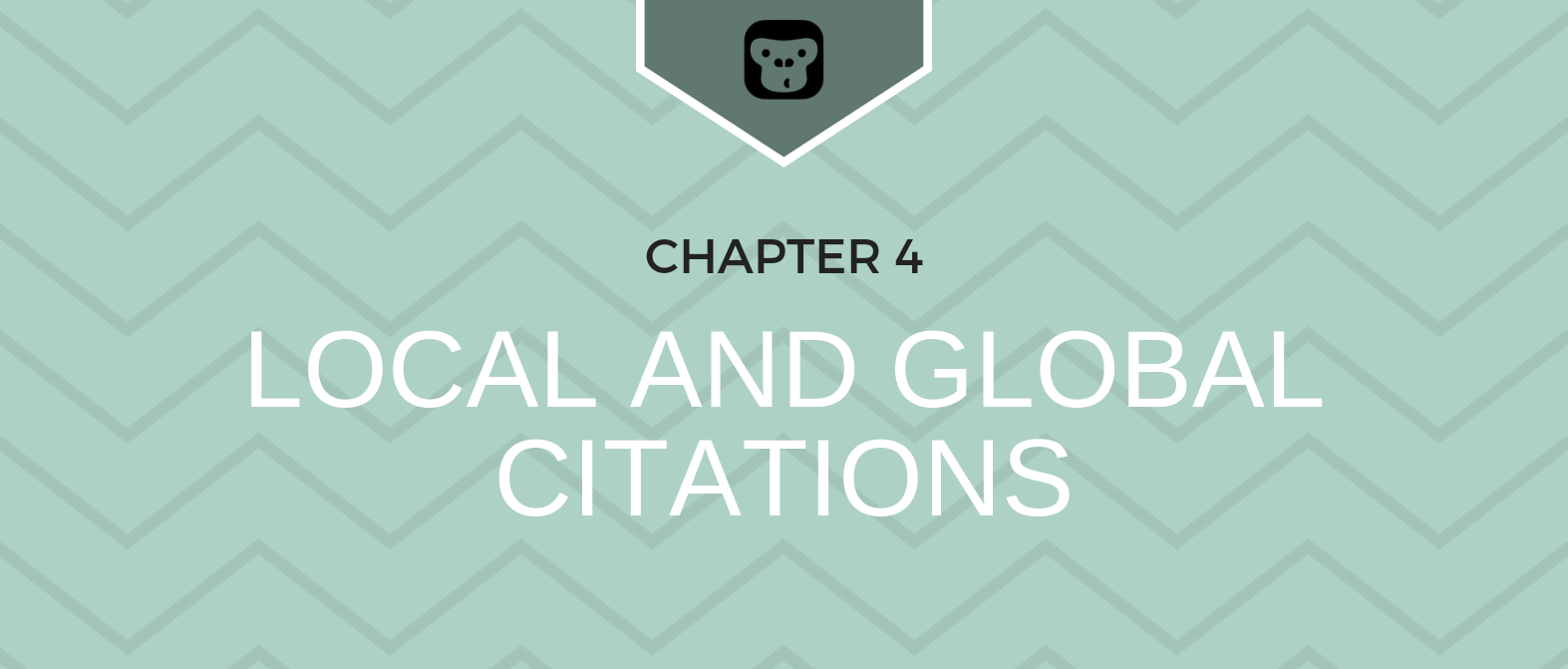 In simple terms, a citation is just a mention of your pest control business on 'directory sites.'  
You'll find that a citation is usually made up of the following information, – business name, address with zip or postal code, phone number, and website address.
This collection of information is known as a 'NAP.'
Whenever you search for a local business online,  you must see different 'citation sites popping up.
Here are some examples:

A few examples of citation sites are – Yelp, FourSquare, Bing, MapQuest, Kudzu, Yellow Pages, and others.
Here's an example of a 'built-out citation' on Yelp.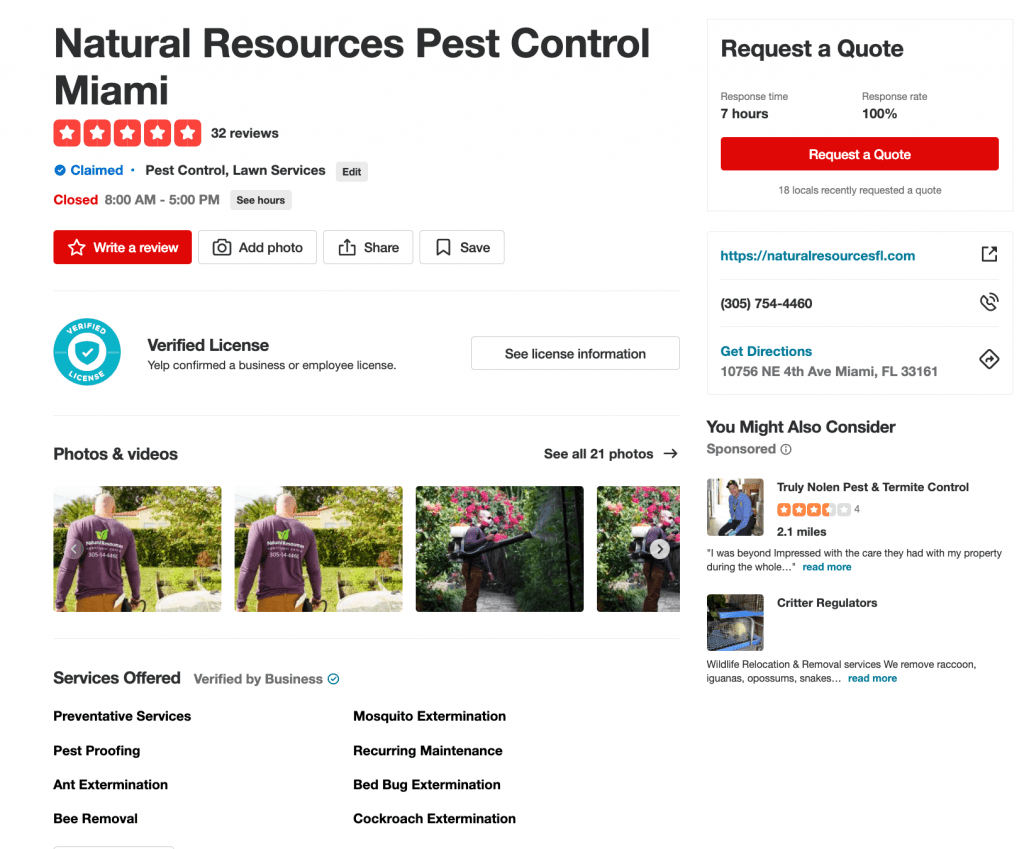 As you can see, it contains a range of information related to the business in question. Search engines use this information to figure out when a particular business should appear for a local search query.
Importance of Citations and How They Help You Achieve High Rankings
Citations are critical if you want to achieve high rankings.
This is backed up by the data shown in the chart below, which shows that citations place '4th' in terms of local ranking importance.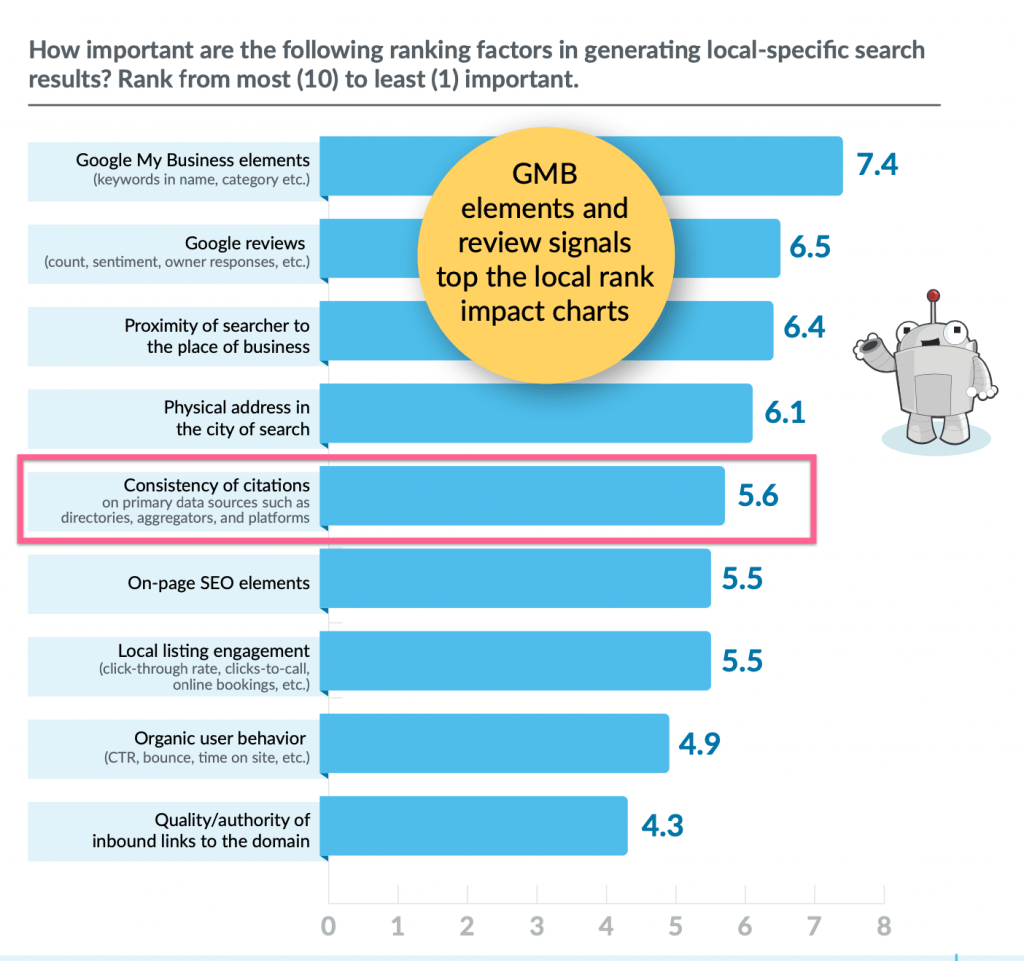 This is because a consistent citation profile improves the level of trust search engines have in your business.
Following this, your business gets priority when it comes to appearing in relevant searches associated with your business and the area linked to your business.
Component of Citations
As mentioned, the essential components of any citation listing are – N= Business Name, A= Business Address, and P = Phone Number. Otherwise known as your 'NAP.'
But many citation websites give you a chance to offer much more than that. You need to be prepared for this and have the required information ready.
Here's a comprehensive list of the kinds of details you need to define ahead of time –
NAP (Name, Address, and Phone Number)

Hours of operation

Business categories: Pest Control, Exterminators

Business Tagline

Website URL

Email address

Alternate phone number

Fax numbers (if available)

Brief business description (up to 100 words)

Services on offer

In business

Social media profile links

Payment forms accepted

Areas Served

Certifications & Affiliations

Business logo

Images and videos

Customer reviews
If you can, you should try to input as much information as you can, as it can improve the credibility of your listing.
Types Of Citations
It's worth noting that there are many different kinds of citations you can create. If you want to improve the effectiveness of your local SEO strategy, you want to create a broad range of citations.
With that said, let's take a look at the kinds of citations you can build/are on offer.
1. Standard Local Business Citations
These are the authority listing sites relevant for all types of local businesses regardless of their product/service or category.
Examples of primary local business citations are:
Facebook

Yelp

Bing

Foursquare

Yellow Pages

Merchant Circle
Google My Business (GMB) listing is also a type of primary local business citation. Popular social and review sites such as Facebook, Foursquare, and Google+ are also used as the primary local business citation.
2. Industry-Specific Citations
Search engines refer to industry-specific sites, pest control in this case, to determine the relevance of a local business.
Thus, adding your business to such sites will help make your business seem more relevant in relation to certain search terms associated with pest control.
Examples of industry-specific citations are:
Termite Control Regional Directory

Pest Control Regional Directory

PestWeb

Pest Control Portal

Pest Control Firms
3. Geo-Specific Citations
These citation sites are specific to a particular location (country, state, county).
Examples of geo-specific citations are:
Better Business Bureau (BBB)

LocalEze

EZLocal

CityGrid
Search engines regularly make changes to their algorithm, and with every single update, it seems as though they make 'geo-proximity' more critical than before. It's because of this that this type of citation is important.
4. Generic or Supplementary Citations  
These citations are general citations that you can use to boost your online presence.
Examples of Generic or Supplementary Citations are:
Glassdoor

Mention Blog Platform

Job Board Sites

Newspaper Sites
Okay, so those are all the kinds of citations you can build.
Now, to create and manage all the different types of citations, you have two routes you can go down.
Option: 1 – Do It Yourself
If you plan to handle citations on your own, you have two options:
Do it manually.

Use a 3rd party solution.
A) Do it manually
As the name suggests, you can create, optimize, and manage all the different types of citations manually.
Pros:
You have control over the information you add to your listing.
Cons:
Time-consuming.

Learning curve: You need to know the best practices to optimize these listings in order to get the best results.

As these citation sites pull data from 3rd party data aggregators, it is tough to ensure the consistency of information. It gets even tougher when you're short on time.
B) Use a 3rd party solution
If you're short on time,  3rd party tools like 'Yext' can be a good alternative.
Pros:
You need to feed in information once, and the tool takes care of pushing your data to list sites. The number of sites you 'send' data to depends on the 'plan' you select.
Cons:
You end up paying $499-999 yearly for the tool.

It only covers standard citations. It doesn't include your industry-specific directories and citations.

Once you cancel the subscription, it gets tough for you to manage all the listings manually.
Option 2: Done For You
Among serving your customers, handling your finances, and doing your taxes, citation building will probably be low on your list of priorities.
Because of this, you might find that it's better to hire someone to take care of 'citation management.'
Pros:
You can focus on doing more important things, such as serving your customers, handling finances, and so on.

As an expert handling it for you now, you can be assured that you're going to collect an appropriate number of citations and that these citations will be created properly. You'll also be able to collect a wide range of citations in terms of standard and industry-specific listings.
Cons:
You have to pay a monthly retainer fee.
All that said, you may want to go down the 'do it yourself' route.
If that's the case, the next section will teach you exactly what you can do to get the task done.
How to Create New Citations for Your Pest Control Business
Before starting with listing on a citation site, we recommend running a quick check to see whether you already have a listing on that site.
In doing so, you can avoid creating duplicate profiles on the same site.
So, how do you check whether you already have a listing on a citation site?
Go to https://tools.brightlocal.com/seo-tools/admin/sign-up/ (It's a paid service that comes with a 14 days trial)
Create your account by entering your details and then go to https://tools.brightlocal.com/seo-tools/admin/ct/tool
Once there, enter your business details.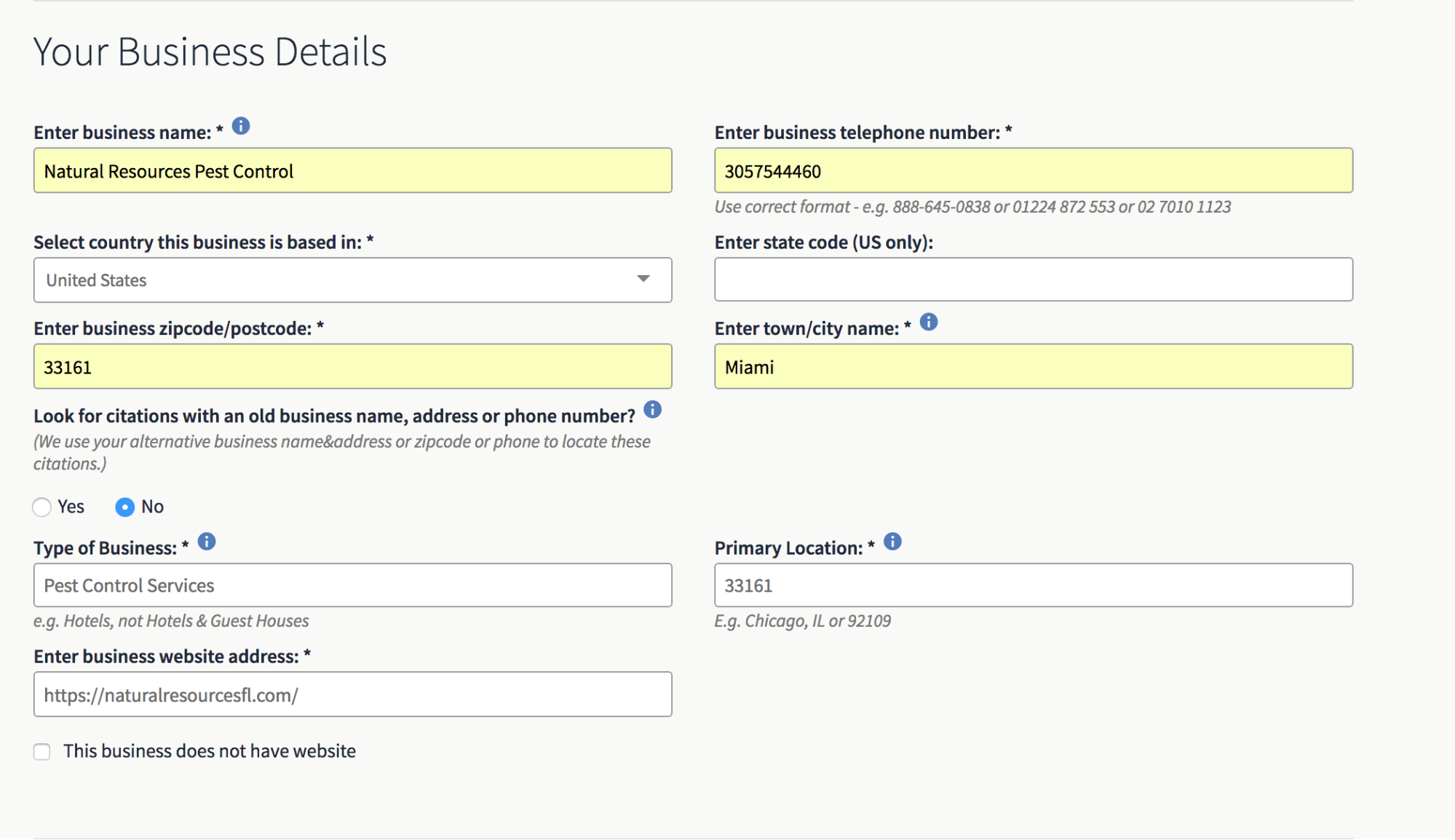 Click 'Run Citation Search' to run the report.
The report takes around 5-10 minutes to process. Once ready, it fetches your business listing from all the citation sites.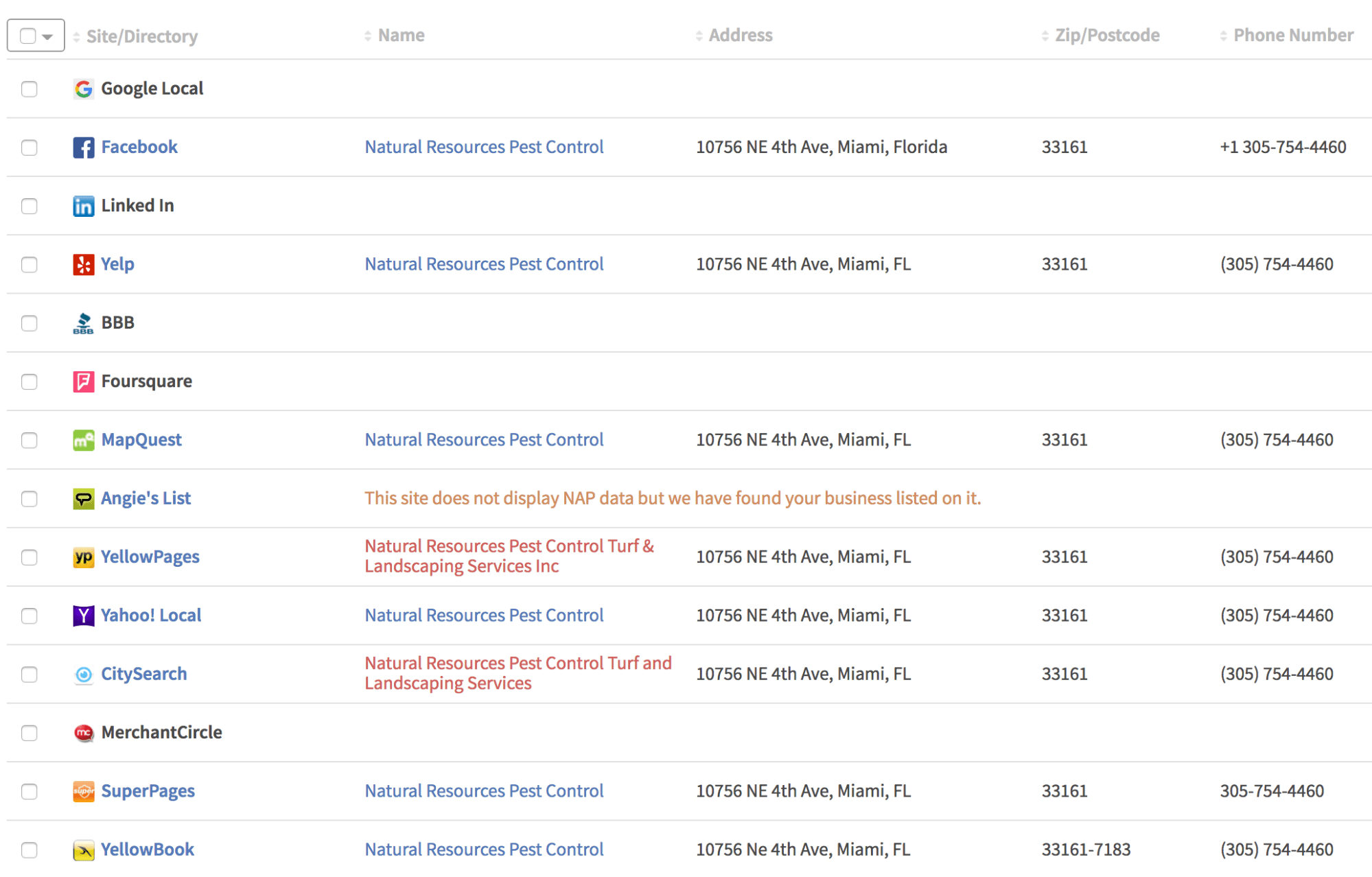 By utilizing the report, you can easily see which, if any, citation sites your pest control business is listed on. You can then easily work out where you need to create a new listing.
Note: For the moment, you want to create a citation on the sites where you don't have one. But you'll also want to optimize your existing citations at a later point (something we'll cover later).
In any case, let's look at how to create a new citation listing.
Usually, no matter what site you're creating a citation for, the process is similar.  
Thus, to keep things simple and avoid repetition, we'll cover the process of one of the leading citation sites – Yelp.
Should you want to create a citation on another site, you'll find that the process isn't all that different.  
To start the process of creating a citation on Yelp, go to the section of Yelp-designed Business Owners: https://biz.yelp.com/  and click on 'Signup' if you don't have an account.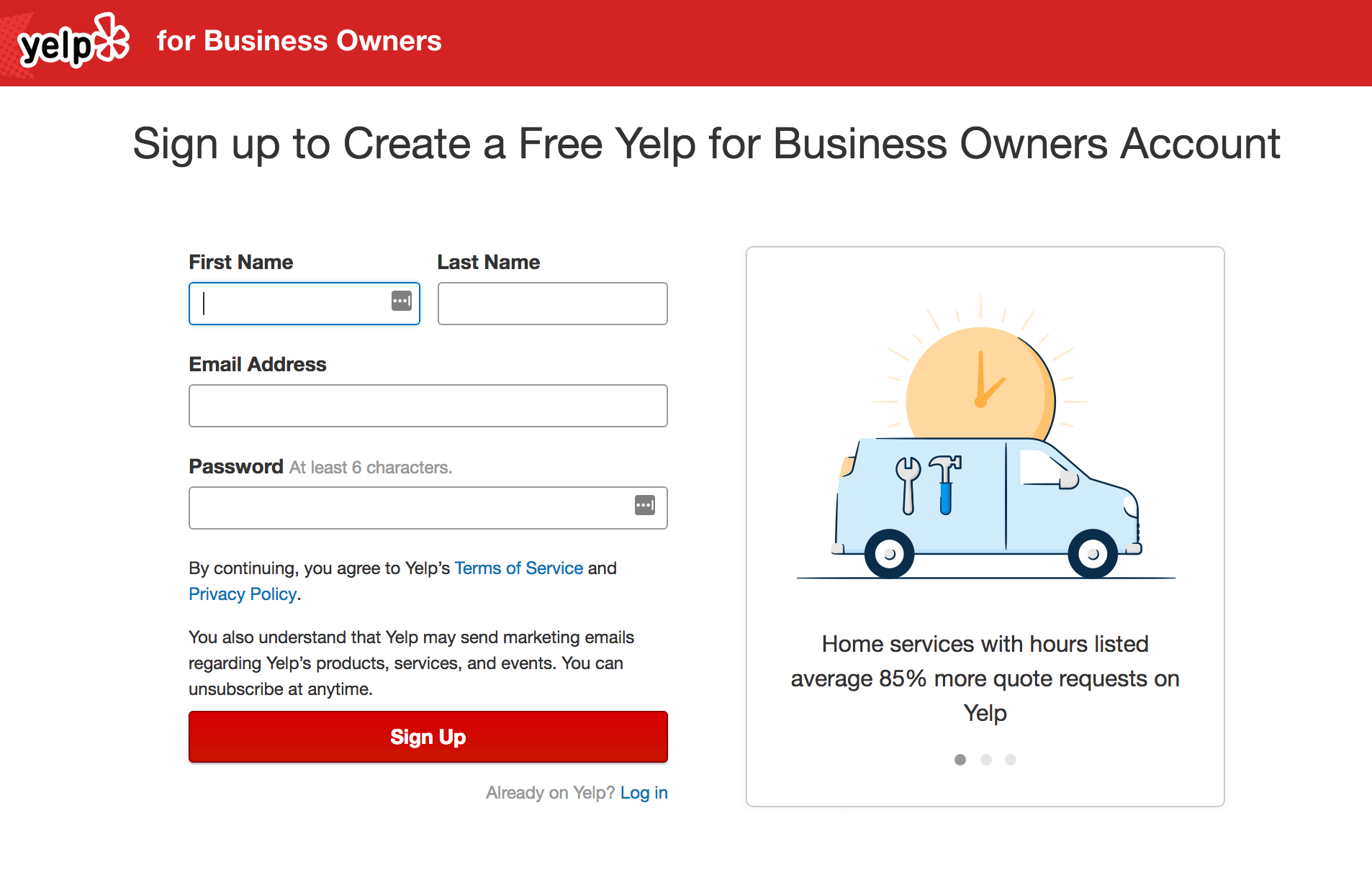 In case you already have an account, click on 'Login.'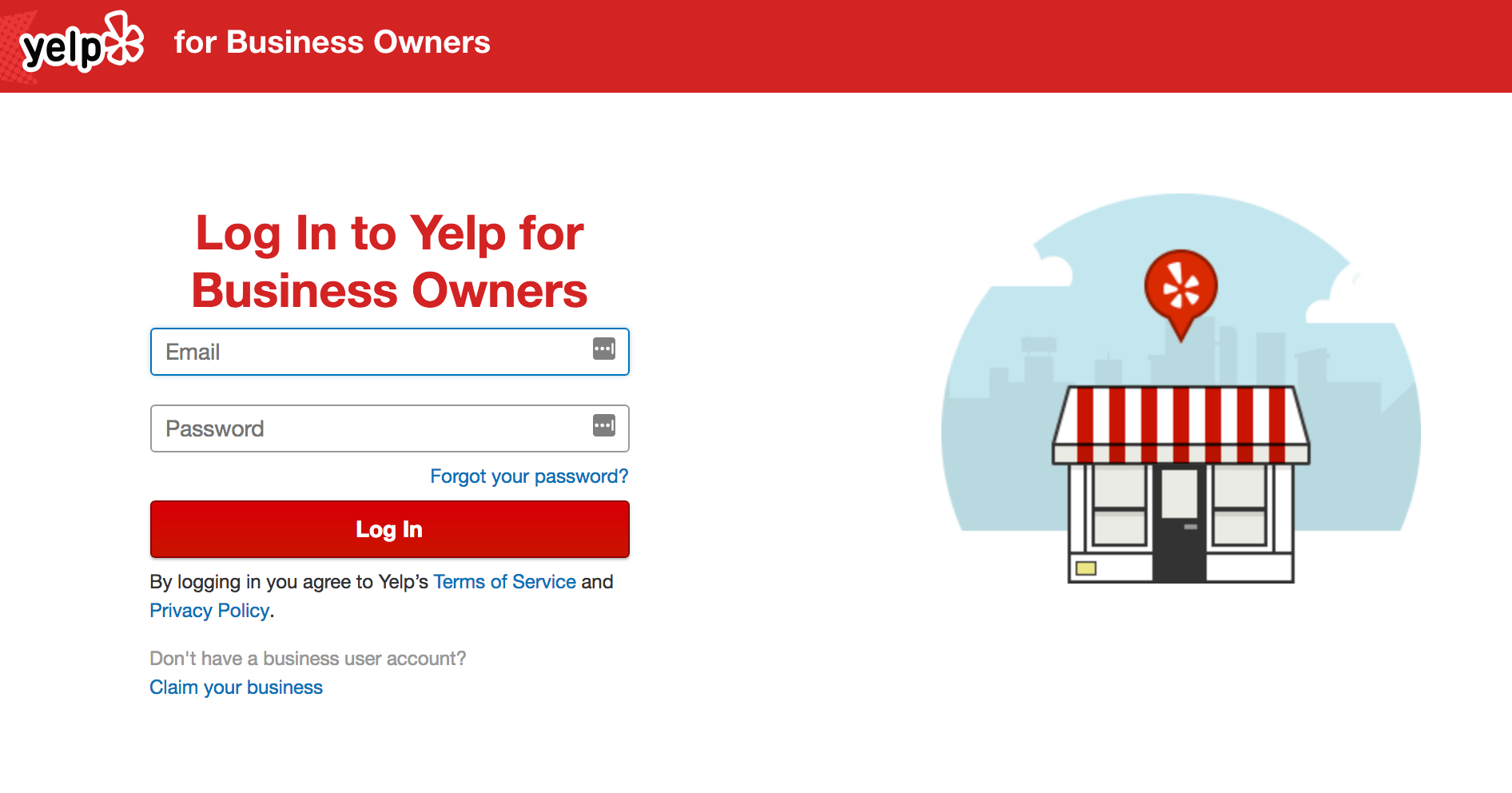 Once you are inside the account, Click on: Account Setting >> Add Another Location.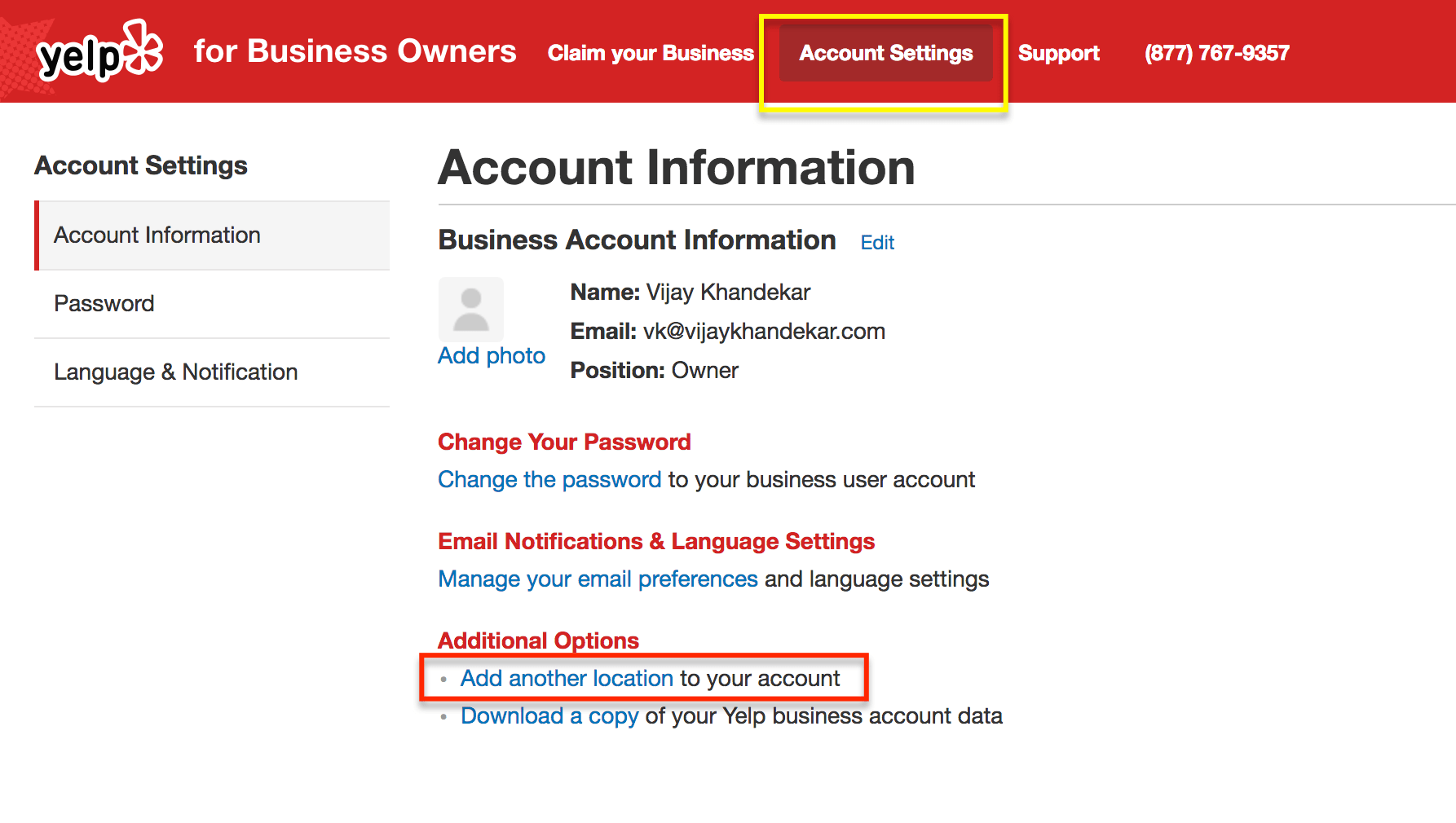 On the next screen, enter your business name and address, and click 'Get Started.'

Note: The business name and address you enter here must match with your Google My Business (GMB) listing entries.
On the next screen, Yelp will show you suggestions for similar businesses based on your name and address.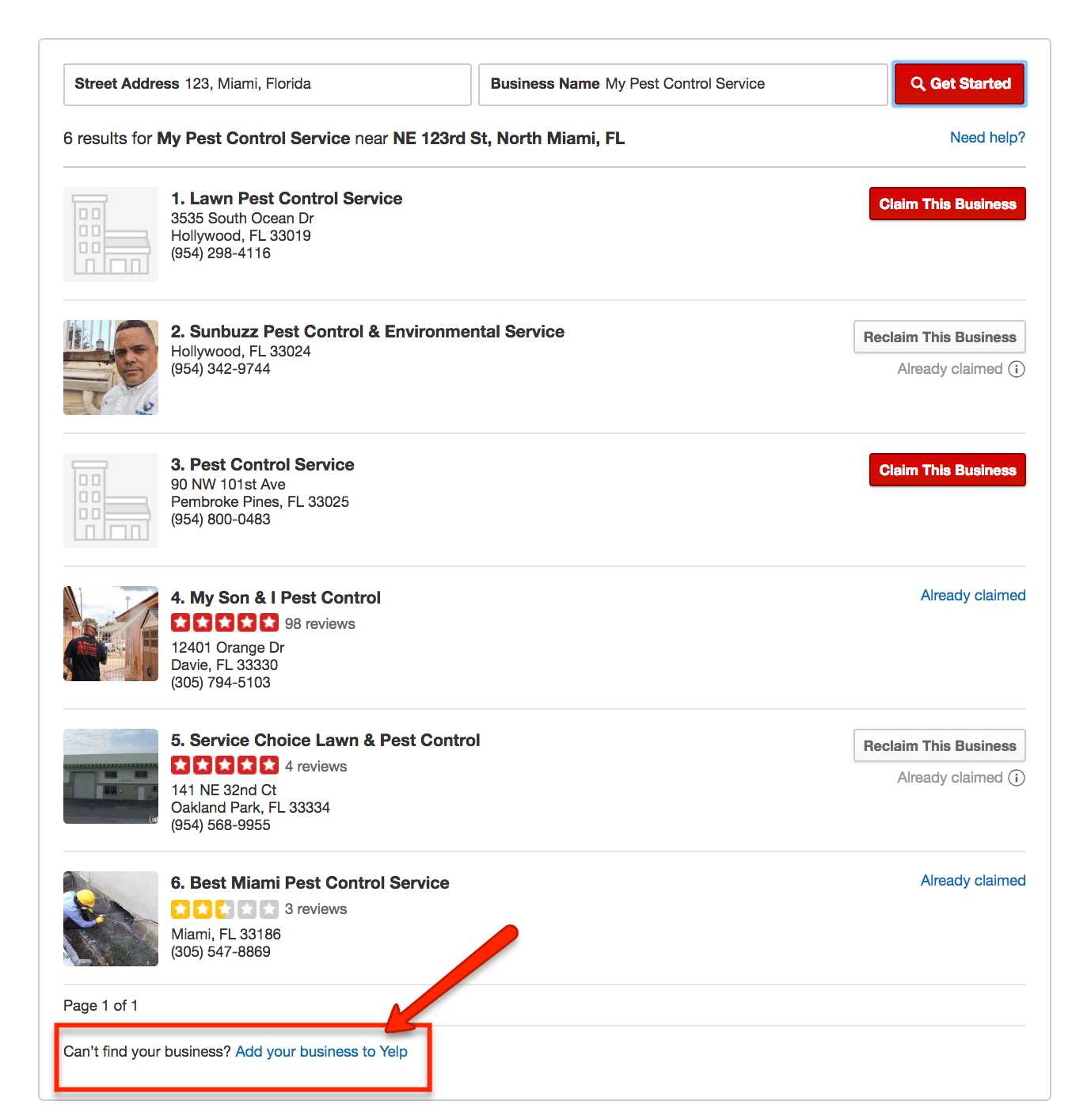 Scroll down to the bottom of the page and click on 'Add your business to Yelp.'
Enter all the details about your business (see the screenshot below).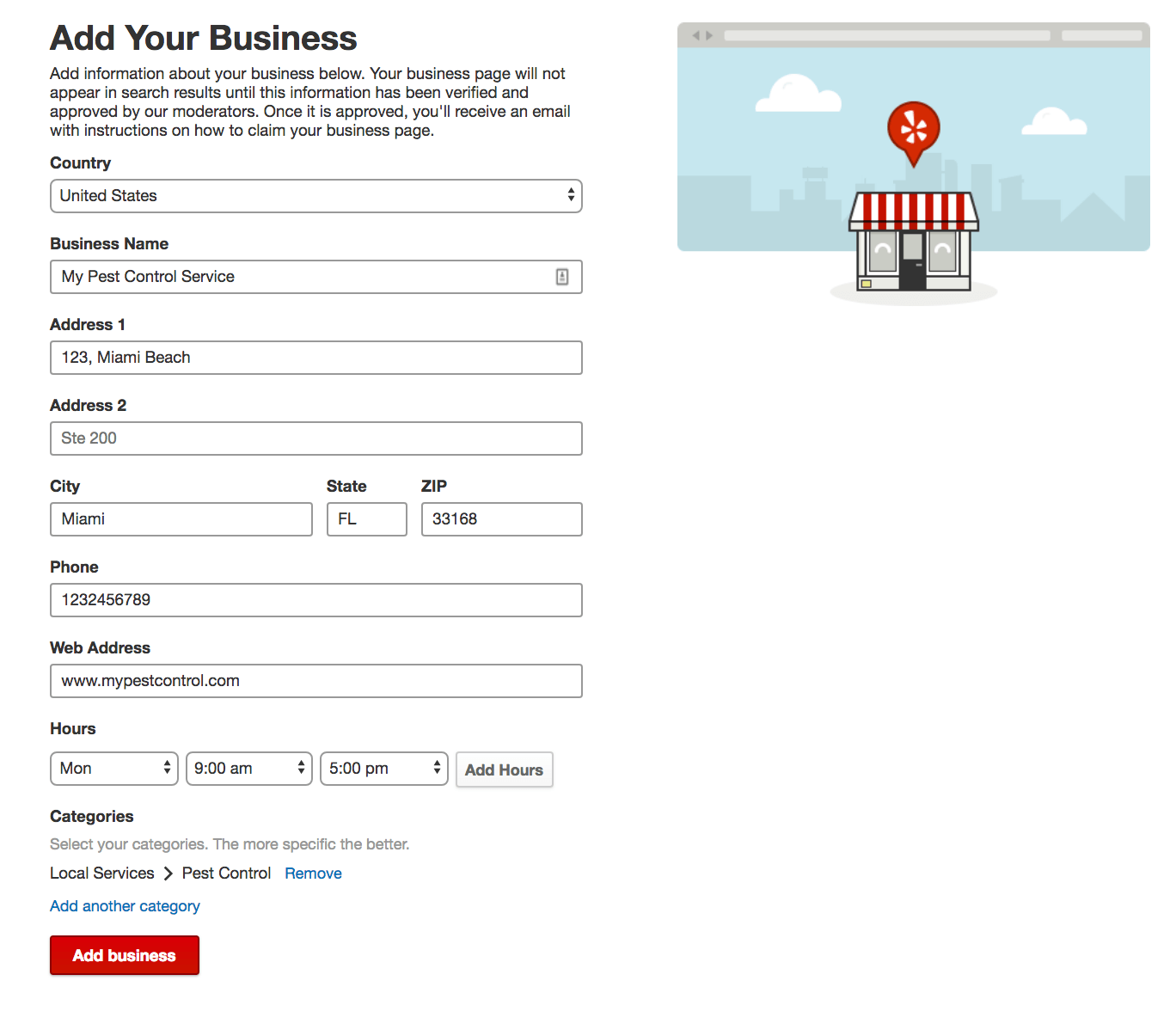 After filling in all the details, click on 'Add Business.'
That's it. You've successfully created a Yelp listing for your pest control business.

Login to your email and click on 'Confirm Email Address' to submit your business listing.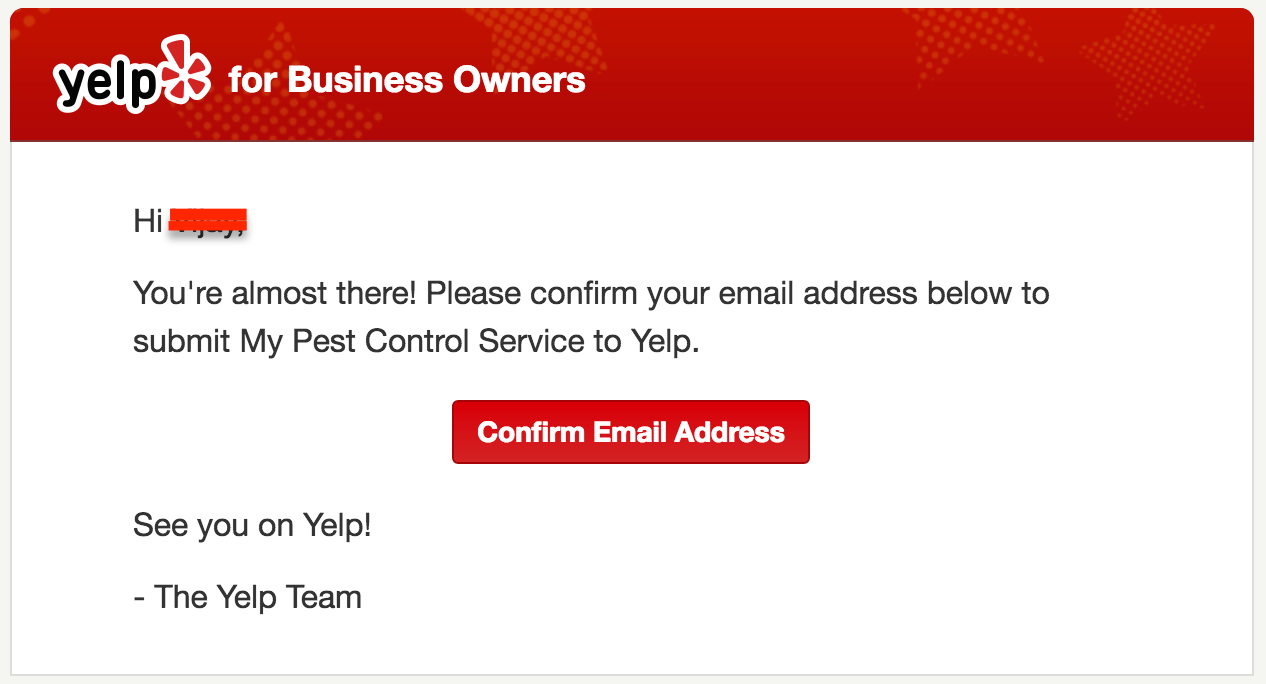 That's it. You've successfully created a Yelp listing for your pest control business.
Claiming a Citation
Now that you know how to create a new citation listing, we will learn the process of claiming a citation.
This is essentially when your business already has a profile on a site, but it wasn't created by you or hasn't been verified by you.
It's important you claim your citations, as they hold less credibility if they're not claimed. Following this, you aren't able to fully benefit from your citations.
To keep things simple, we will use the same Yelp listing example.
The easiest way to check whether your Yelp listing is claimed or not is to search for 'Your Business Name + Yelp' on Google.
If you find a listing associated with your business, look for the 'Claimed' tag (see the screenshot below).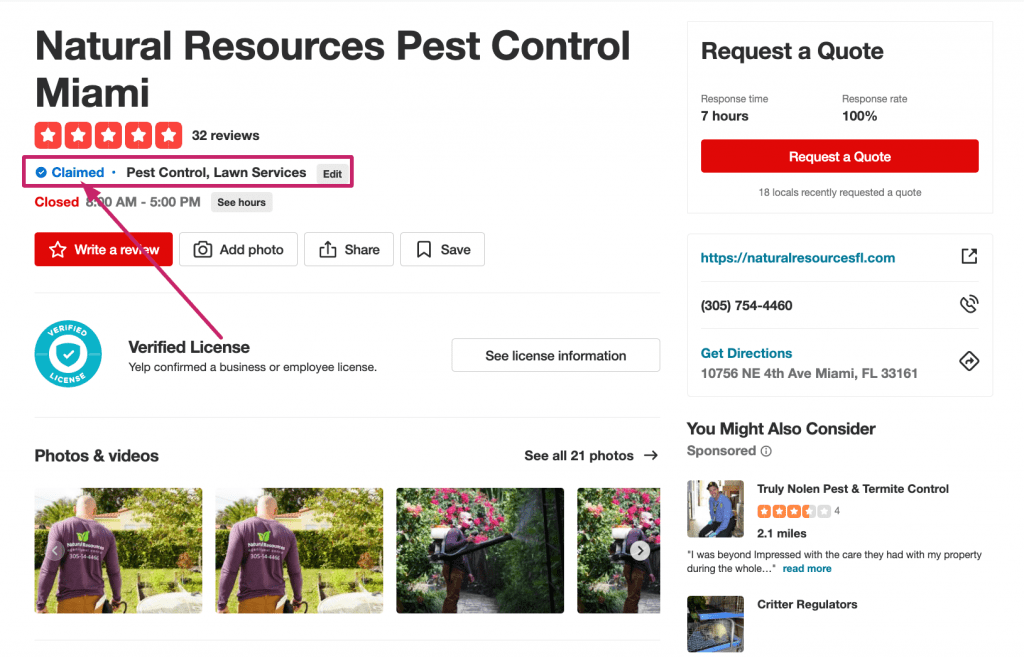 If you can see the 'claimed' tag with a check mark, that means you or someone has already claimed the listing.
If you don't see it, that means no one has claimed the listing.
Once you are sure that your Yelp listing is unclaimed, you must do the following to claim a citation listing (A yelp listing in this example):
Go to the 'Yelp for Business Owner' login page.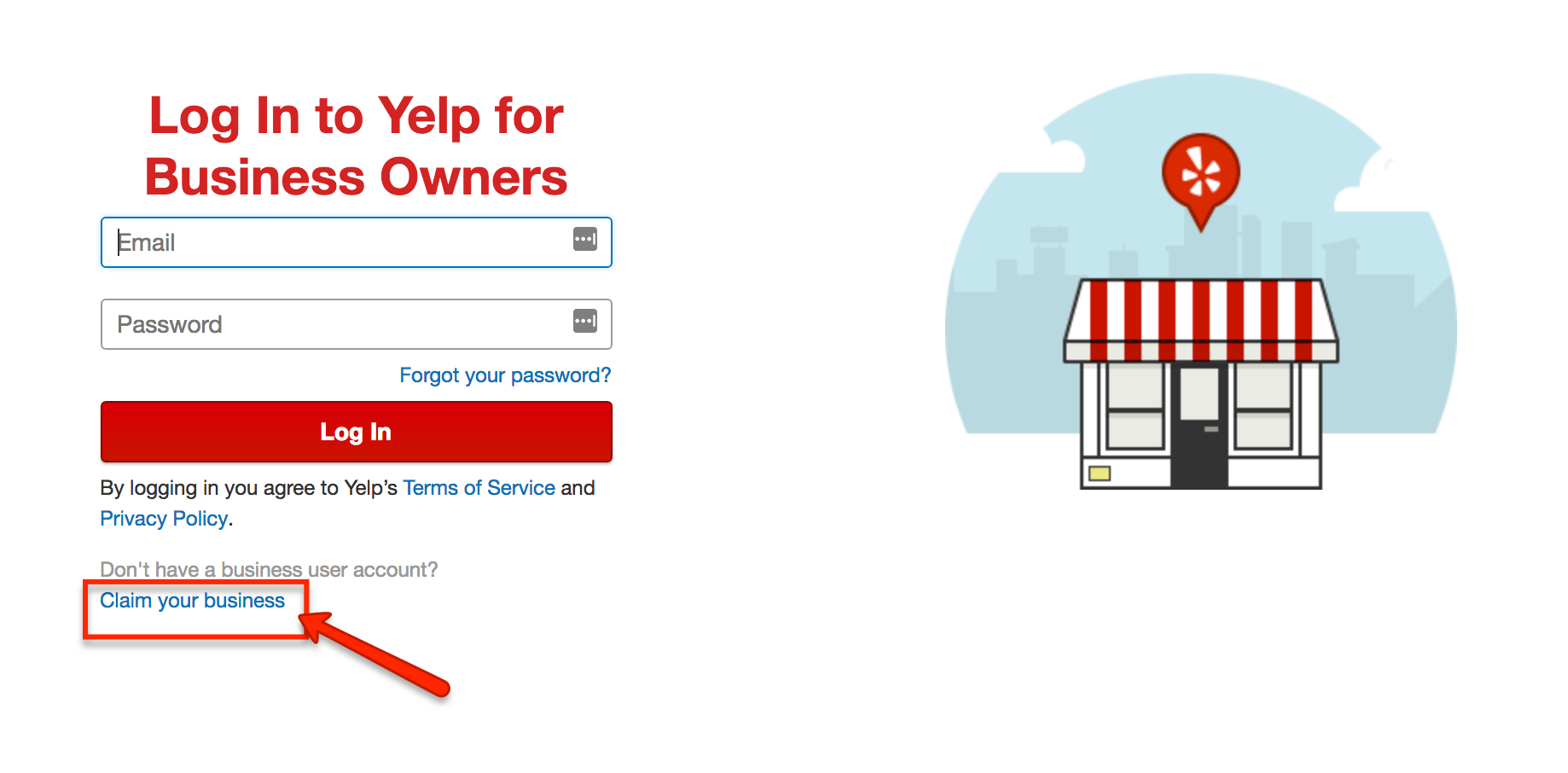 Click on 'Claim your business.' On the next screen, it will ask you for 'Business Name' and 'Address.' Enter your business information and click on 'Get Started.'

On the next screen, you will see multiple listings similar to your business. Focus on your listing and click on 'Claim This Business.'

When you click on the claim business button, it will ask you again to sign up (if you don't have a Yelp account) or to log in. Click on 'Login to claim' as shown.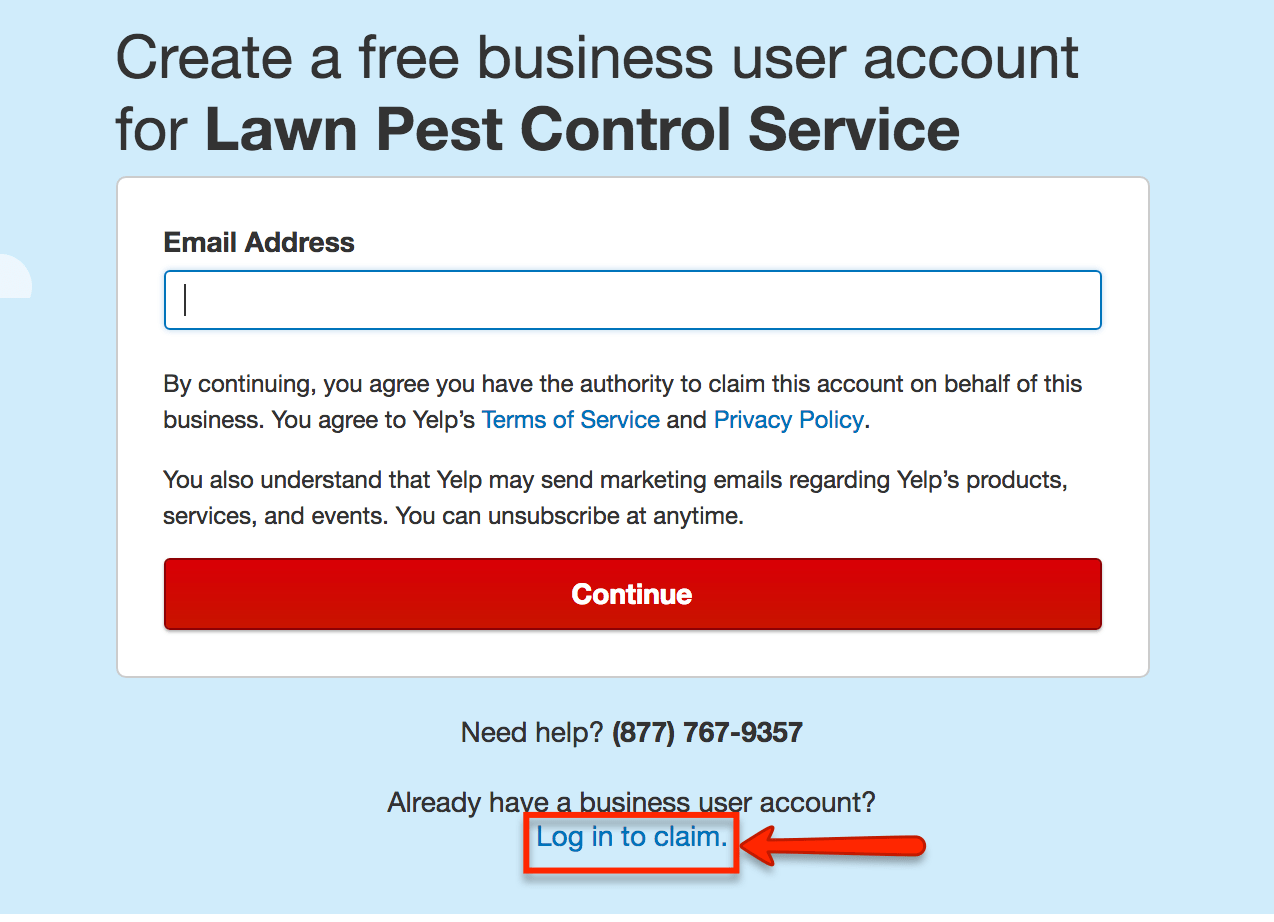 Log in to your Yelp business account.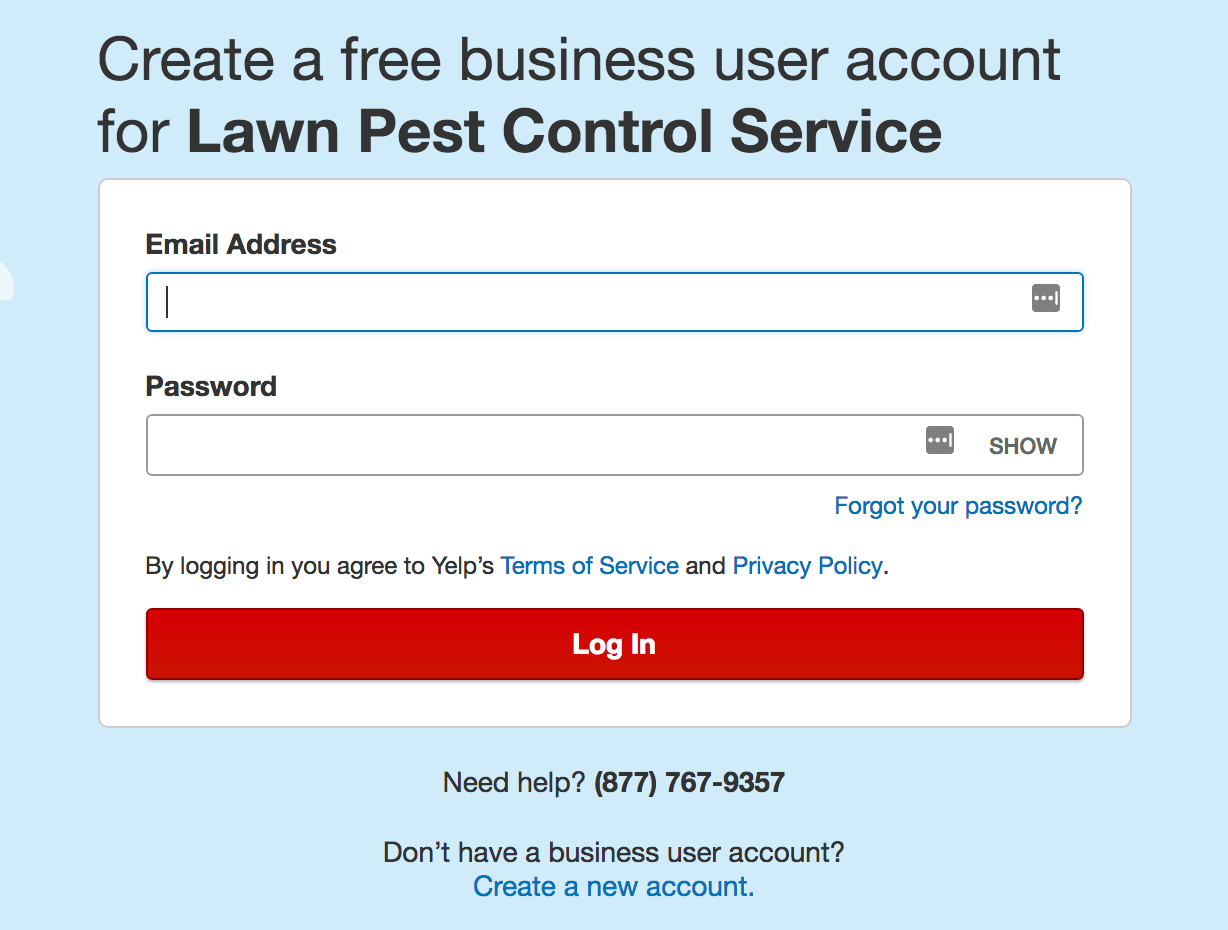 The following screen is where all the action happens.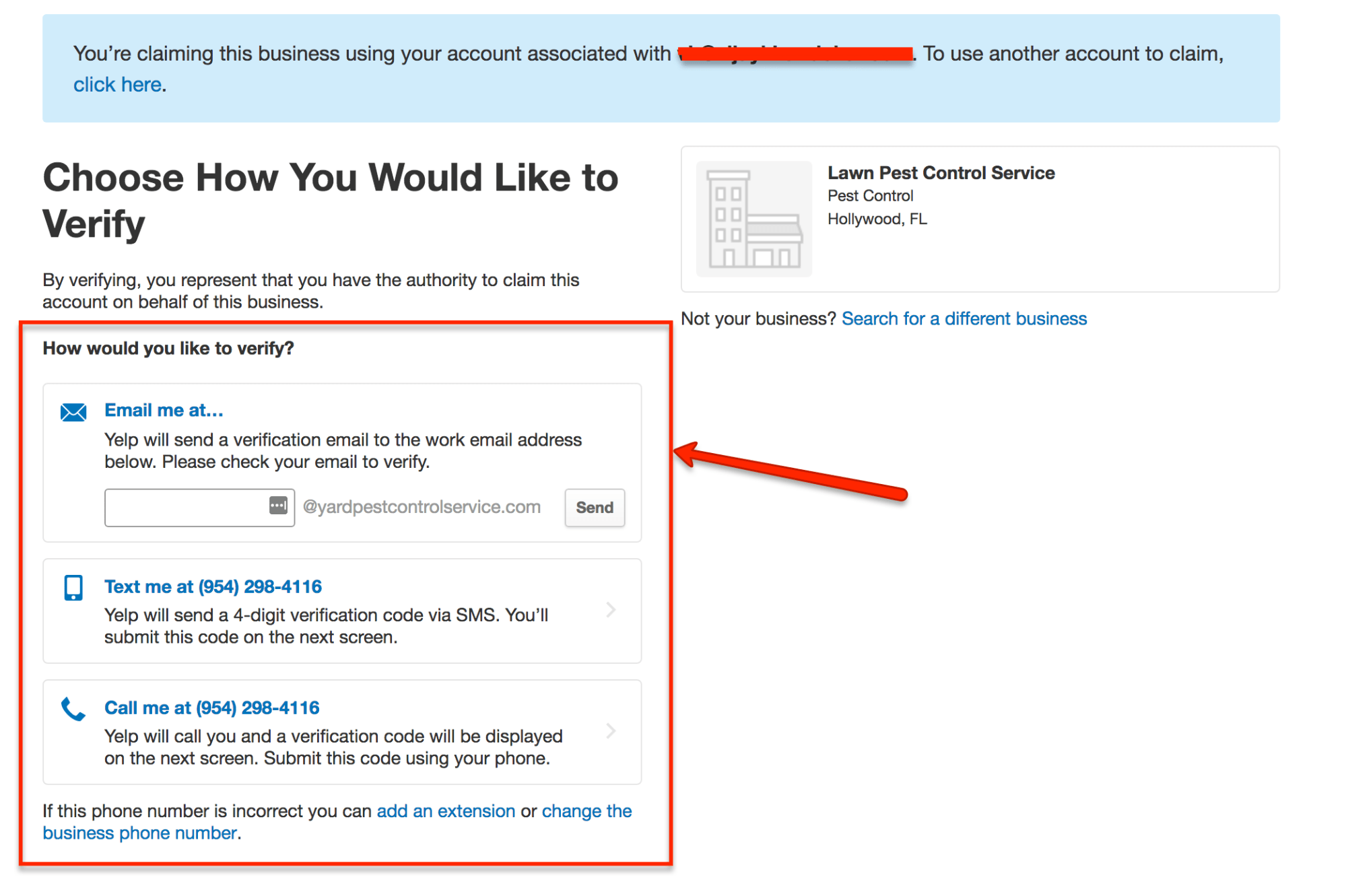 As you see, there are three options to claim your listing:
Choose the one that is most convenient for you. We recommend you opt for the 'Text Message' option as it is fast and easy.
On the next screen, enter the code that you receive via text.
That's it.
You've successfully claimed your Yelp business listing.
Knowing how to create or claim a citation listing is half the job. The other significant half is to optimize your citations.
In the next section, we will understand the importance of regularly optimizing your citation as well as the optimization process.
Optimizing Citations
You might need to optimize your listing if there are any changes to your business.
You might also optimize the listing to make full use of a certain website in terms of the information you can provide regarding your business.
As mentioned earlier, the more information you provide, the 'stronger/more credible' a specific citation will be.  
You may also need to do this if you have a citation on a site that you didn't create yourself.
This is because that citation may contain incorrect information about your business. This, of course, leads to inconsistency regarding your NAP data, which, as mentioned, can hurt your local SEO efforts.
Let's take a look at how you'd optimize your listing, using the Yelp platform as an example.
Log in to your Yelp Business Account. Click on the 'Business Information tab in the left side panel.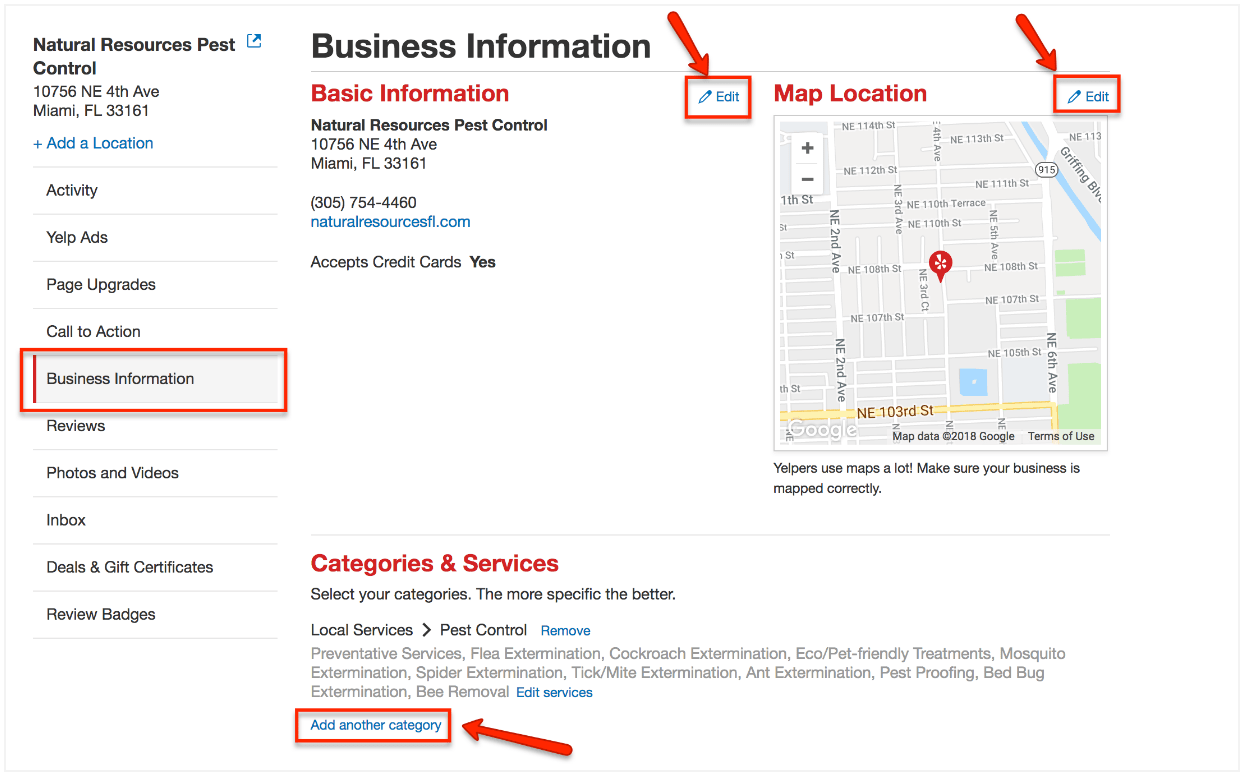 Basic Information and Map Location: To edit basic information and map location, click on the 'edit' option next to them and update the information.
Categories & Services: To update categories & services, click on 'edit services.' If you wish to add a new business category, you can do so by clicking on 'Add another category.'
Service Area: As the name suggests, it shows the areas your business serves. You can add more than one city and county.

Business Hours and Special Hours: Make sure the information accurately reflects your business hours. The information you provide here can have an impact on the 'open times' people see when they search for your business on Google.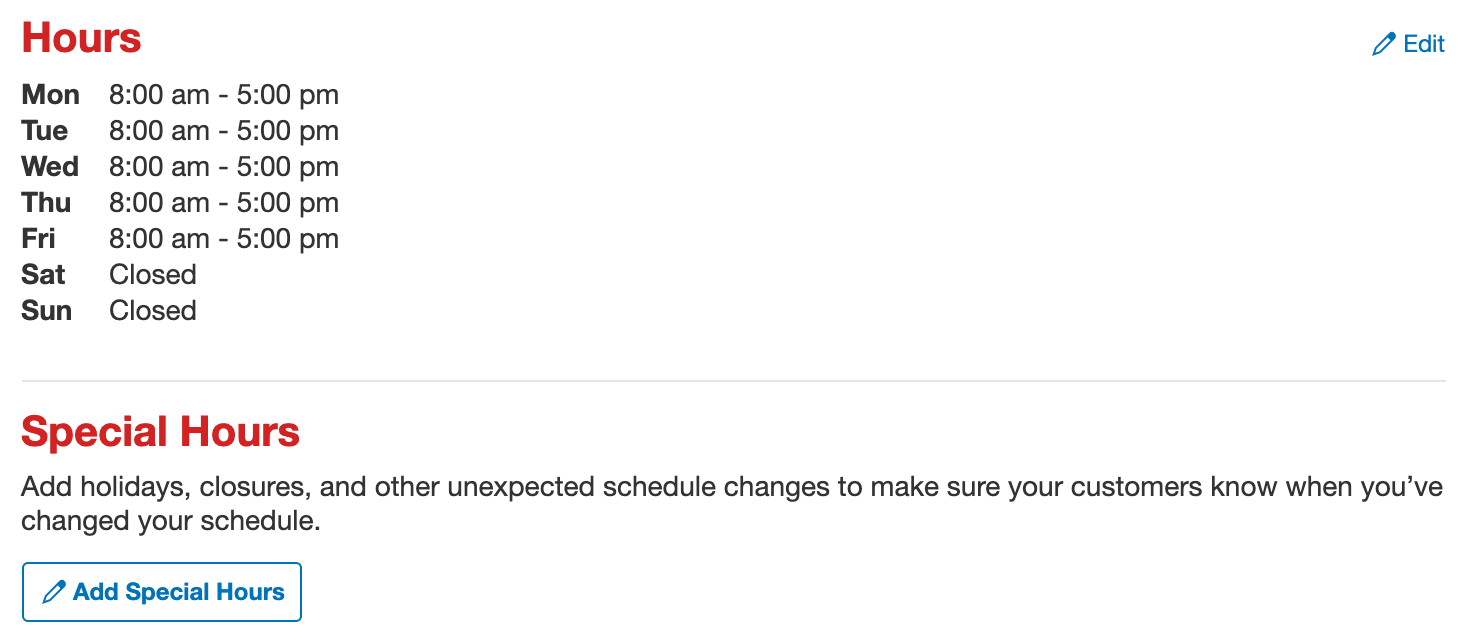 Specialties and History: This section is your option to get personal and stand out from the crowd. Try to provide a clear description of your business and the services you provide. Also, make an effort to emphasize why someone might work with you instead of a competitor.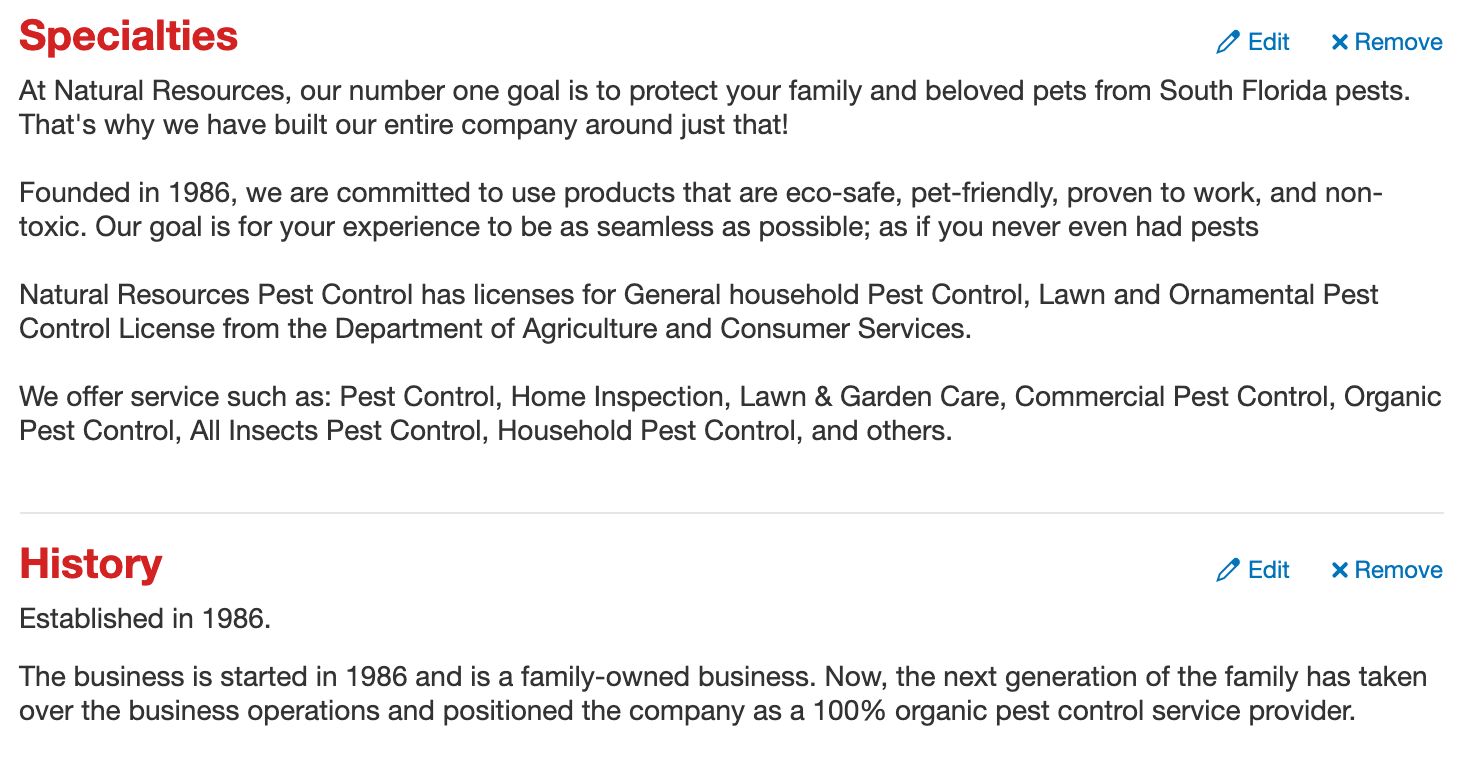 Photos and videos: Yelp allows you to add pictures and videos of your pest control business. Photos help you stand out and grab the attention of your potential customers.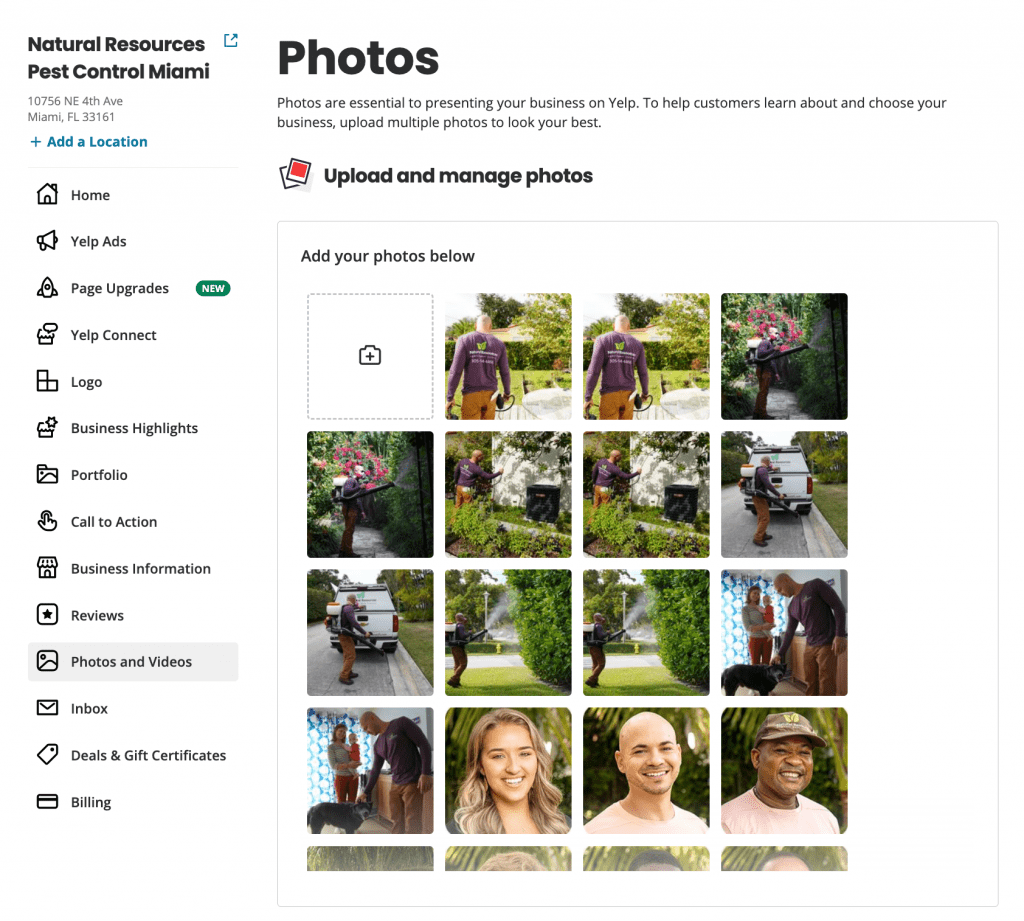 It's worth noting that some citation sources, like Yelp, can also turn into lead sources. The citation sources are aware of this, and so they take steps to help you attract customers on the platform in question.
It's important you take this seriously, as it doing so can reap huge rewards. The screenshot below highlights what's possible should you treat citation sources, such as Yelp, as credible lead sources.
A) Total impression
The total number of times this business is shown in Yelp searches in the last 12 months.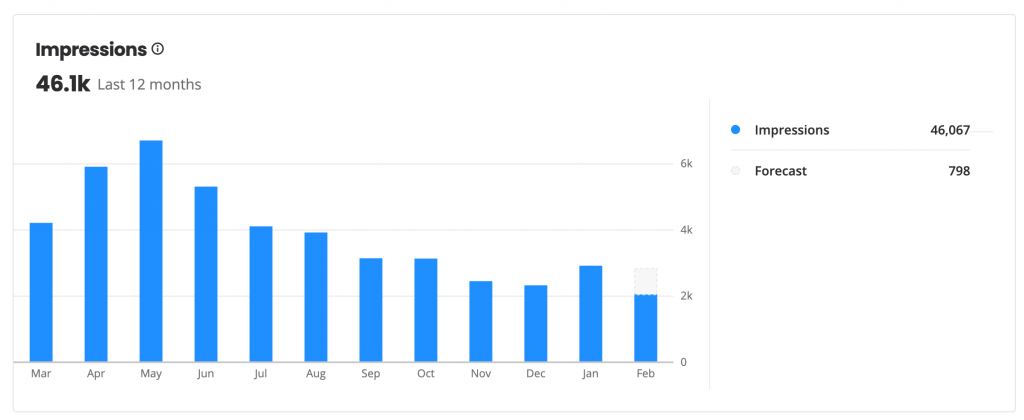 B) Page visits
The total number of times someone visited this business listing in the last 12 months.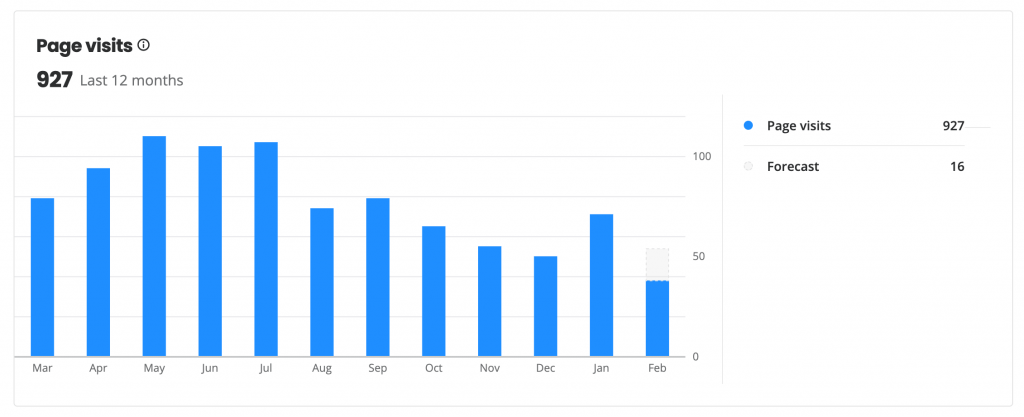 C) Leads breakdown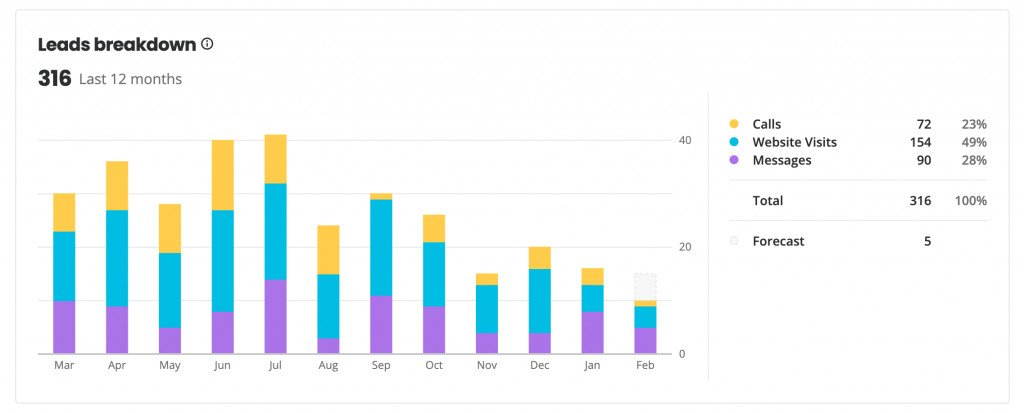 So how can you gather leads from citation sources?
Well, you should make full use of the features they provide to help you achieve this very task.
For example, Yelp allows you to offer special deals for people using the Yelp website.
Though this doesn't relate directly to local SEO, it's worth taking advantage of these features, as they can help increase the number of inquiries you receive.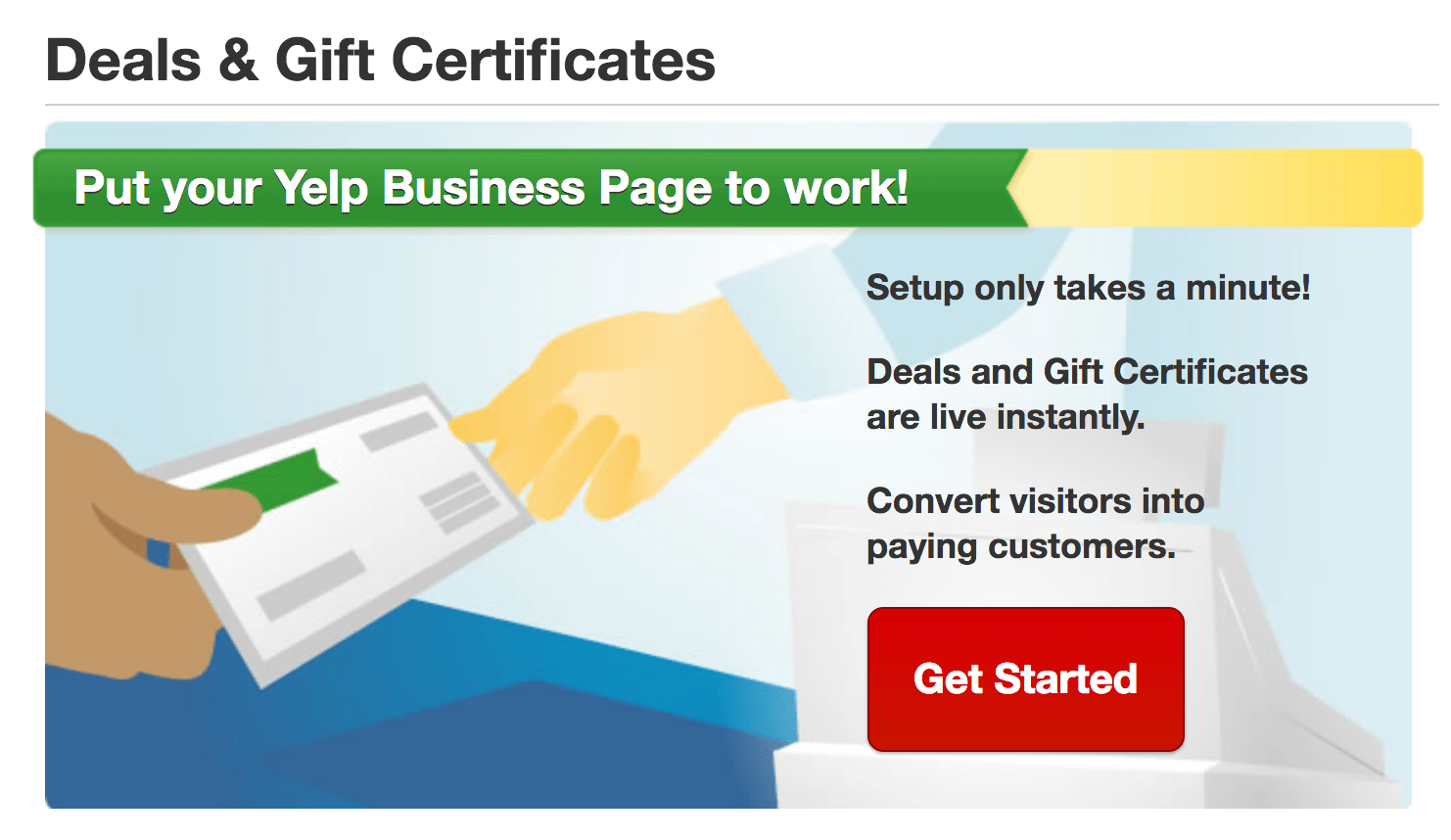 The good part is there is no upfront cost. When customers buy your deal or gift certificate, Yelp collects payment and retains a share of the purchase (30% for deals, 10% for gift certificates). The remainder is paid to you each month.
Setting up your Yelp Deal or Gift Certificate is super easy and takes only a minute. You create the offer and can remove the deal or gift certificate from your business page anytime.
Below are more details on how Yelp Deals and Gift Certificates work.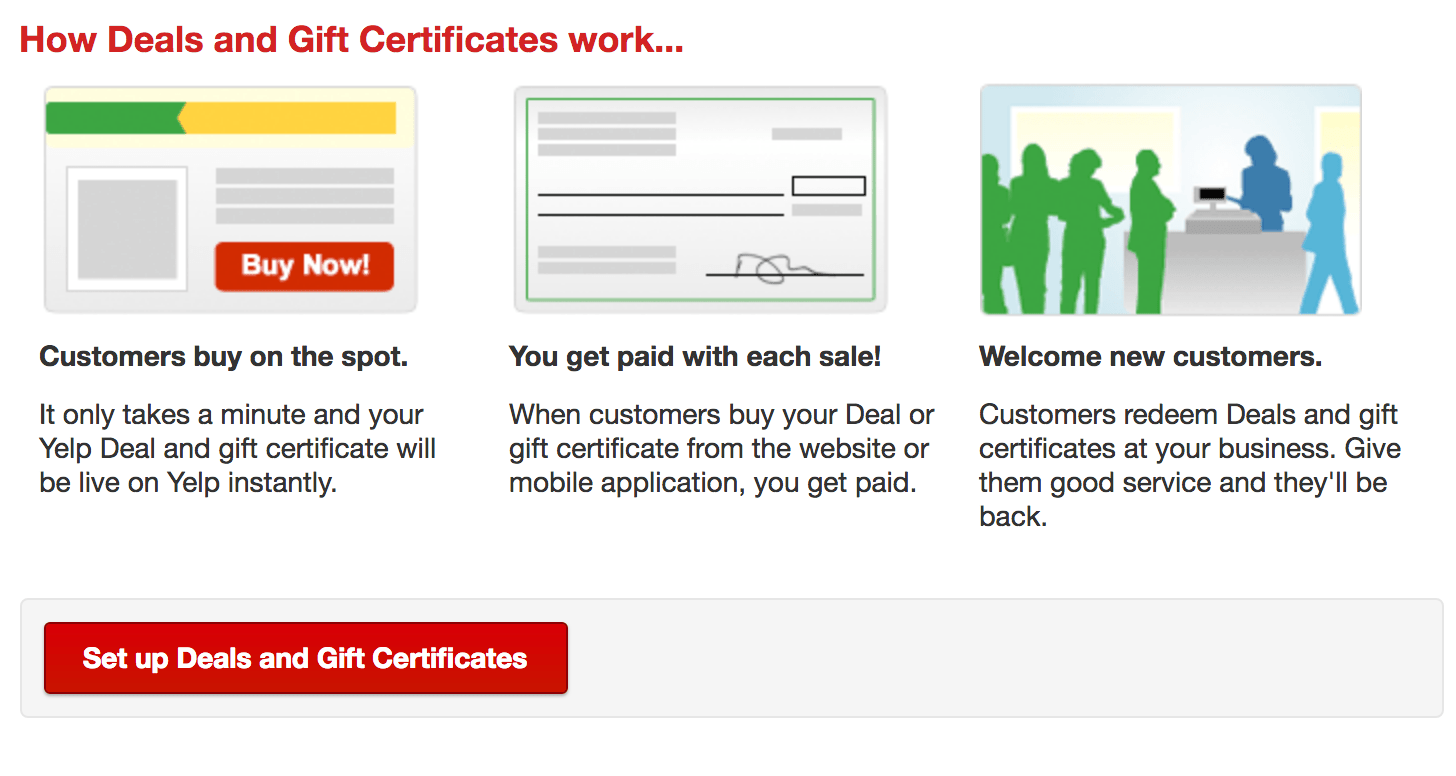 These are the possible optimizations you can do in your free version of the Yelp listing. If you upgrade to paid plans (ranges based on different options), you get more options, such as:
Page Upgrades

Yelp Ads

Add a 'call to action button

Ads free listing, and

Many more.
5. Ranking In Google Map Pack
Ready to Get Started?
Get all our amazing features and top-rated support, with no credit card required.