Easiest Field Service Invoicing Software
Finally, an invoicing software for all field service businesses from pest control to pool service, and everything in between. Stay on top of your receivables & never miss a single payment.
Streamline your invoicing processes and get paid faster
Whether you're in the office or out in the field, invoicing has never been easier. GorillaDesk's invoicing process makes your invoice much more than just a 'bill'. In addition to pricing, you will have the ability to communicate pertinent job information directly on your paperwork such as Material Usage, Device information, Weather and much more.
Streamline your invoicing process.
No more long hours spent invoicing your customer's after hours.
Small to medium companies appear more professional in the field.
Store all invoices in the cloud to access them from anywhere at anytime.
In the Field
Now let's take a look at how easy it is to invoice your customers from the field.
Invoices Card
You will have the ability to add the Invoice card to any active job or customer's account. This will allow you to view the Invoice interface on the go.
✓   Charges
✓   Payment made
✓   Discounts applied
✓   Balance due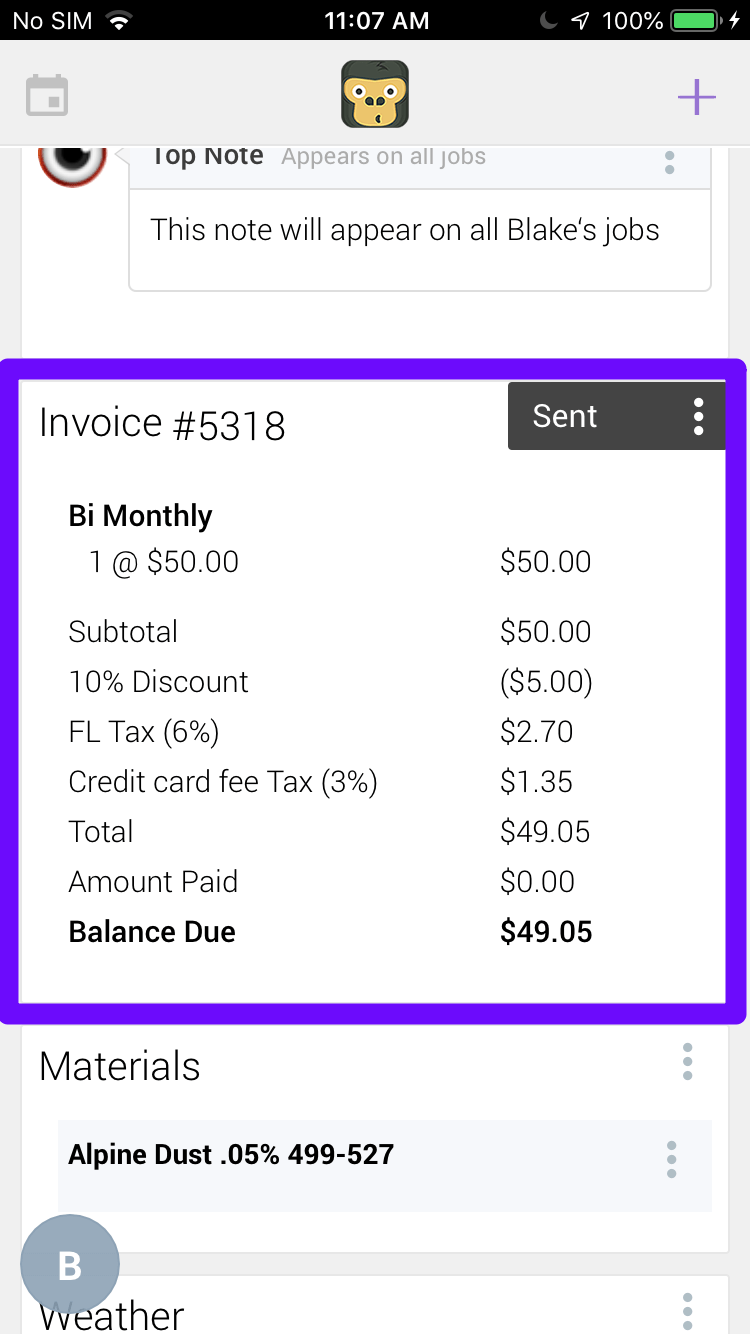 —
Invoice Details
Invoicing has never been easier for your technicians and office admins.
✓ Assign an invoice to an active job or create stand alone invoices for your customers.
✓ Reoccur with the frequency of your active job so you will never miss a billing cycle.
✓ Display Materials used and other pertinent job information such as check in/out time and weather.
✓ Add Payments, Take Signatures and Send a receipt by email.
—
Invoice Menu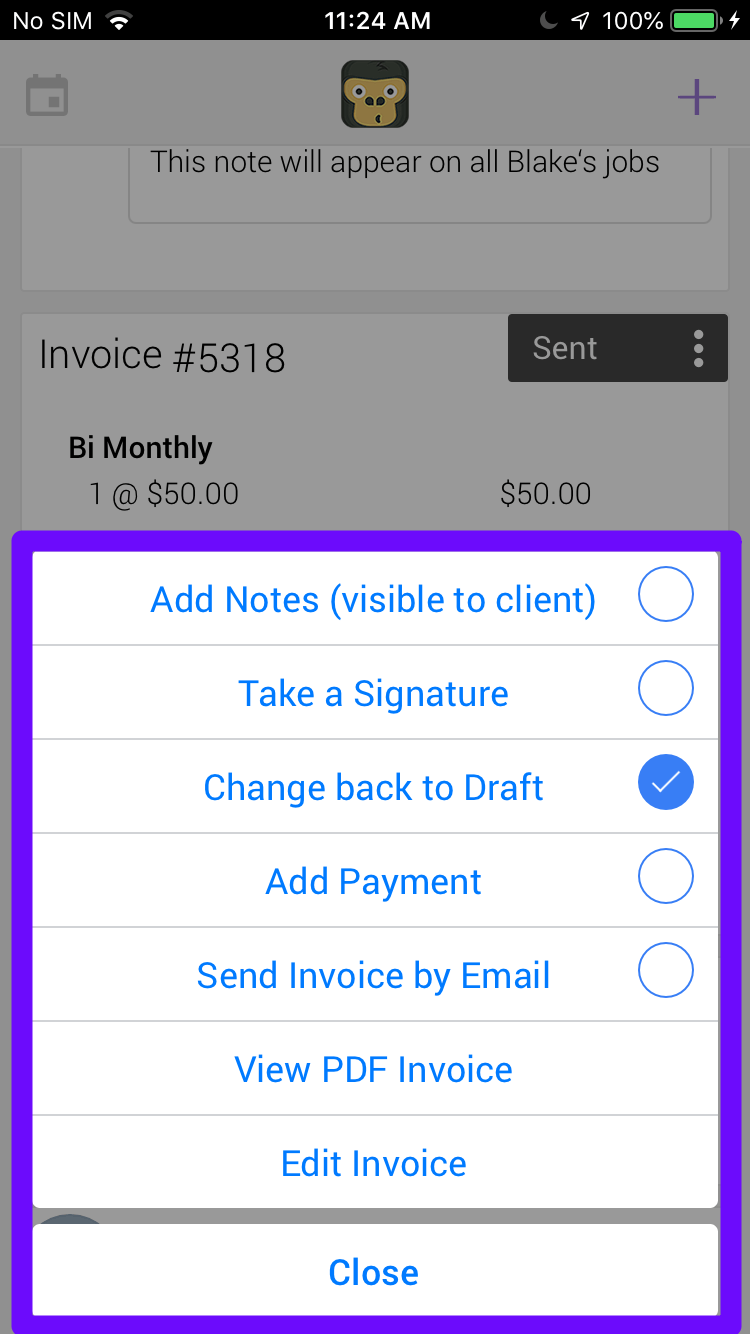 In the Office
Hey Office and Admin users, I have some great news! Our invoicing capabilities are not limited to just the Mobile app. Users will have the same invoicing functionality on the Desktop version of GorillaDesk as well.
✓  Add an invoice to any active job or customer's account.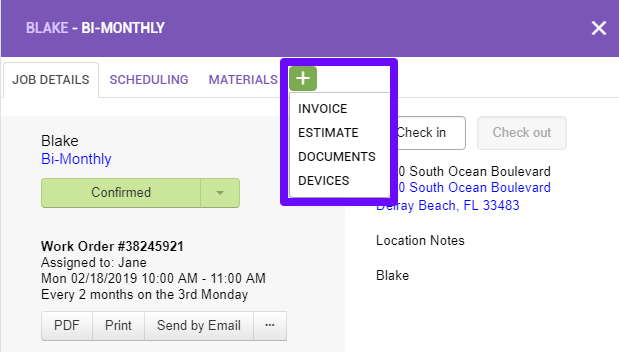 ✓  Add Line items and Edit Costs.
✓  Add Terms and Notes for your Clients.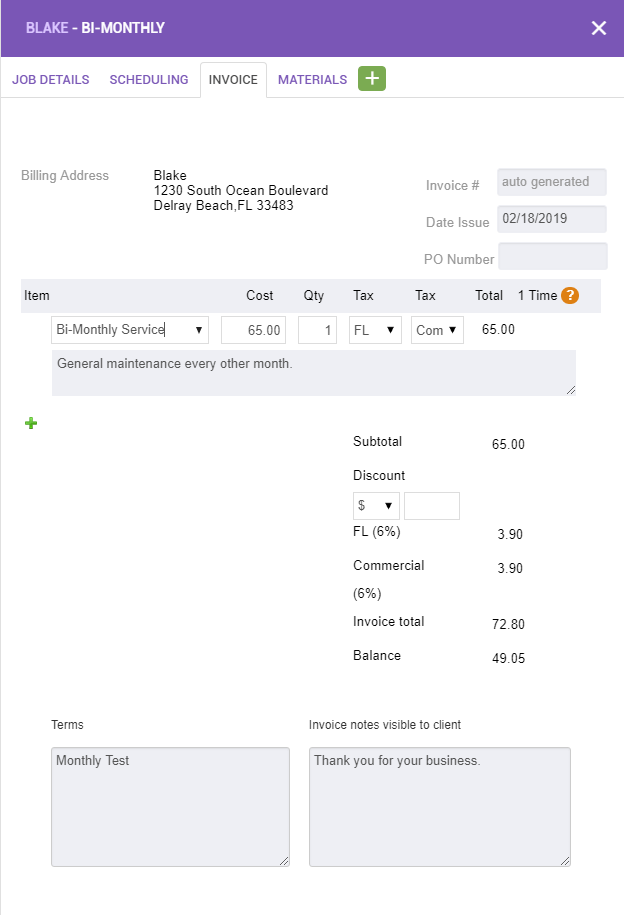 You will also have the ability to:
✓ Add Payments.
✓ Send Receipt by Email.
✓ Print a physical copy with a click of the mouse.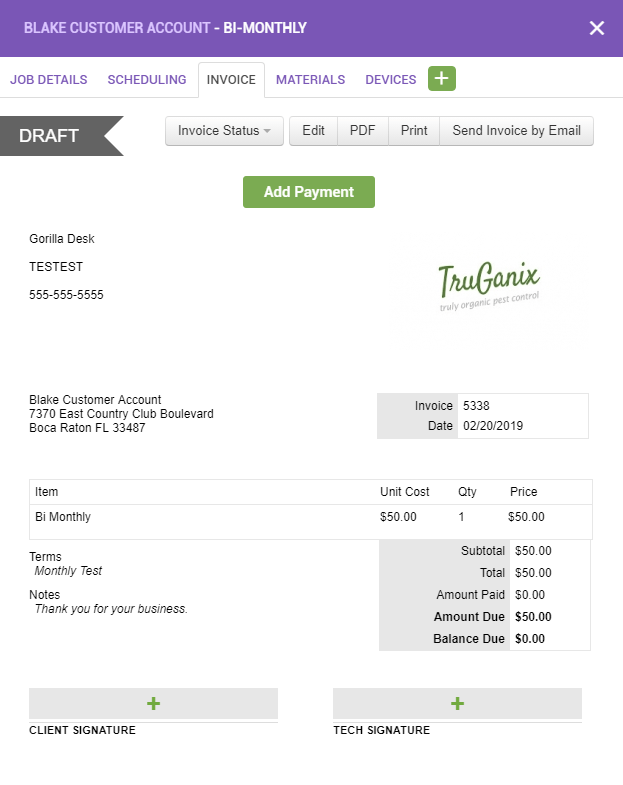 Paperwork Templates
Impress your clients and choose which information will be displayed on your paperwork. You can hide or show:
✓ Service Address
✓ Check in/out and Weather
✓ Material Usage
✓ Paystub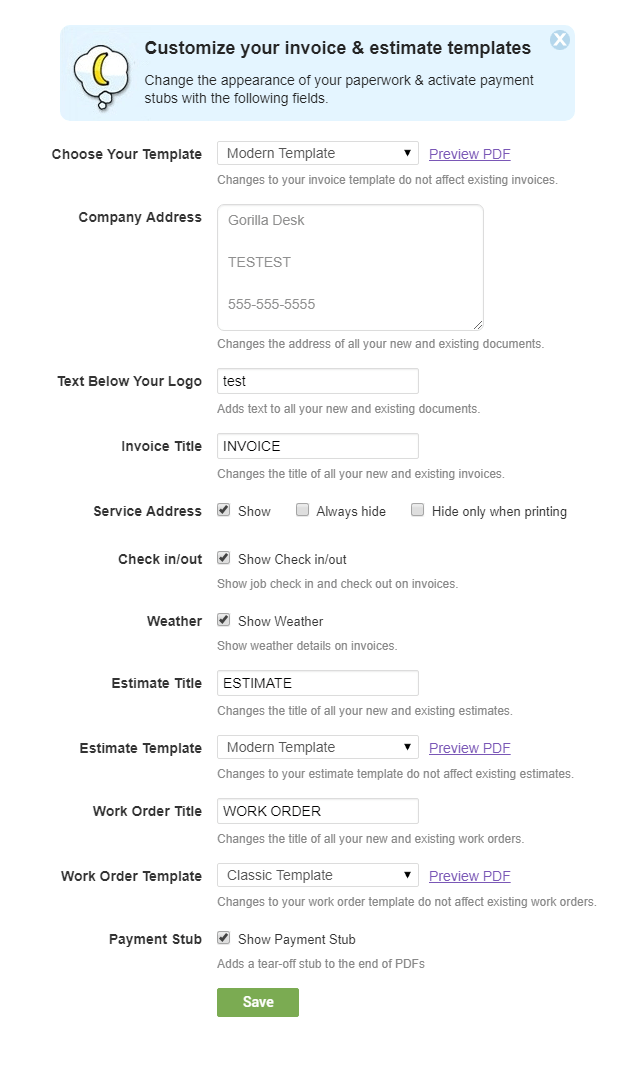 Find a look that's right for you with our Modern and Classic Invoice templates.
Modern Paperwork Template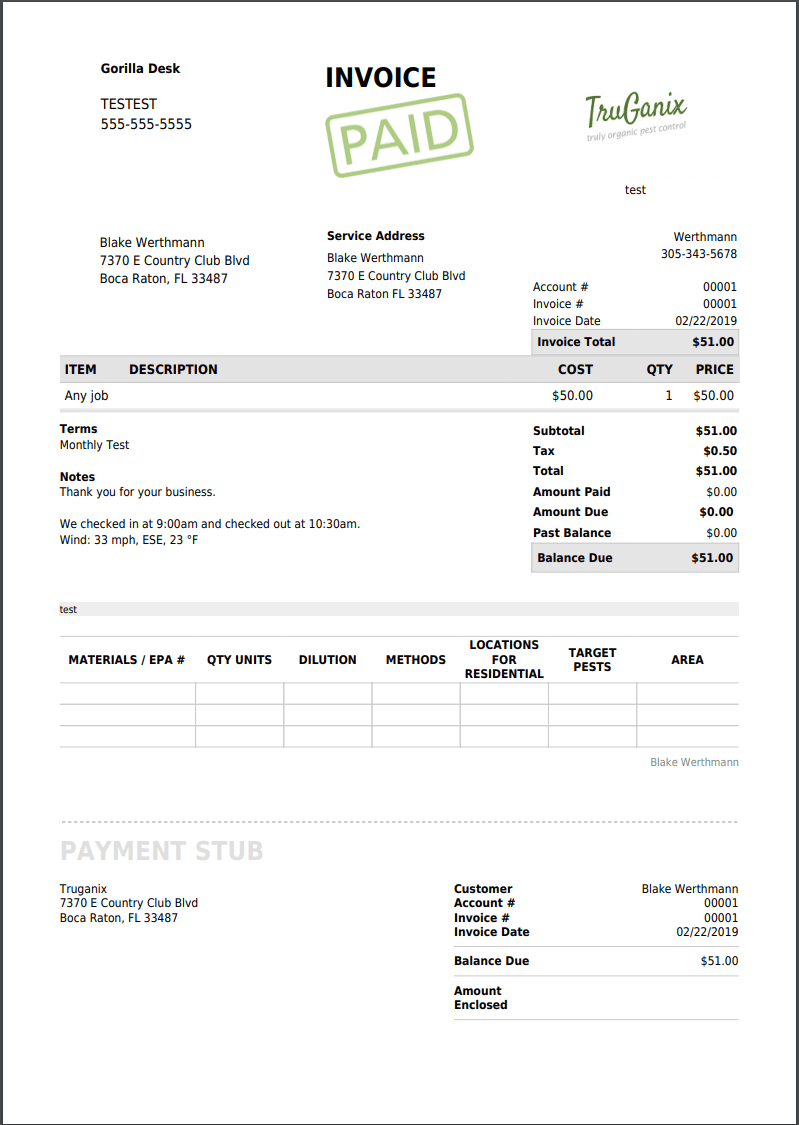 Classic Paperwork Template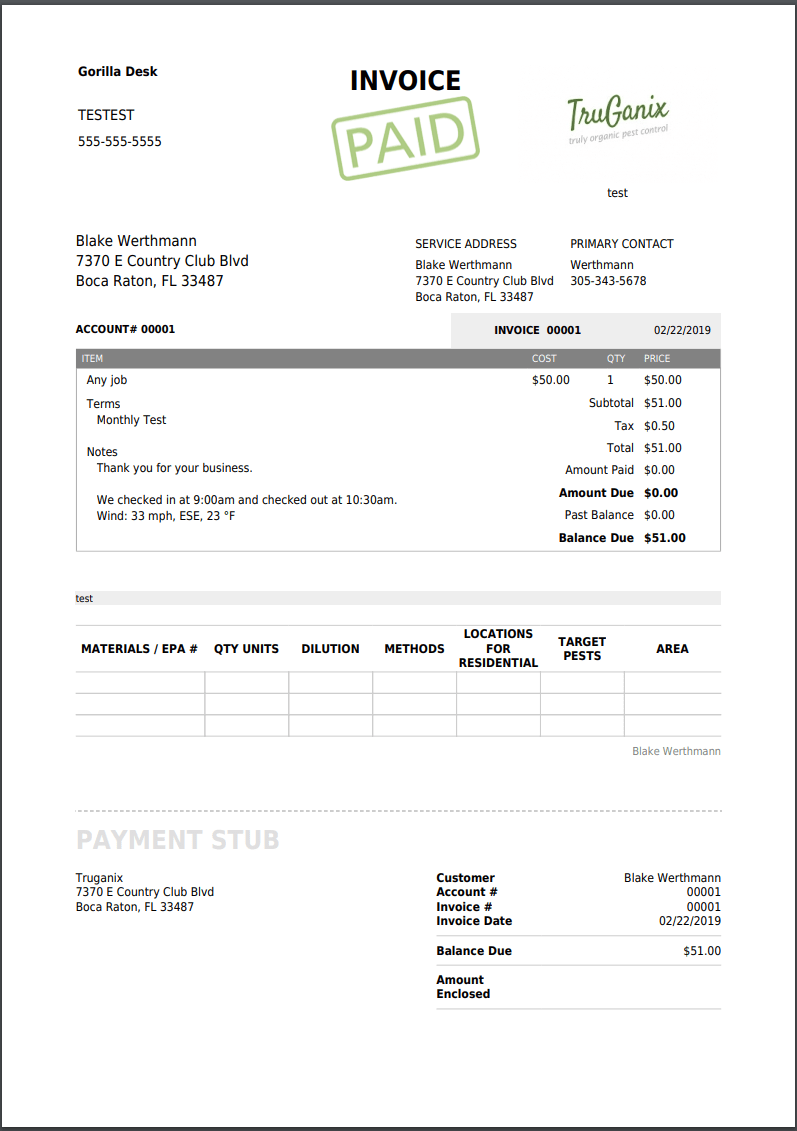 Additionally, Custom Invoices are also an option with GorillaDesk. We can bring in your own paperwork or make your ideas come to life.
Get Started with GorillaDesk
All these features are waiting for you inside GorillaDesk. Enter your best email address below to get started with a 14-day FREE trial and streamline your workload.
Frequently Asked Questions
You have questions about Paperless Invoicing, we have answers.
Which plan do I need to be on to have access to Invoicing?
You will have the ability to invoice your customers on both the Basic and Pro Plan.
What if my customers want to receive a physical copy of their invoice?
Though you have the option to go completely paperless, we understand that some customers may still prefer a physical copy of their invoice. For this reason, you will always have the option to Print your paperwork. Some of our users even carry a wireless printer out in the field with them to accommodate these customers.
What Credit Card Processor do you use to take payments and can I use my own?
GorillaDesk is integrated with Stripe and Square to make your invoicing process as seamless as possible.
✓ Stripe will allow you to take credit card payments online, out in the field, and save credit cards on file.
✓ Square will allow you to take payments in the field with ease using the Square credit card reader.
Any payment made with Stripe or Square will automatically change the status of that invoice in GorillaDesk.
Though it is recommended for the most value, you are not required to use Stripe or Square to take credit card payments.
✓ You can process credit card transactions independent from GorillaDesk. Then, mark the invoice as 'Paid' by selecting your custom Payment Method.
What if I want to have an initial charge on the first invoice only, but not on recurring invoices?
You will have the ability to add one time line items to your invoices. This will no longer appear on recurring invoices once that specific invoice has been paid.
Ready to Streamline Your Workload?
Get started today with no credit card required!