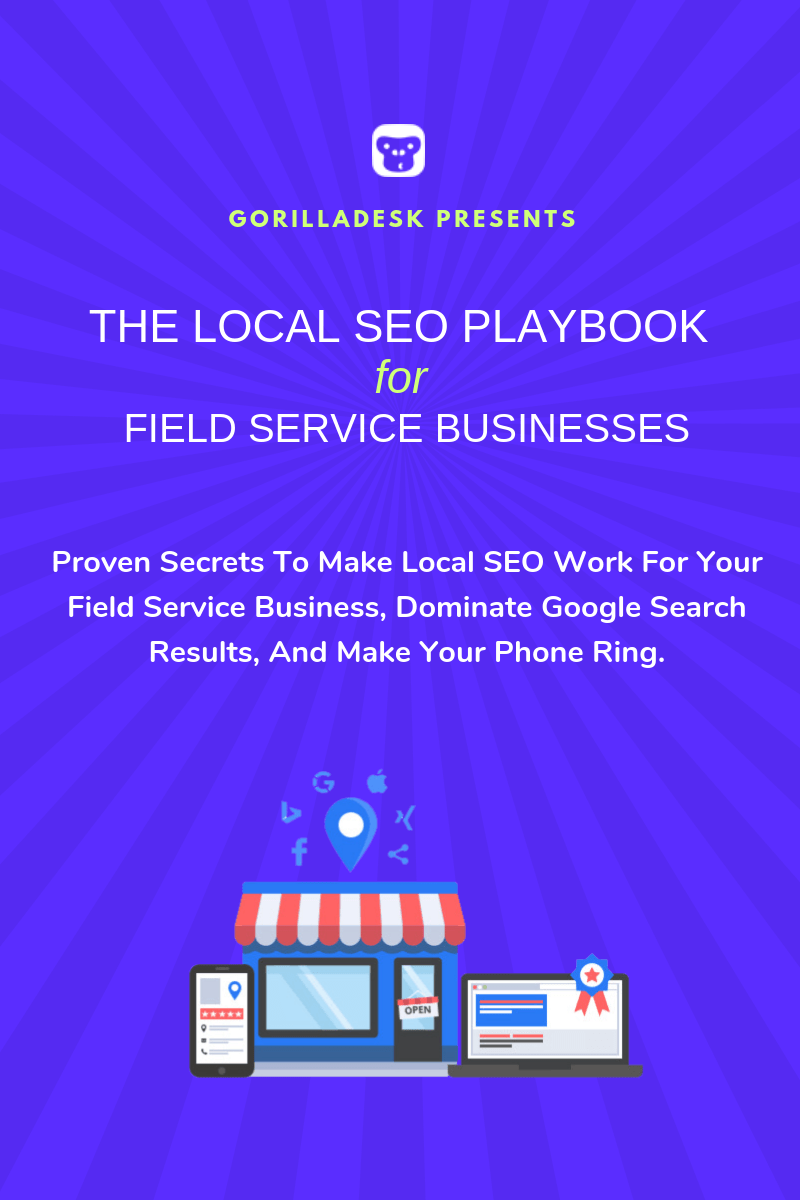 The Local SEO Playbook
Learn how to drive more leads and make your phone ring by dominating Google Map Pack and Organic rankings.
1. Introduction
Before you set forth on your Local SEO journey, learn why we wrote this playbook, who it's for, how to use it, and what to expect.
2. What is Local SEO?
What is Local SEO and how can you put it to work for your field service business? Learn everything you need to know and get started with Local SEO today.
3. Google My Business
The most important piece of your Local SEO strategy. Uncover the benefits of Google My Business and HOW you can take advantage of this powerful channel to drive more phone calls.
4. Local And Global Citations
Citations are an essential part of building a strong online presence for your field service business. Discover what it takes to build citations and zoom past your competition.
5. Google Map Pack Ranking
Ranking in the Map Pack helps you get more visibility and attract new leads for your local service business. Learn the factors that contribute in ranking and make a business stand out from the rest.
6. On-page SEO And Schema Markup
Schema is code that's added to your website that speaks directly to Google (and other search engines). In this chapter, we'll show you how to handle on-page SEO and add schema to your website.
7. Link Building
Links are like the light from a torch beam. The more links pointing to your site, the brighter they are, and the brighter your site will shine, making it easier for Google and your potential customers to find you.
8. Getting More Customer Reviews
Customer Reviews = Votes of Confidence.  In this chapter, you'll learn how reviews help your business zoom past the competition in the search engines and get you more customers.
9. Tracking Your Results
If you can't measure it, you can't improve it. Local SEO is no different. Learn which metrics you should focus on to measure the impact of your Local SEO efforts.
10. Final Thoughts And The Way Forward
Local SEO gives your local service business a low-cost, high-reward option to grow your leads and make your phone ring. Learn how to get started and assess the options available to you.
Try it free for 14 days. No credit card required. Instant setup.
We will be customers for life
"I can not say enough good things about GorillaDesk it saves us so much time and money. The customer service is the best. I would recommend GorillaDesk to anyone no matter what industry. I trained my employee in 5 minutes on how to use it. We will be customers for life."

Ready to Get Started?
Get all our amazing features and top-rated support, with no credit card required.