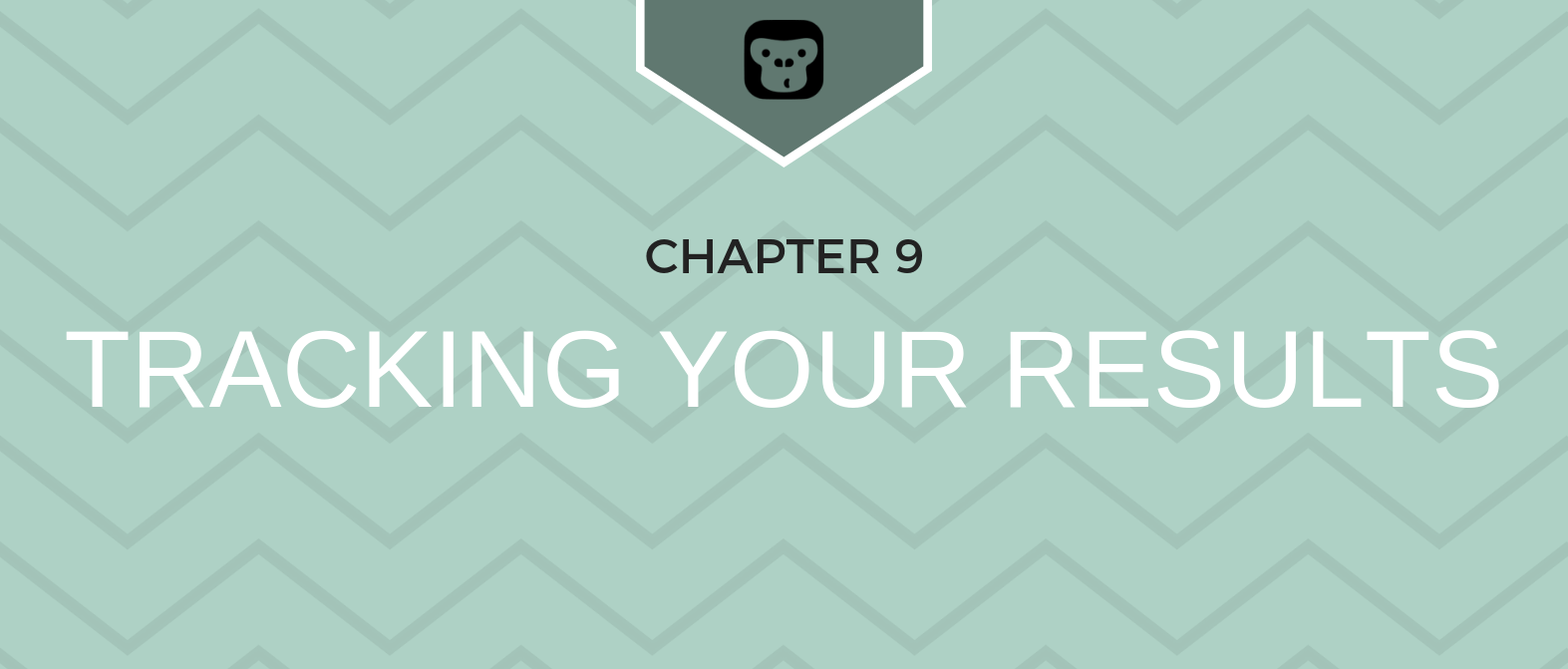 It's time-consuming and frustrating to track rankings manually.  Thankfully, you can use third-party tools to help make the task easier.
For this section, we'll use BrightLocal. It's a paid tool and comes with a 14-day trial. You can use this trial period to get a sense of what your results are.
Of course, if you can't afford this tool, that's not a problem. You can always complete the tasks manually, and track the results in a spreadsheet.
In any case, let's review how you can do this using Brightlocal.
Go to BrightLocal and create your free account and then once inside go to this page.
On this page, set up your local search ranking report by filling in details such as:
Name of the report

Location: city wherein you want to track ranking.

Frequency: how frequently you want the tool to run the report for you.
Here is a quick screenshot to show how to set up: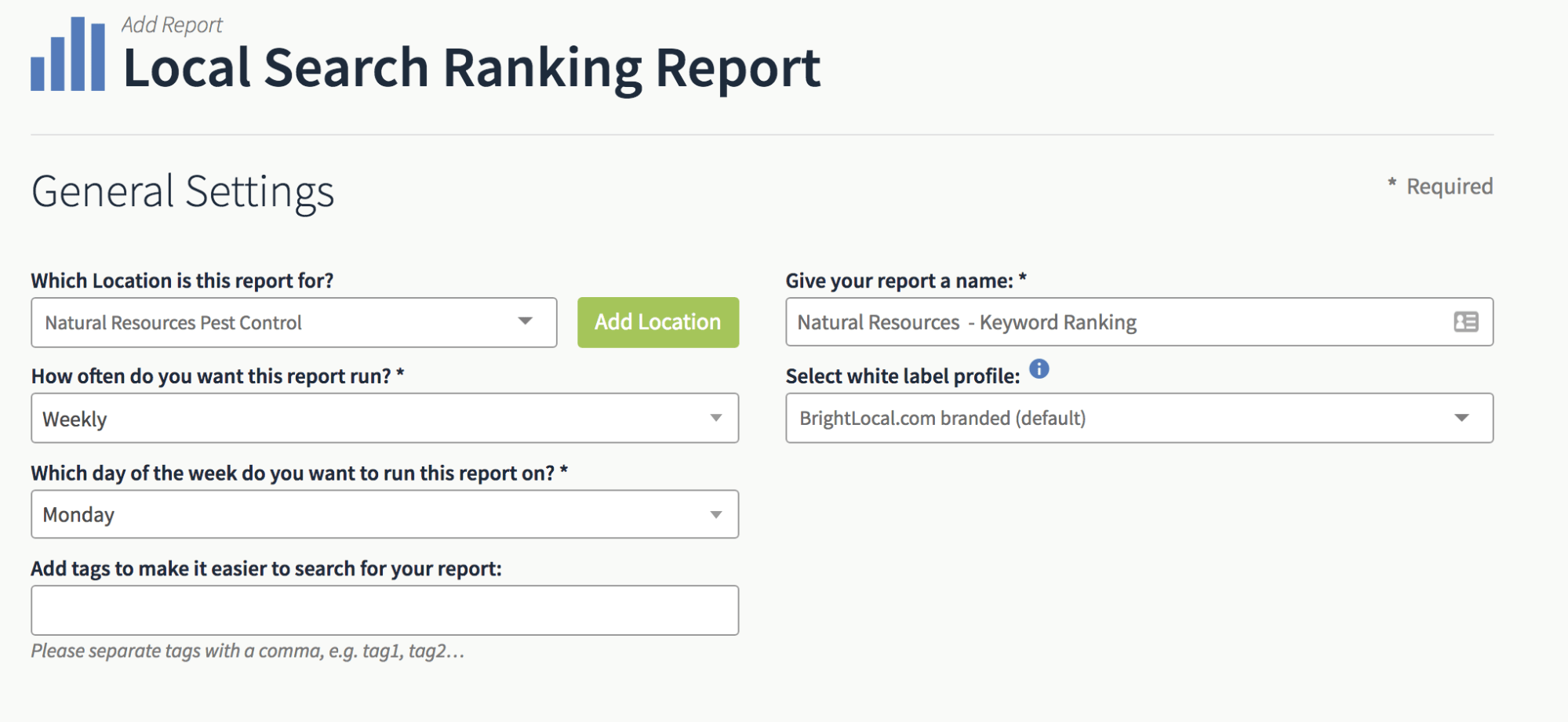 Once you've filled the general settings, move to the next section: 'Search Settings.'
Enter the details in the given fields.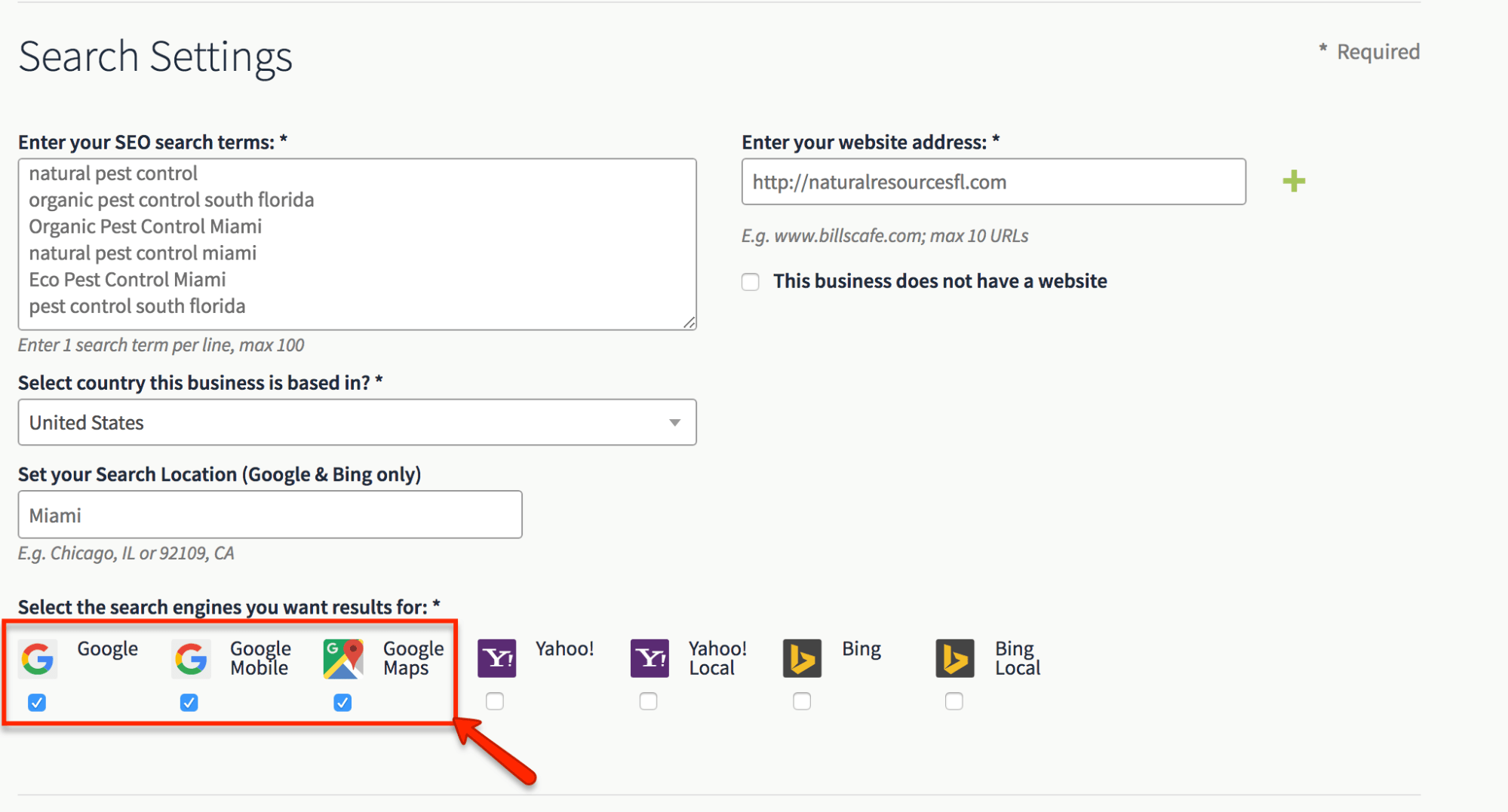 Configure email alerts setting (optional):  If you want to receive an email alert whenever the tool generates a new ranking report and it is ready for analysis.
Set 'Do you want to receive an email when this report is completed?' to Yes.
Click on 'Add Report.'

Once you set up rank tracking for your target keywords, the next thing is to delve into the data.
Login to your BrightLocal account https://tools.brightlocal.com/ and go to Tools > Rank Checker
On this page, you see the ranking data for all your tracked keywords.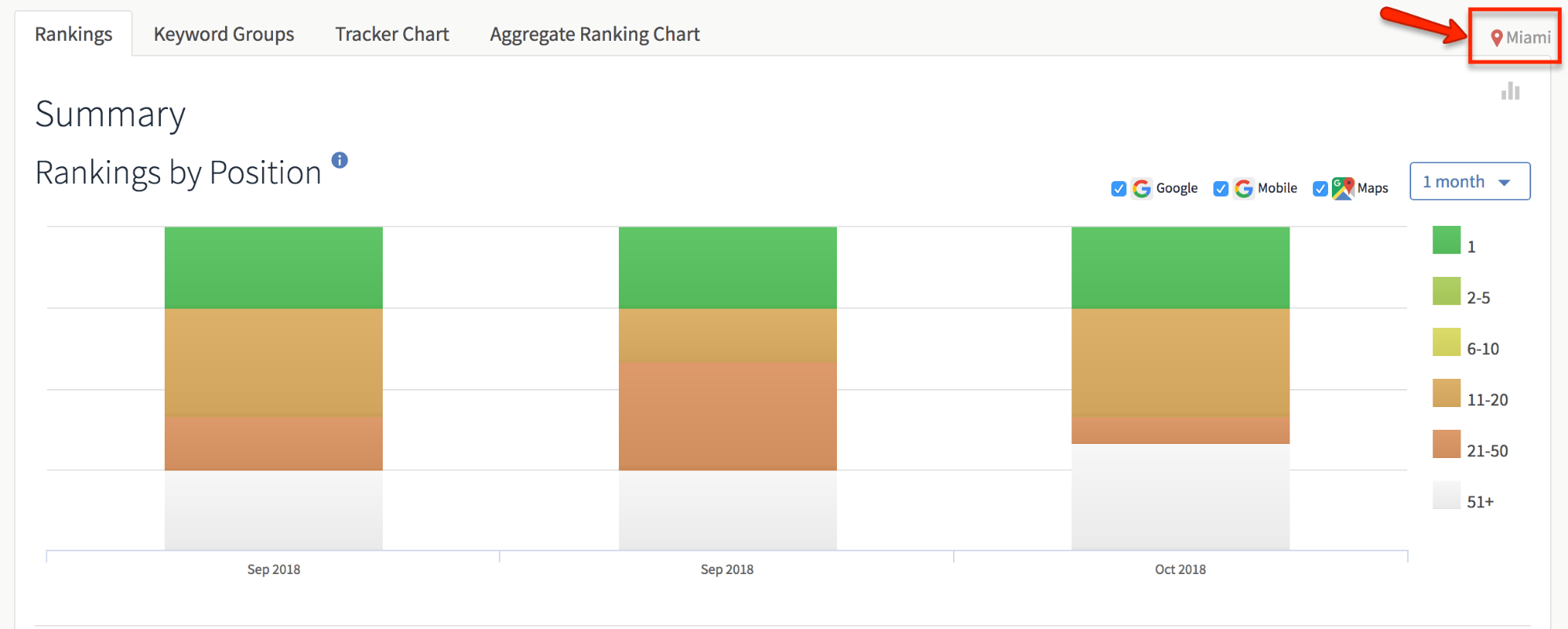 As you see, the above graph shows a summary of all your keywords ranking by position for a Miami location.
It tracks your keywords ranking in:
Google Desktop

Google Mobile

Google Map Packs
Below, you'll see an example of the data returned. This can be a bit difficult to break down, so let's dig into this chart, to see what each section means.

All the keywords that you add to the tool for tracking.
Column 2: Count
It shows the exact number of times people search for the exact keyword and the location together per month in Google.
E.g., Less than 10 people search for 'Natural Pest Control Miami' in Miami area.
Column  3, 4, and 5: Google, Mobile, Maps
Rank: It is the current position for your business for that keyword in Google Search, Google Mobile, and Google Map Packs.

Change: It shows the difference in the ranking (compare to previous time) of your business for a given keyword.

An upward arrow in green shows an increase in the ranking and the downward arrow in red is for the drop in the ranking.

If there is no change, you see a grey dot.
Continuous improvement in your keyword rankings is a sign your local SEO strategy is working well. In this chart, that'd probably mean you have more 'green' arrows than 'red' ones.
If your rankings follow a downward trend, or they remain stagnant, it's an indication that your local SEO strategy needs a review.
Tracking Internal Metrics
You'll also want to keep a close eye on your internal metrics too. This might include the number of phone calls your receiving per day or per month.  It might also include the changes in revenue, within your business.
If you can do this, you'll be able to keep an eye on how your local SEO campaign is impacting your actual bottom line.
How Long Does It Take to Rank on Google's First Page?
In an ideal world, your pest control business would hit Google's first page from the very first day.
Unfortunately, that's not how it works.
There are only a few spots, 13 to be precise. Hundreds (if not thousands) of other pest control businesses in your location are fighting for the 13 spots.
These are:
3 map pack rankings

10 organic rankings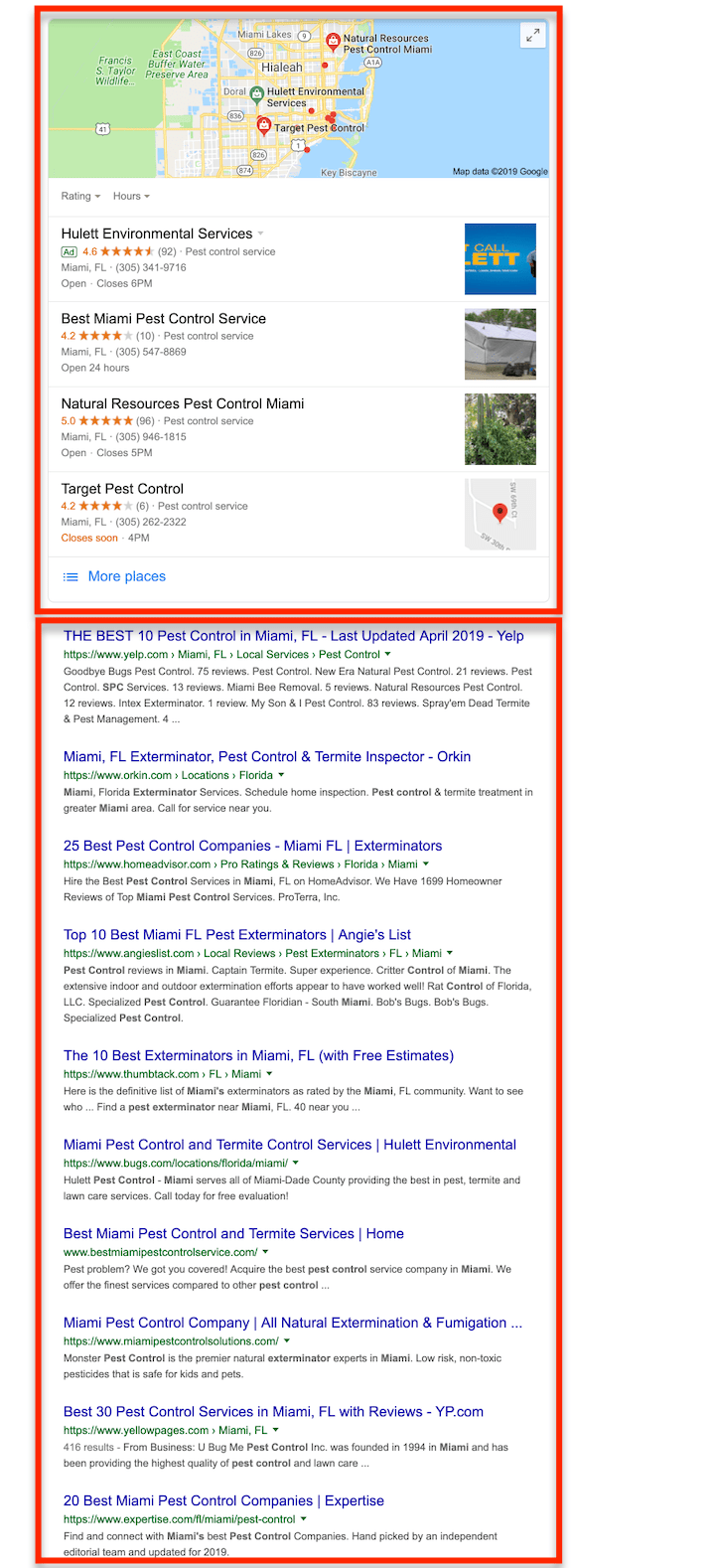 Your first goal is to be in these 13 listings. You then want to move into the first-3 rankings.
There are multiple factors that affect how long it'll take for you to rank on the first page.
Let's explore each of these scenarios and the associated 'ranking timelines.'
Scenario 1 – When your pest control business website is brand new
Suppose you've just set up a brand new website.
How long would will it take before you achieve a top 13 ranking?
Before we come up with an answer, you need to figure out if your business is in a competitive location or a 'non-competitive' location.
How do you know whether your business is in a competitive location?
Well, there are multiple factors that play a role in the competitiveness of a location.
These are:
The number of other, related, businesses in your region. You can normally determine this by the size of the city you're in. Being in a large city, often means a lot of competitors.
Difficulty score of the keyword you are targeting. The higher the score, the more competitive is your location.
To know the difficulty score of a keyword:
Enter your keyword and set your language/country. E.G.: Keyword = pest control Miami and language/country = English/United States.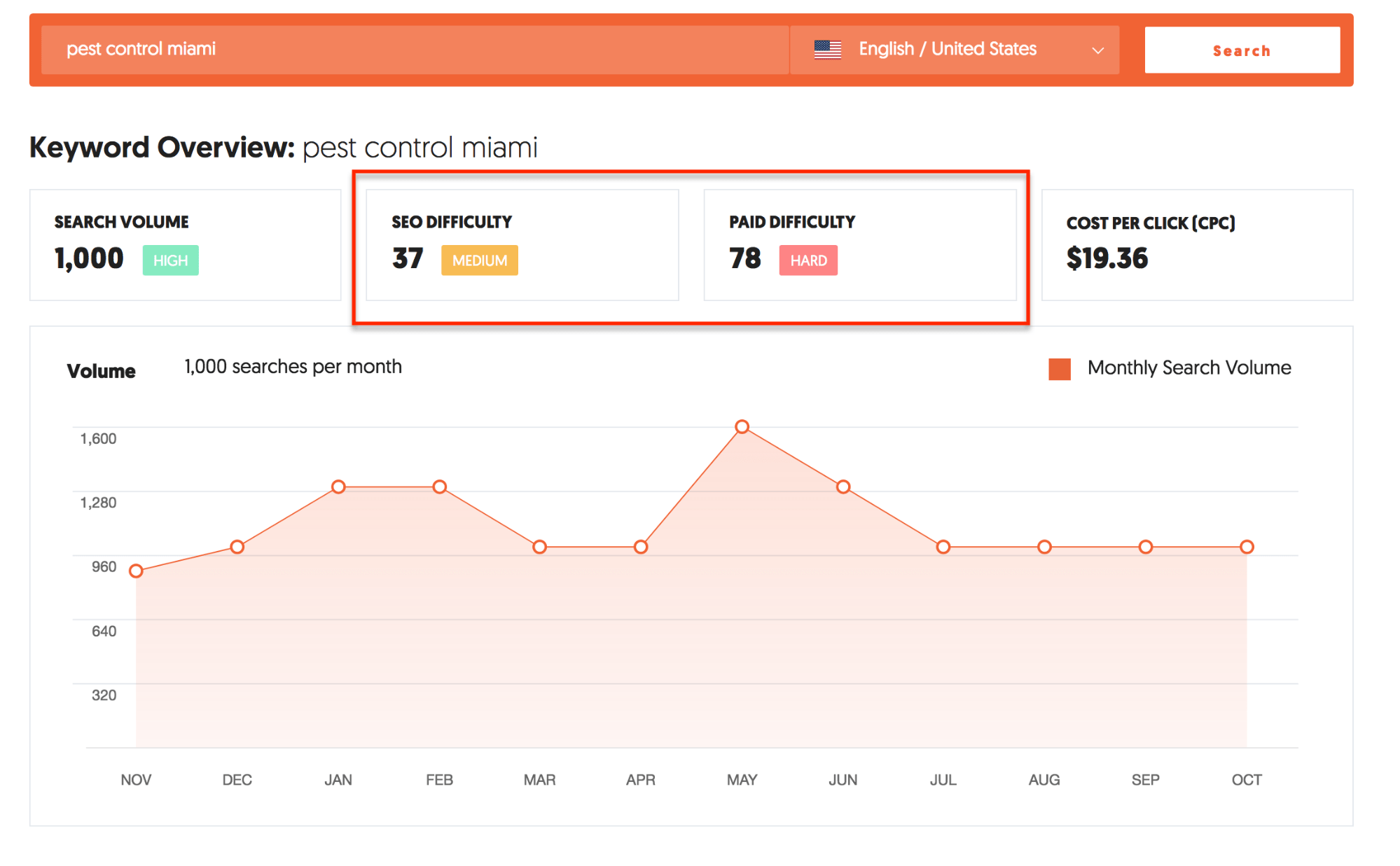 From an SEO perspective, the keyword difficulty of this keyword is 37.
#of pest control businesses operating in your city and competing for the same 13 positions ( 3 in map packs and 10 in organic).
Note: If the keyword difficulty score for your targeted keyword is:
30 or less; that means you are in a less-competitive location.

Ranges between 31-60; that means you are in a mid-high competitive location

Above 60, you are in a highly competitive location
Now we know how to check the competitiveness of a location let's dive deeper into each of the sub-scenarios.
Your business is operating in a competitive location –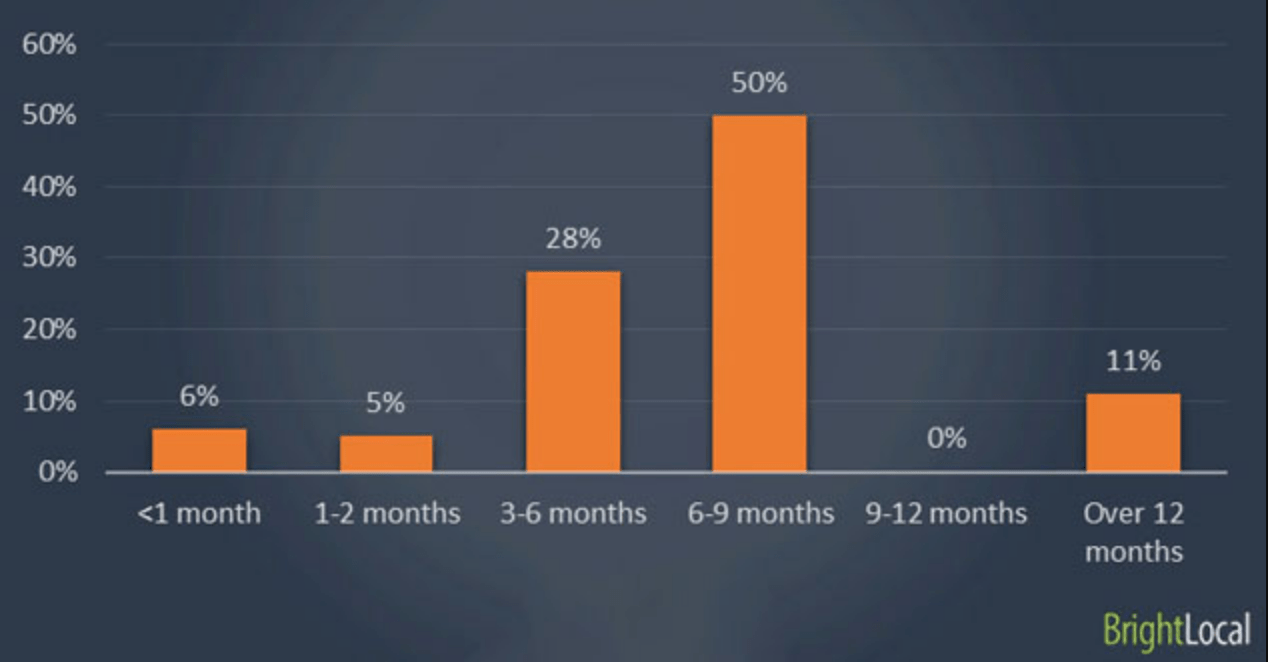 The majority of experts say it'll take over six months.
Your business is operating in a non-competitive location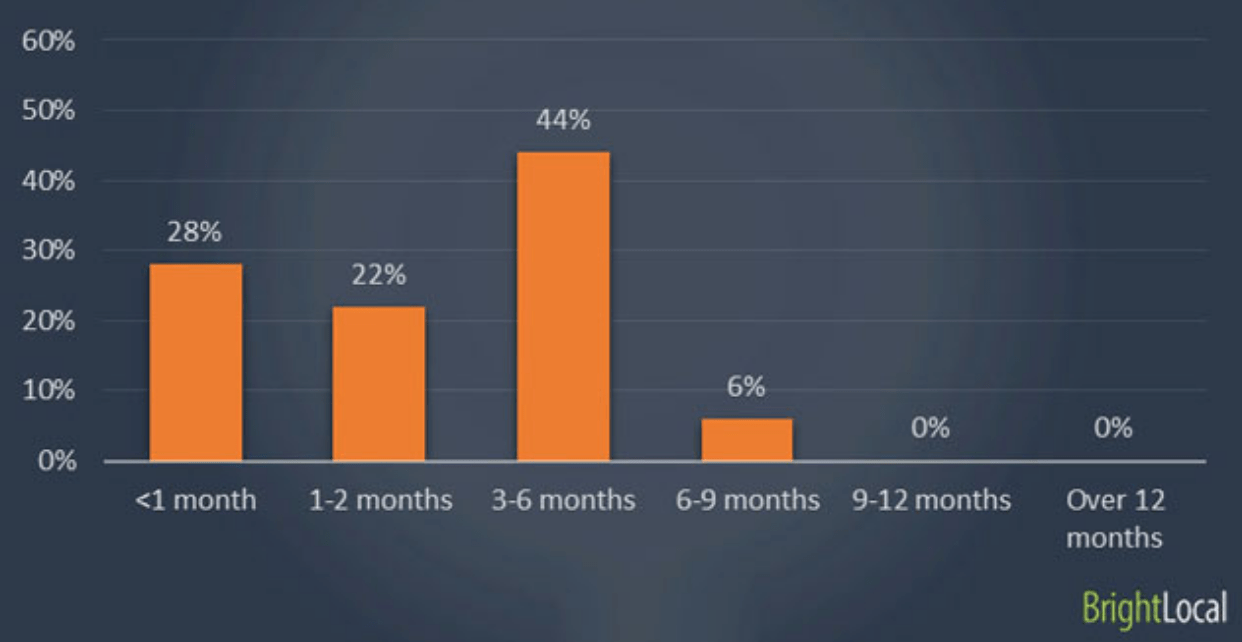 Majority of experts say it'll take 3-6 months to see significant improvements in your search engine rank.
What does this all mean:
If your competition is making use of local SEO, you'll obviously face more of an uphill battle to achieve the rankings you want.
But, the good news is that if your pest control site is brand new, you can realistically compete in within 6-9 months, provided you do everything that's required.
Scenario 2 – When your pest control business has an existing website with some optimization
Suppose you have a website, but it doesn't rank well in the search listings, or in the map pack. Let's also assume you have done a minimal amount of optimization to your site.
How long your website will take before you see significant ranking improvement in this scenario?
Similar to scenario 1, let's dive deeper and look into the sub-scenarios for scenario 2 as well.
Your business is operating in a competitive location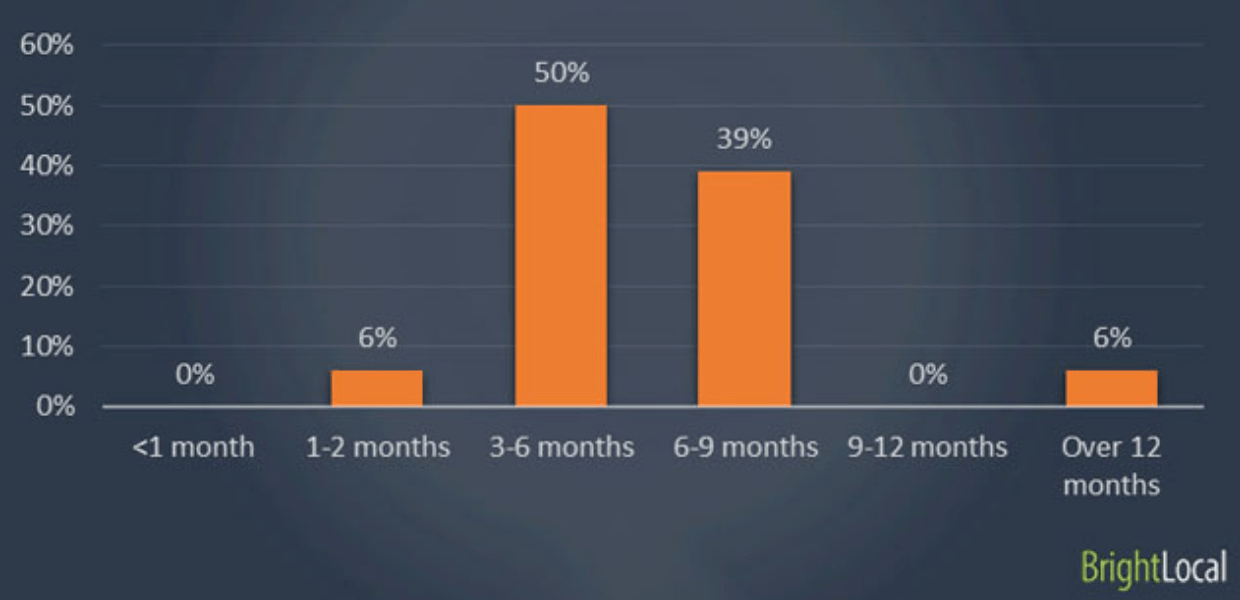 3-9 months seems to be a realistic time frame when you are operating in a competitive location.
Your business is operating in a non-competitive location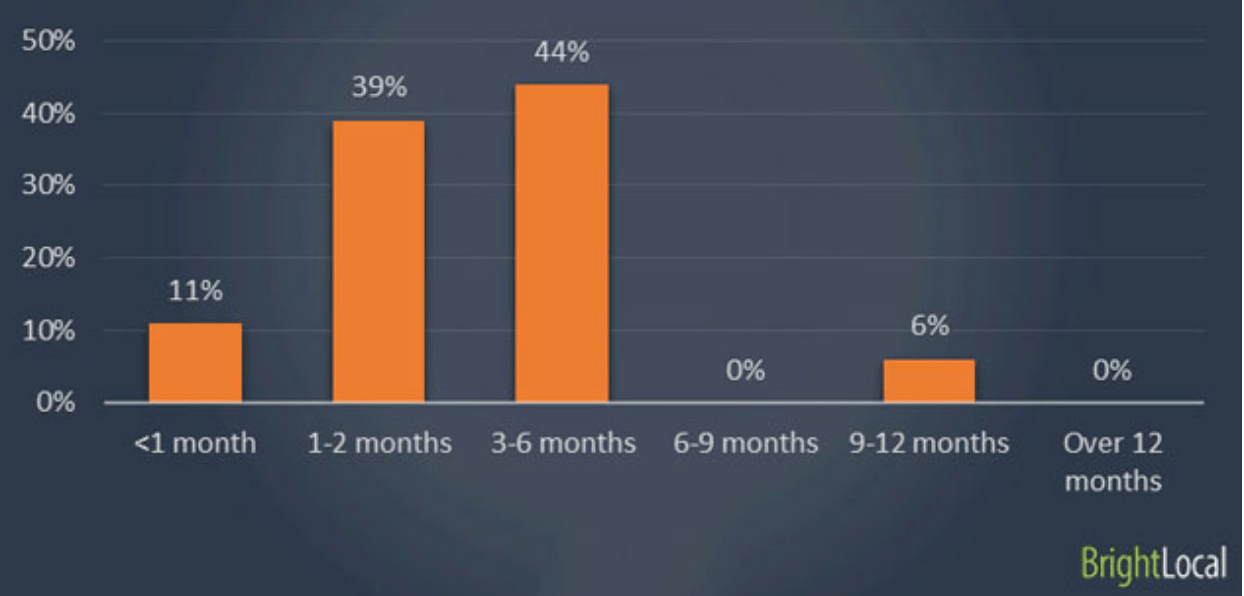 94% of experts say you can achieve a good local ranking within 6 months.
What does this all mean?
The bottom line – It is easier to rank for a brand new business than the one having some optimization done with issues. Strange, but true.
Scenario 3 – When your pest control business has an existing website with poor optimization
This scenario is quite similar to the previous one, with the only difference that here you have a poorly optimized site.
You have low quality links and and inconsistent NAP across the website, Google My Business (GMB), and citations.
You may find yourself in this position if you followed a poor local SEO guide in the past. Or if you hired someone who did a bad job of establishing a local SEO presence for your business.
So, how long your website will take before you see significant ranking improvement in this scenario?
Your business is operating in a competitive location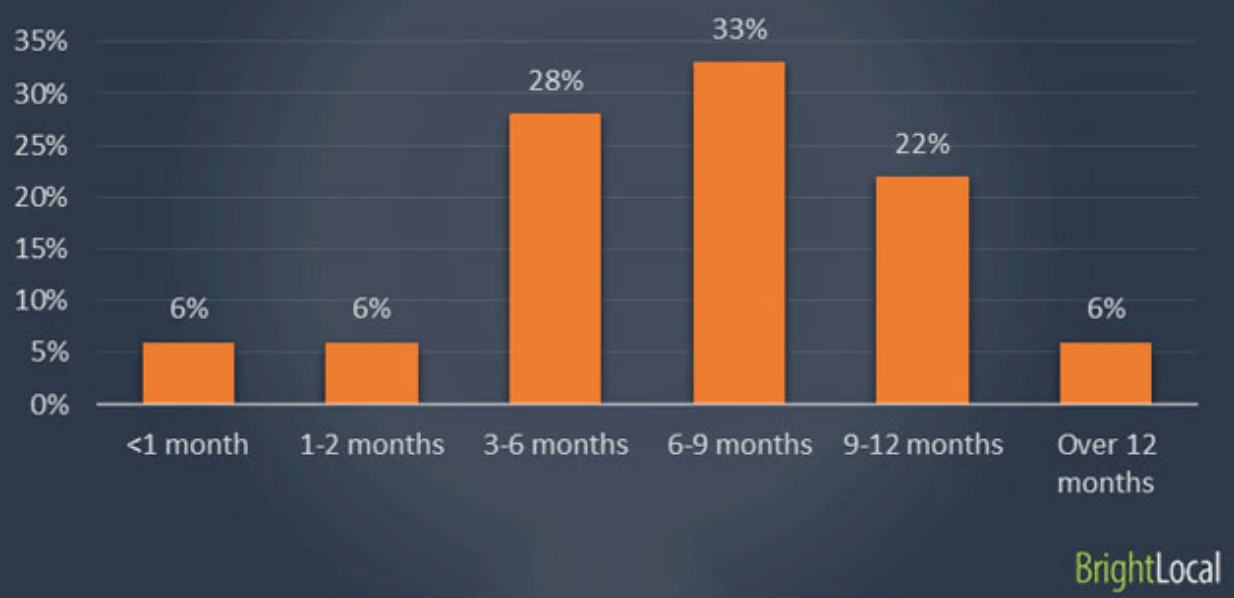 Majority of experts say it takes more than 6 months to rank well locally.
Your business is operating in a non-competitive location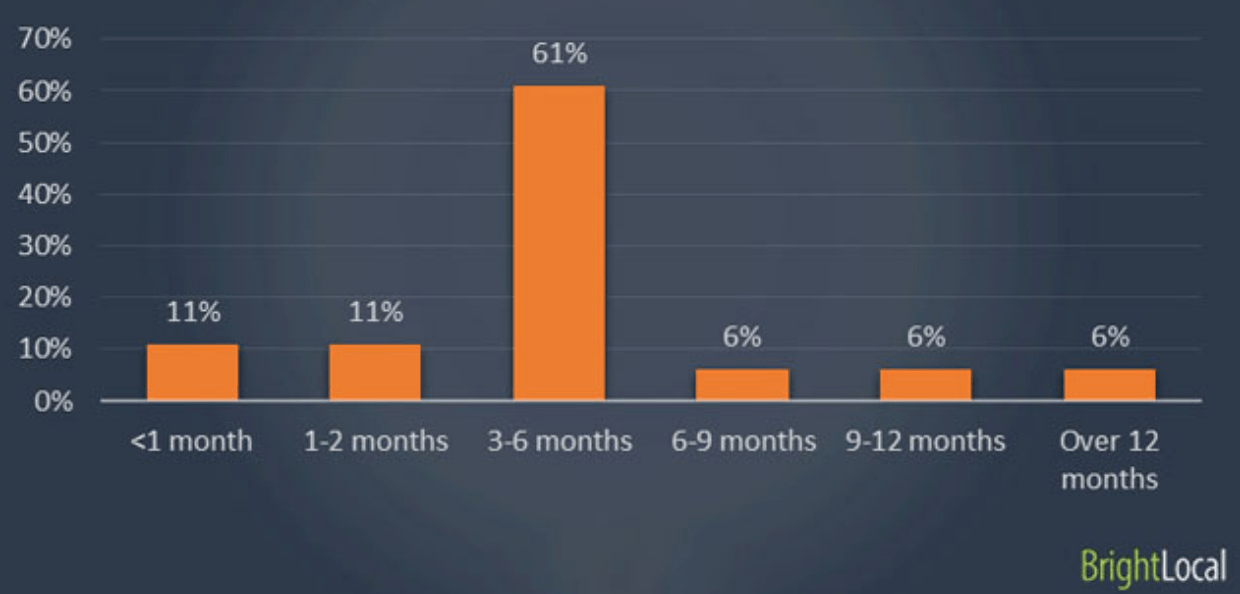 In non-competitive locations, 73% of experts say it takes between 6-12 months before you see any notable improvement.
What does this all mean?
In a competitive location, a poorly optimized site can take upwards of 6 months for good rankings.
However, in a non-competitive location, 83% think that a business can achieve significant ranking in 6 months with the majority voting for 3-6 months time frame.
Whereas, for a brand new site, 94% of experts believe that six months is a good enough time.
Scenario 4 – When your pest control business site is hit with a penalty
A penalty is a form of punishment by Google to websites that are trying to dupe search engines and people by using unethical SEO practices.
This could include buying links or 'stuffing' your pages with keywords.
If your website gets hit with a penalty by Google, it doesn't appear in search engine for any keywords, not even for branded keywords.
A Google penalty can come as a result of the following things:
A new algorithm update. It is also known as an automatic penalty, and you don't get notification from Google if you are hit by it.

A manual review of a site by Google. Unlike the first type, you get a notification if you get a manual penalty.
If you've enlisted someone else to do any SEO work for you in the past, or you've done some of your own, it's important you check whether you have any penalties. Especially if you currently have a website that's extremely difficult to find in the search listings.
By making these preliminary checks, you can ensure anything you do towards improving your local SEO results, isn't going to go to waste.
Recognizing a Penalty
As mentioned earlier, there are two types of penalties – manual and automatic.
With a manual penalty, Google notifies you inside your Google Search Console account.
To check, log in to your Google Search Console account and select the website property (in case you have multiple sites added)
On the left side panel, go to 'Manual actions >> Manual actions' and you will see a similar screen: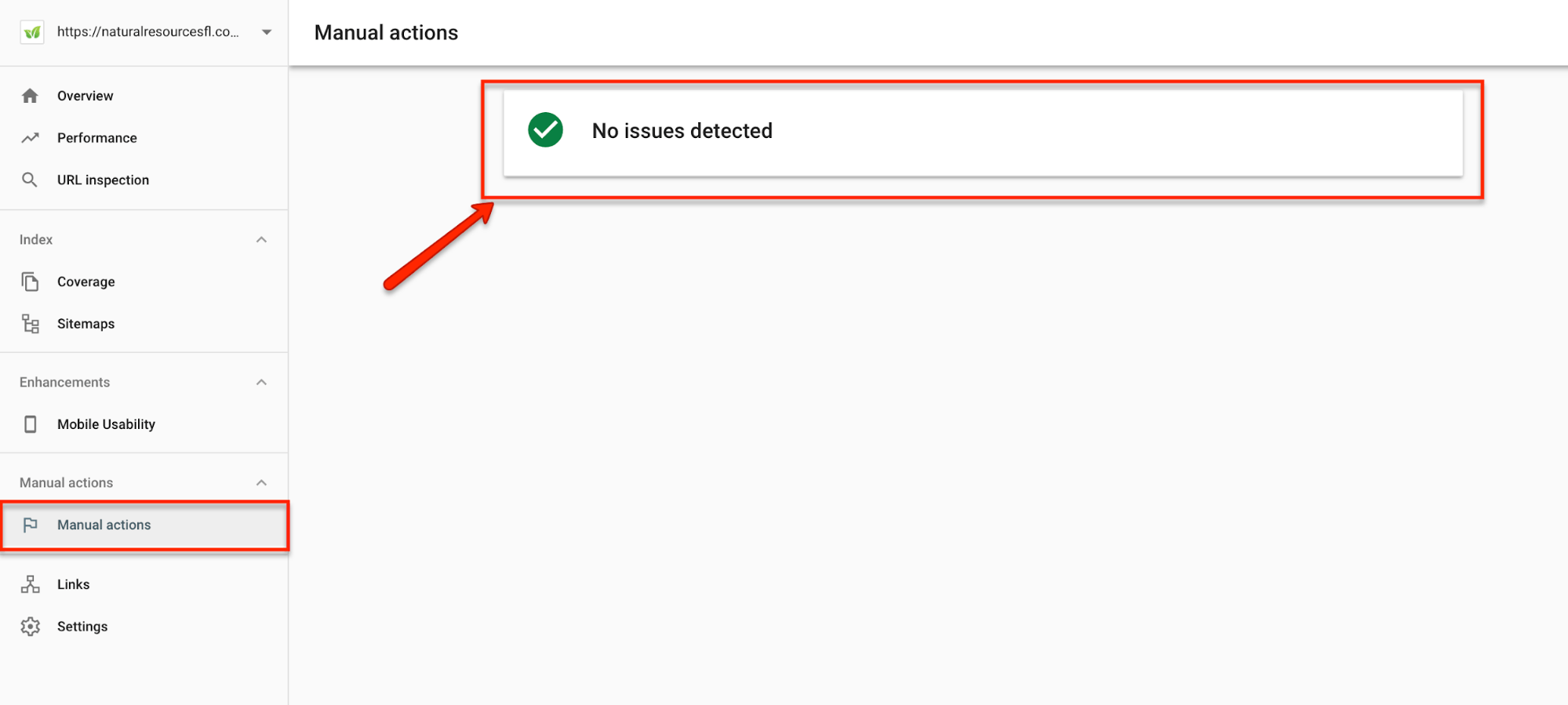 If you have a manual penalty, you will see a message here.
With an 'automatic penalty, you don't get receive a message.
Some abnormal patterns indicate that you might have an automatic penalty:
A sudden drop in ranking for the keywords you were ranking in the past.

Your website no longer shows up for even the branded keywords, such as keywords associated with the name of your business.
You don't see any results when you run the site search using site:yourdomain.com string.
A sudden drop in website traffic.
Now that we know about Google penalty, let's look at how long it can take to recover from a penalty.
The same set of experts, who shared their opinion on the first three scenarios, were asked to share their views on penalty recovery.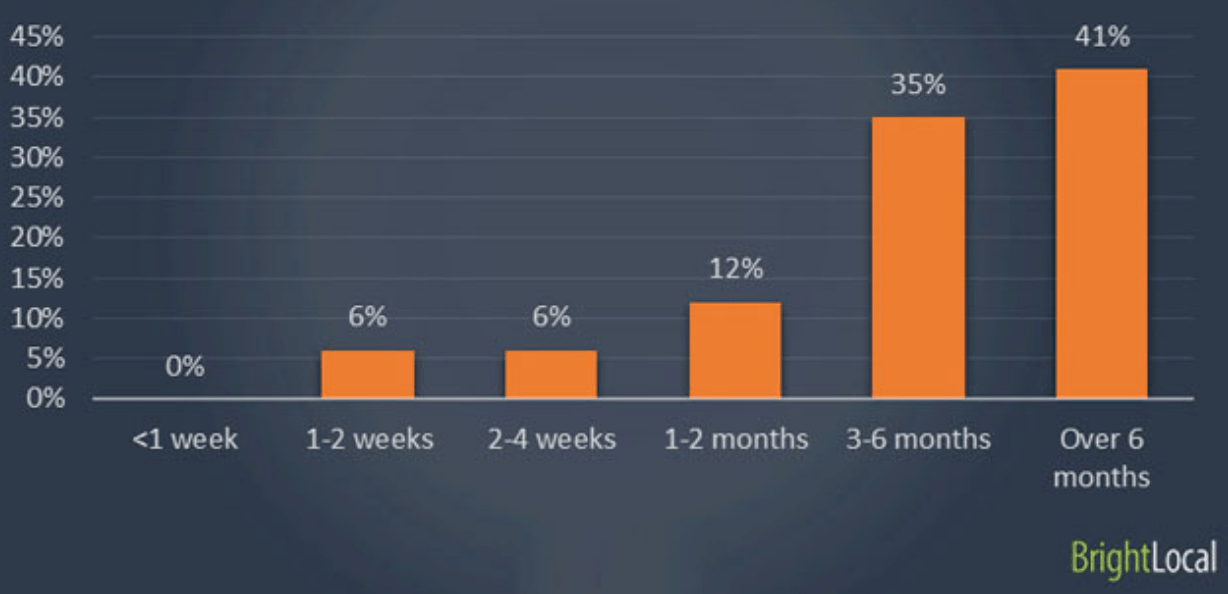 76% of experts said that it takes more than 3 months and 41% voted for 6+ months to come out of a penalty.
Once your website overcomes the penalty, your primary focus is on start ranking again.
The question that pops up here is –
Once Google uplifts the penalty, how long does it take before your rankings are back to pre-penalty level?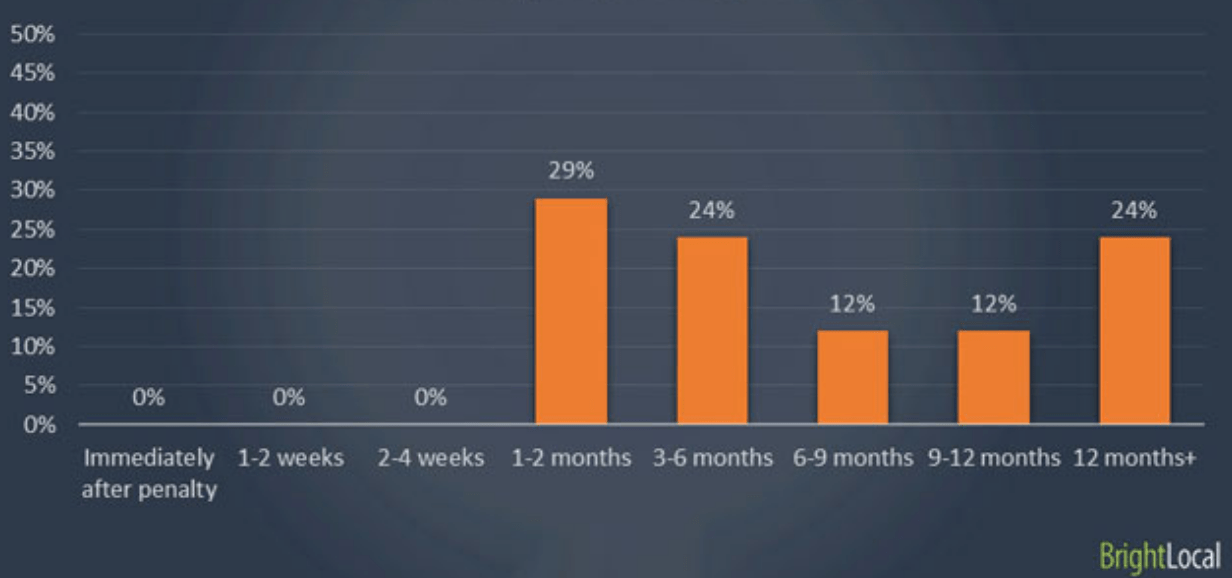 Almost half of the experts said that it takes 3-12 months before your site attains previous rankings.
So, if you happen to get a penalty, it can have a negative impact on your business and it can be incredibly frustrating. But, if you go about things the right way, there is a way back.
10. Final Thoughts And The Way Forward