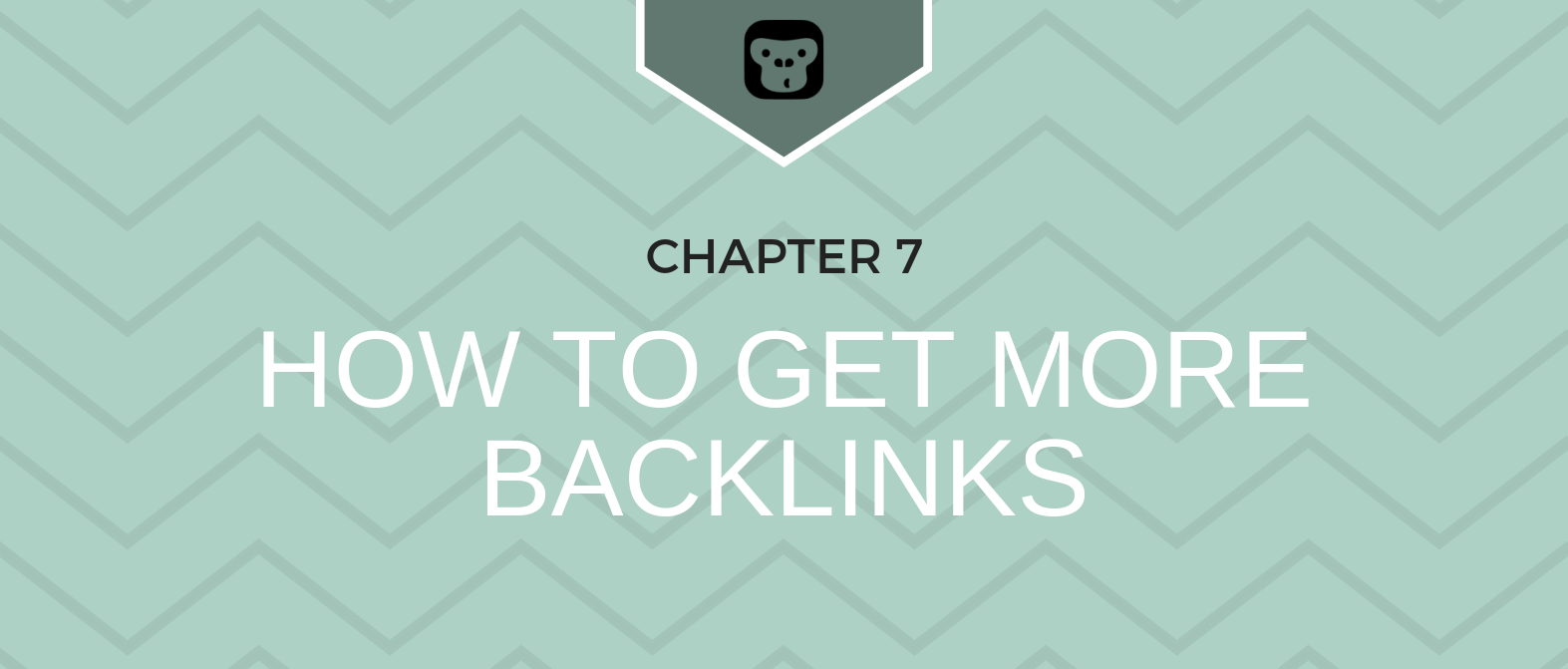 The number of links pointing to your site is a big factor for Google, when determining where it should position your website in the search listings.
In fact, links are the second most important factor in local SEO ranking factors, as shown in the diagram below.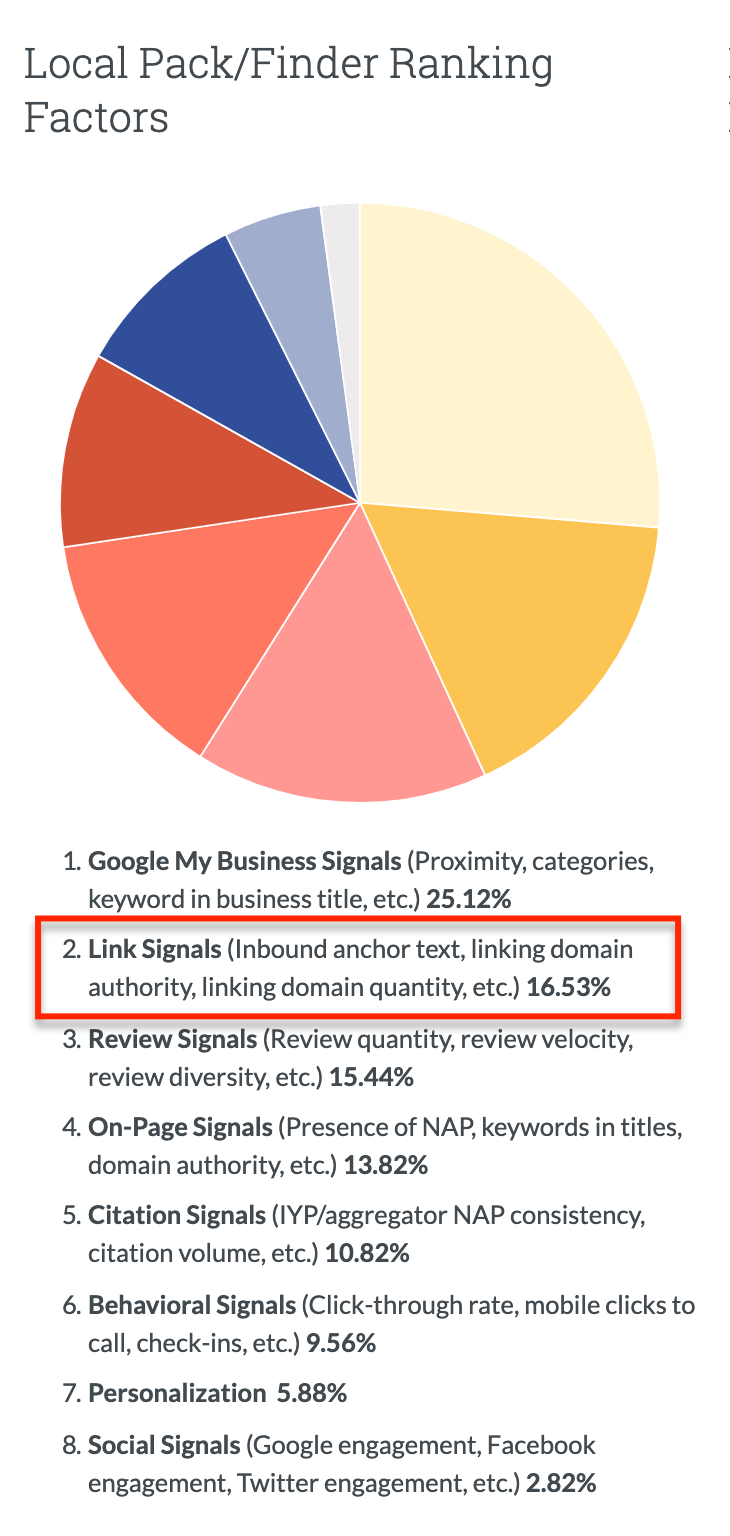 Thus, if you want to achieve high rankings, you need to learn how to build links to your pest control site.
Now it's important to note that you don't want to just build a huge number of links haphazardly. The quality of the links you have also plays a significant role.
So, how do you determine the quality of a link?
Well, multiple factors play a role in deciding the quality of a link.
The source of the backlink can have a huge impact on the quality of the link.
You should look to link with sites and pages having a domain authority (DA) or page authority (PA) score of 20 or higher.  You can figure this out using certain SEO tools such as Moz or SERPed.net.
The relevance of the website providing you with a backlink is also a significant factor.
Getting a backlink from a site related to mens clothing is going to pack less of a punch, than a backlink from a site associated with pest control, pest, home improvement and other related niches.  
The type of link can also have a big impact on the 'effectiveness' of a particular link.
Certain kinds of links are deemed better than others. For instance, a link that's in the middle of a paragraph is often better than a link in the comments of a blog post. Ideally, you want a branded link using a service like Rebrandly.
How Is Link Building Different from Citations?
Citations and link building have many things in common, but they're not the same thing.
Before we jump into differences, let's first look into the similarities between backlinks and citations:
Both appear on 3rd party sites. These sites are not directly associated with your business.

Both work as an online reference to your pest control business.

Both can affect your ranking negatively if not built following the best practices.
Now we know the similarities,  let's look at the difference between backlink and citations:
A citation must include your Business Name, Address and Phone Number (NAP), but it is not compulsory for a link.

A link must be clickable, and it should redirect readers to your website whereas a citation doesn't have to redirect someone to your site.

Your citation profile must be consistent, on the other hand, link profile should be diversified.

Links improve rankings for both the organic search results & map packs, whereas citations mainly improve rankings in map packs.
Now that you know what creating backlinks does for your website let's dive deeper and look into link building methods you can use for your pest control business.
How to Build Authoritative Links for Your Pest Control Business
There are many link building methods on offer.
It's vital you use a mix of these methods, as in doing so, you'll build up a healthy variation in links, thereby making your site seem more credible in the eyes of Google.
1) Reach Out to Non-Competitive Competitors.
What is a Non Competitive Competitor (NCC)?
[Type-1] A NCC is someone in more or less the same business as you, but not exactly.

[Type-2] A Non Competitive Competitor is someone in exactly the same business as you but in a different location or targeting a different market sector.

[Type-3] A Non Competitive Competitor is also someone in the same location as you but in a different business.
For example – 
[Type-1]  Your business provides pest control service in Miami: A NCC could be a similar business offering a pest control service that you don't provide in Miami  => Both businesses, in this case, are 'Non-Competitive Competitors.'

[Type-2] Your business offers pest control services in Miami: The NCC would be a similar business offering pest control services in any other city or state, say in 'San Diego'  => Both sites, in this case, are 'Non-Competitive Competitors.'

[Type-3] Your business offers pest control services in Miami: NCC, similar business selling product used for pest control in Miami  => Both sites, in this case, are 'Non-Competitive Competitors.
Because you're dealing with other small businesses, you'll find it easier to attract the links. It's easier to reach out to the founders, and ask them for a link. This would be hard to do if you're dealing with a fortune 5000 company, for example.
2) Scholarship Campaign
Scholarship campaign is a goldmine for building super high authority links. They are tricky to execute, but worth it if done well.
You may need to shell out $1000 or more (totally depends on you) as a scholarship prize, but trust me it is well worth the money.
There are multiple professional and societal benefits of a scholarship campaign for link building.
You earn super high authority links. Google rates educational institution websites very high.

Your website gets an impulse push in organic ranking.

Increased visibility. As you promote your scholarship program to multiple universities, your pest control business gets visibility.
Here is a screenshot of Scholarship campaign by smart folks at Natural Resources Pest Control: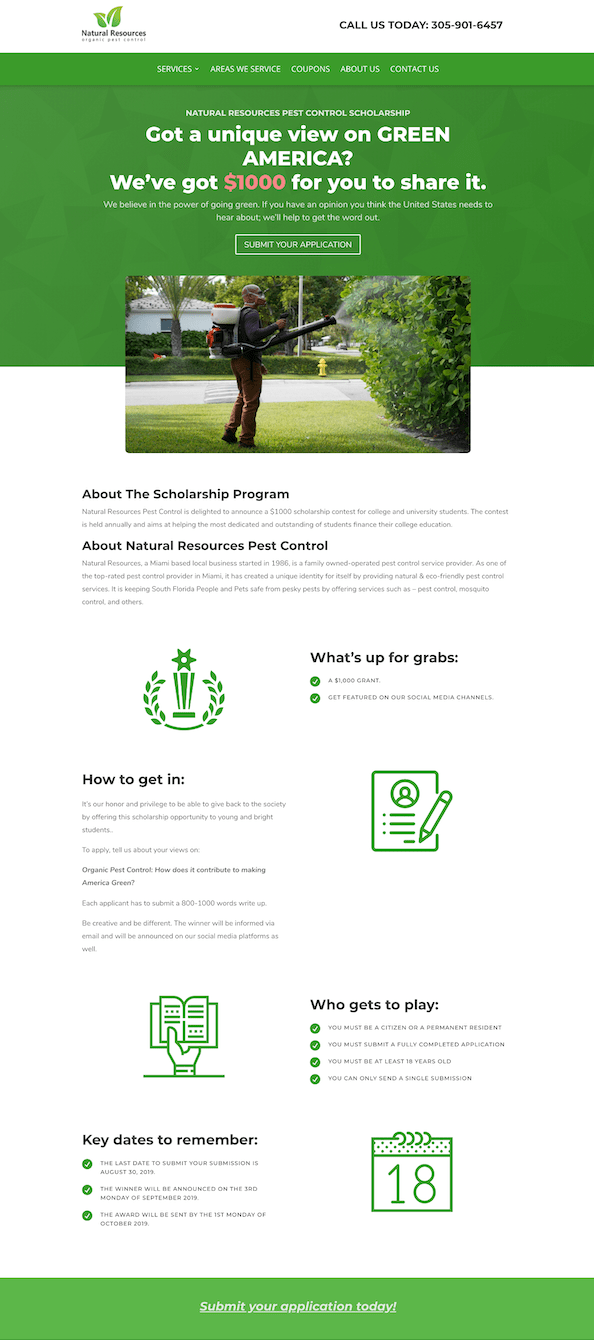 The great thing about such campaigns is you can leverage PR and news coverage to get additional results. As these campaigns are not about you or your service, it's likely they may get picked up by PR and news media.
Getting in the news – both on local, and national stages – is a great way to attract attention and links to your site.
3) Guest Posting
Guest posting is simply when you create content for other sites.
When such sites publish your content, they often let you put a link to your site, in the author bio.
This method can be a great way to get some links on high profile sites, as good sites are always in search of good content.
Another good thing about these links is that they can produce clients. That's because people might read your content related to pest control and they may want to check out your services and become a customer.
8. Getting More Customer Reviews