Pest Control Website Secrets: How to Generate Hundreds Of Leads & Phone Calls Every Month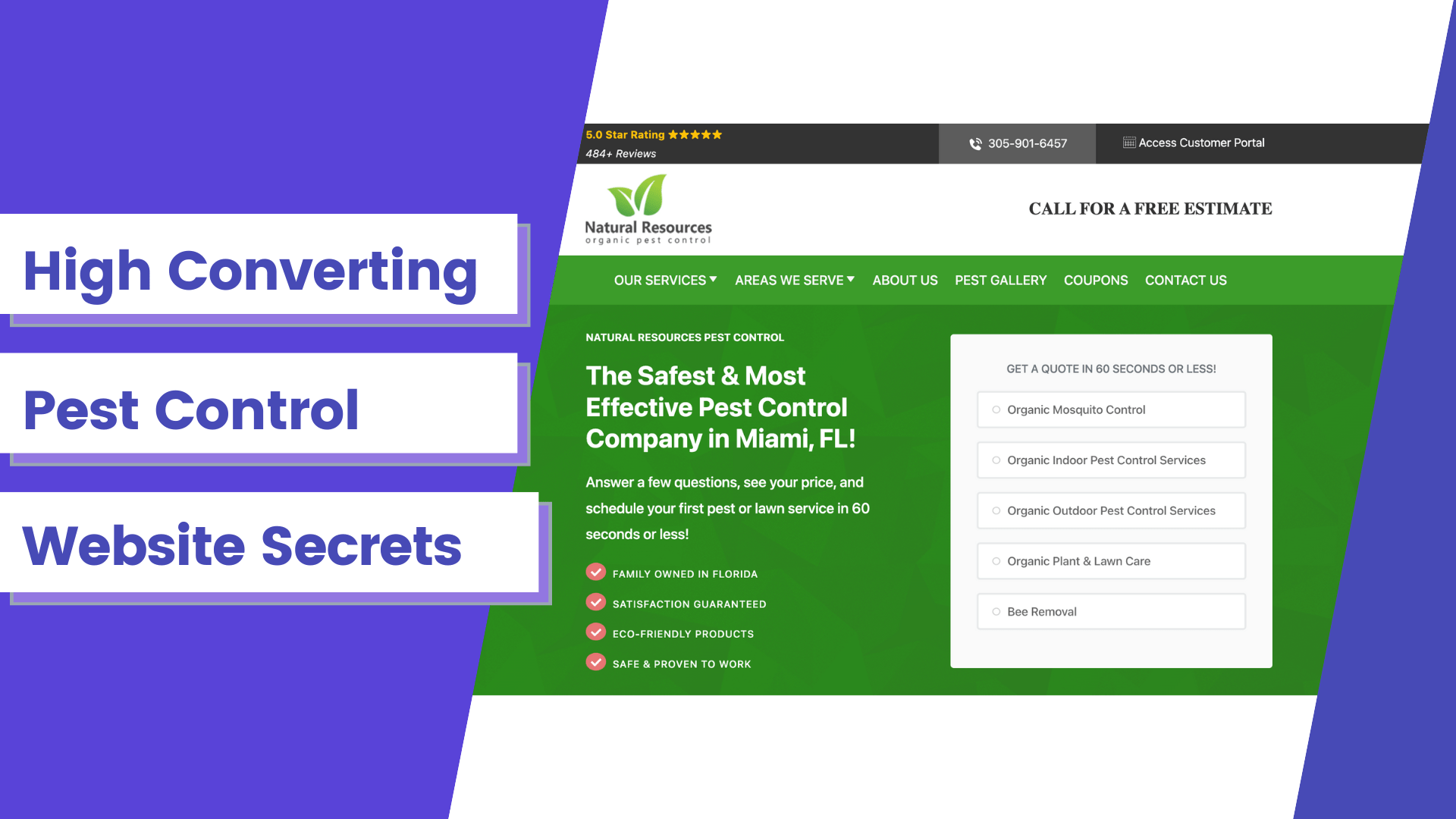 Did you know users form an opinion about your website in just 0.05 seconds? That's all the time you have to make a lasting impression and convince them to stay.
With such a small window of opportunity, making every second count is crucial. That's where conversion-driven design comes in. 
By prioritizing ease of use and minimizing confusion, the conversion-driven design ensures visitors can quickly find what they need and engage with your website. As a pest control business owner, you can't afford to ignore the importance of conversion-driven design. Without it, you are leaving money on the table.
But don't worry; this post has got you covered. It will teach you everything you need to know about the conversion-driven design and how to use it to improve your website. Whether building your first site or updating an existing one, this post will show you how conversion-driven design can help turn your visitors into paying customers. Take advantage of this opportunity to take your website to the next level.
Before we dive into the main principles of conversion-driven design, we must address one tantalizing aspect of growing your business: lead generation.
As a pest control business, there are numerous channels to generate leads. But if you're looking for a reliable and irresistibly cost-effective option to keep your phone ringing off the hook with eager clients in the long run, look no further than our Local SEO Playbook and Google Business Profile optimization. While local SEO may take some time to build up, the results will surely set your business ablaze once it does.
So, if you're ready to ignite your pest control business and set it ablaze with the fire of local SEO, this guide will make your heart race and your pulse quicken. Get ready to turn up the heat!
If you need assistance with Local SEO and/or Google Business Optimization Services and get started with this Free Audit, and our team will see if you're a fit for our services.
Ready to make your phone ring?
Tell us about your business, and let us tell you how we can help.
What Are the Main Principles of Conversion-Driven Design? 
Conversion-driven website design focuses on creating a website that looks great and drives action from visitors. The main principles of this approach include 
A responsive website design

A clear and concise value proposition

Brand consistency

Trust signals or social proof

Persuasive calls-to-action 
A conversion-driven website guides visitors through a seamless journey, from the initial landing page to the final conversion point. By prioritizing user experience and optimizing for conversion, it helps businesses like yours increase online revenue, grow your customer base, and achieve business goals. 
1. Responsive Website Design
In today's age, having a website that adapts seamlessly to any device is no longer a luxury. It's a necessity. That's why responsive website design has become crucial to any successful online presence.
In essence, a responsive website morphs to fit the screen of the device it's being viewed. This ensures the user experience is top-notch, regardless of the device and the platform. It's vital to provide a seamless and consistent experience across all platforms.
Recent surveys have shown that 85% of adults expect a company's website to be just as good, if not better, on a mobile device than a desktop. A good example of a responsive website is Upstate Pest & Wildlife Control. Users can access it seamlessly across all devices.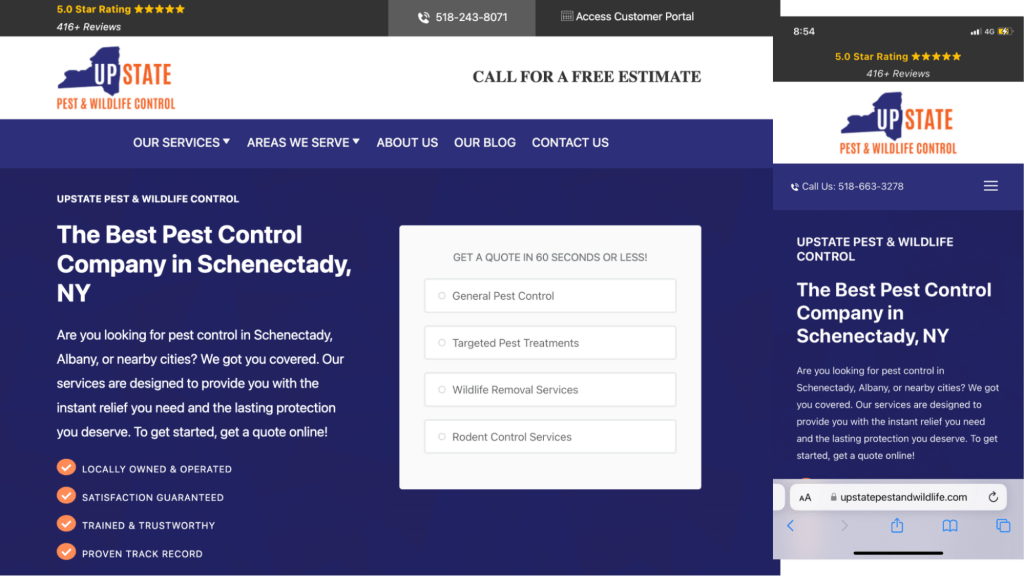 The bottom line is a responsive website isn't just a nice-to-have; it's a must-have. By ensuring your pest control website looks great and functions perfectly on any device, you're meeting your audience's expectations and giving your business a significant competitive advantage. 
2. A clear and concise value proposition
While responsive website design is vital,  it's only one-half of the equation. A clear and powerful value proposition is equally important, if not more. It is essential for any pest control business to stand out in a highly competitive industry. A powerful value proposition must communicate the unique benefits of the service and demonstrate its value to customers. 
For example, a pest control business could focus on using eco-friendly, non-toxic pest control products, offering peace of mind to customers with pets and children. 

Another example could be using state-of-the-art technology to identify and eradicate pests quickly and efficiently, reducing the time and inconvenience associated with traditional pest control methods. 

Another value proposition could be offering a satisfaction guarantee, where they promise to return and re-treat the area if pests reappear within a specific timeframe. This guarantee reassures customers that the service provider takes their job seriously and that they stand behind their work.
Now, let's look at a couple of pest control websites and see their value proposition.
Natural Resources Pest Control uses a very straightforward approach. The introduction line: "The Safest & Most Effective Pest Control Company in Miami," – directly emphasizes the value proposition of safety and effectiveness.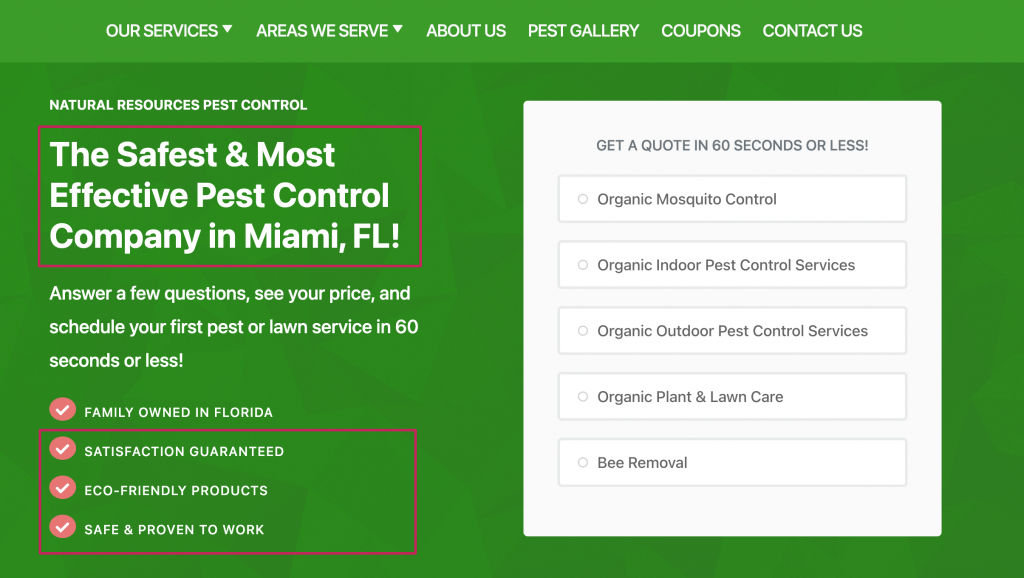 By highlighting the unique selling points, your pest control business can differentiate itself from competitors and appeal to customers seeking a safer, more effective, and hassle-free pest control experience.
3. Brand Consistency
Your brand is what separates you from competitors. Everything from your website's colors, fonts, and founding story will represent your brand.
Think of it like a first impression – when a brand maintains a consistent look and feel across all its online and offline channels, it's like putting your best foot forward every time.  It's the glue that holds your company's identity together and helps you connect with your target audience. If you're not consistent, you risk confusing and alienating your customers. But if you consistently deliver a professional and reliable experience, they will likely turn to you repeatedly.
Natural Resources Pest Control is one of the great examples of how to use your work philosophy for branding. The use of different shades of green throughout the site emphasizes the company's environment-friendly and eco-safe philosophy. Even in its messaging throughout the website, it stresses the organic aspect of its pest solutions.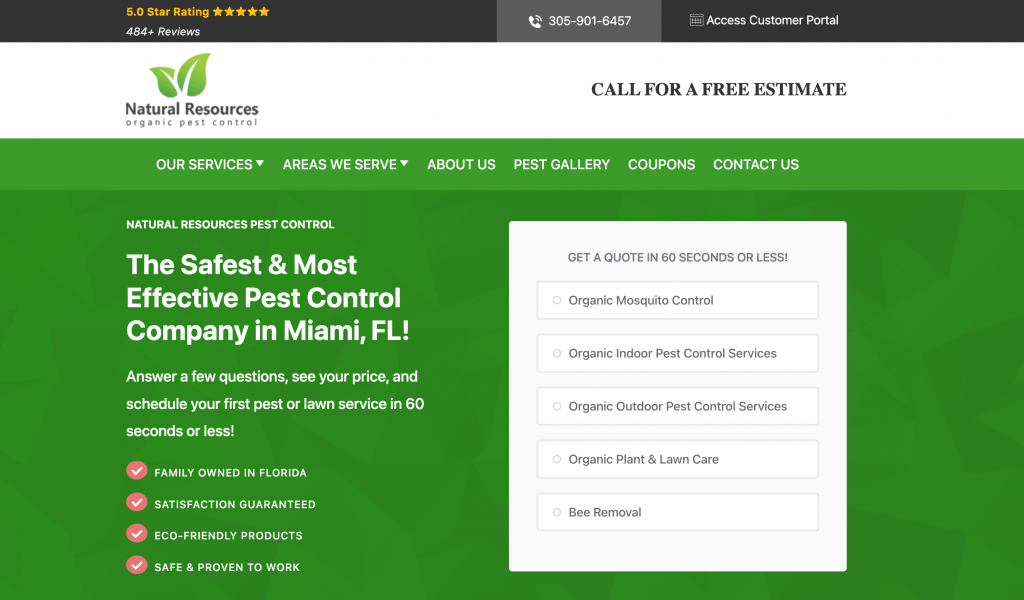 Another great example of brand consistency on a pest control website is Orkin. The website makes it easy for you to identify Orkin's brand colors quickly.  From the logo, technician uniforms, and service trucks to the call-to-action on the website, there's a consistency in how the brand colors (red and white) are used across the site.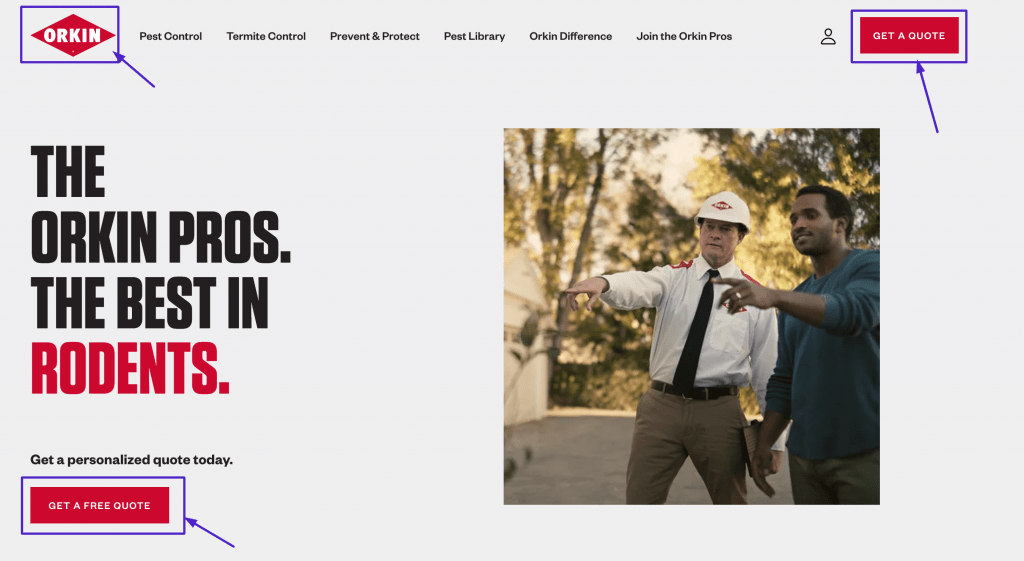 In contrast, a pest control website with inconsistent branding is like wearing a mismatched suit to a job interview – it's unprofessional and leaves a bad taste in the mouth of potential customers. Inconsistency in branding can cause confusion, distrust, and, ultimately, lost business. So, don't be like the competitor down the street with a haphazard website and outdated branding. Instead, make your brand consistent, memorable, and irresistible to customers.
4. Trust Signals or Social Proof
In the pest control business, trust is everything. No matter how hard you try, you can't force someone to like or trust you… you need to earn it. That's why we recommend implementing these powerful strategies to establish trust with your potential customers:
1. Customer Reviews: Showcase customer testimonials that demonstrate the quality of your service. It will show potential customers that your pest control methods are effective.
2. Contact Information: As apparent as it may sound, some businesses make it challenging for potential customers to reach out to them. Don't make the same mistake – ensure your website includes all your contact information – phone number, email, and address. It will give potential customers the confidence to reach out to you.
3. Share Your Story: Create a comprehensive "About Us" page that tells the story of your business and highlights your expertise. It will help build a personal connection with your customers.
4. Showcase Certifications and Accreditations: Prominently display your certifications and accreditations on your website. It will assure your customers that you are a credible and trustworthy business.
5. Provide a Free Estimate: If your pest control company can afford this, provide a free estimate. It demonstrates your commitment to transparency and fairness.
6. Offer a Money-Back Guarantee: This one is optional. However, if you can offer a no-questions-asked money-back guarantee, you must do it. It shows your customers you are confident in your ability to deliver results.
By implementing these strategies, you can establish a strong foundation of trust with your customers and differentiate your pest control business from competitors. Let's look at pest control websites and how they demonstrate social proof.
For building and earning the visitor's trust, Natural Resources Pest Control includes multiple elements on the website. These are:
Customer Ratings (on a scale of 5)

Total Customer Reviews

The about us page narrates a story about how it all started 

Satisfaction Guarantee 

Customer Testimonials

Contact Information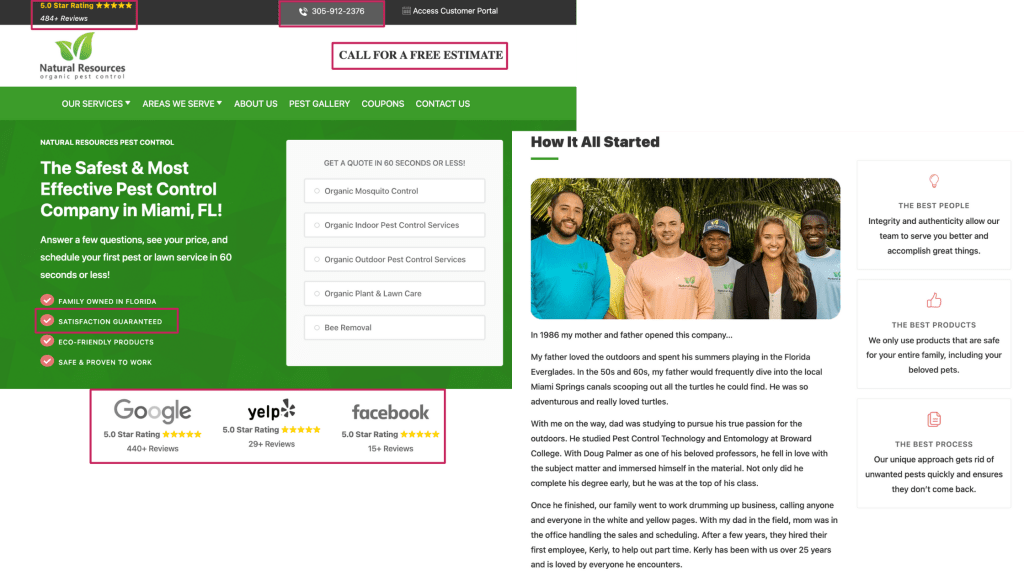 Another great example of a pest control company using social proof on its website is Lloyd Pest Control. Various trust signals that it uses are:
Guarantee

Customer Reviews

About Us

Industry Accreditations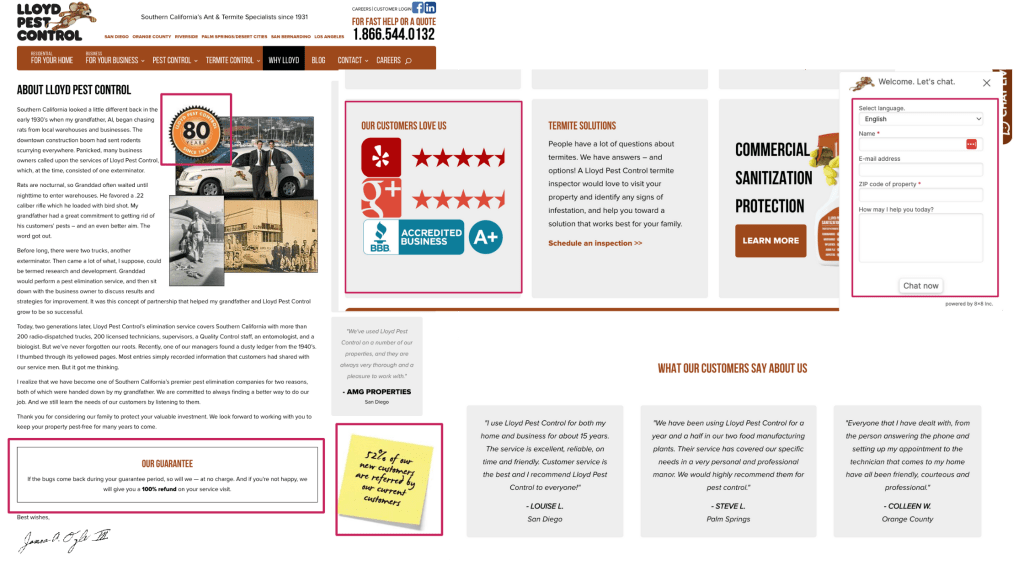 5. Persuasive calls-to-action
When visitors land on your website, don't assume they know what to do next. To help them achieve their goals, you must clearly direct them toward the next step. That's where the power of a Call to Action (CTA) comes in.
But a CTA is not just a mere suggestion. It's a tool that can make or break the success of your website. A strong CTA has the ability to persuade visitors to take immediate action, instilling a sense of urgency and scarcity that sparks fear of missing out (FOMO).
So, don't settle for a lackluster CTA. Make it compelling and powerful with a message that screams action. For instance, "Book A Call Today To Save 25%" – it's an irresistible offer that no one would want to miss out on. 
Natural Resources does a pretty good job here. It uses the psychology of small steps – "The Kaizen Way: One Small Commitment at a time" – for better conversions.
In the first view, visitors see a multi-step form (one step at a time) and are asked to select the service they seek. In step-2, they are asked to fill in a few more pieces of information before finally making a big commitment (the booking) in step-3.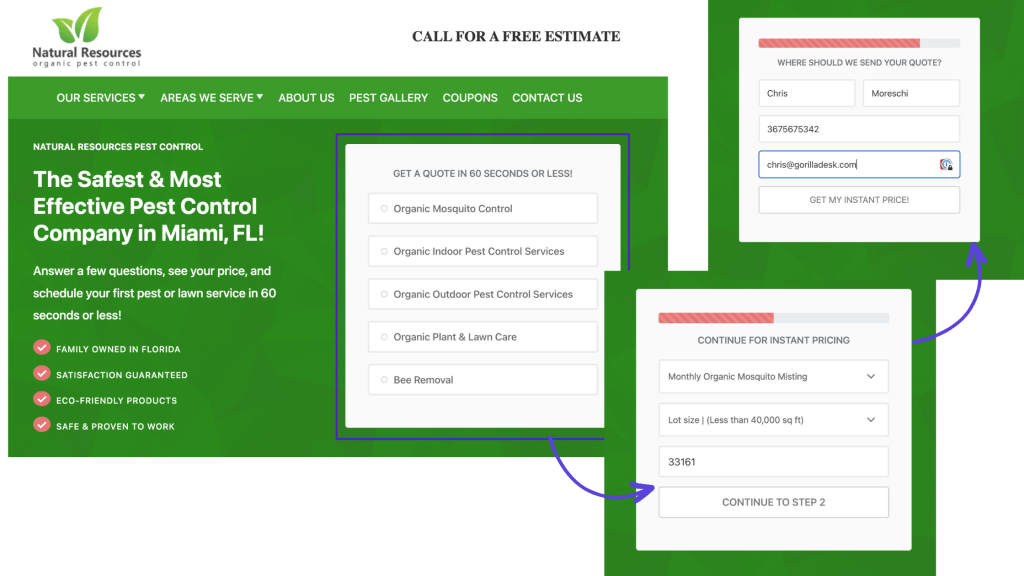 A "CALL FOR A FREE ESTIMATE" CTA is strategically placed at the website's top right for those seeking immediate relief or a solution.
Another website that uses the CTA very effectively is Ehrlich Pest Control. It has two clear and easy-to-find calls-to-action: Call or Contact. Both of which are easily visible right on the homepage.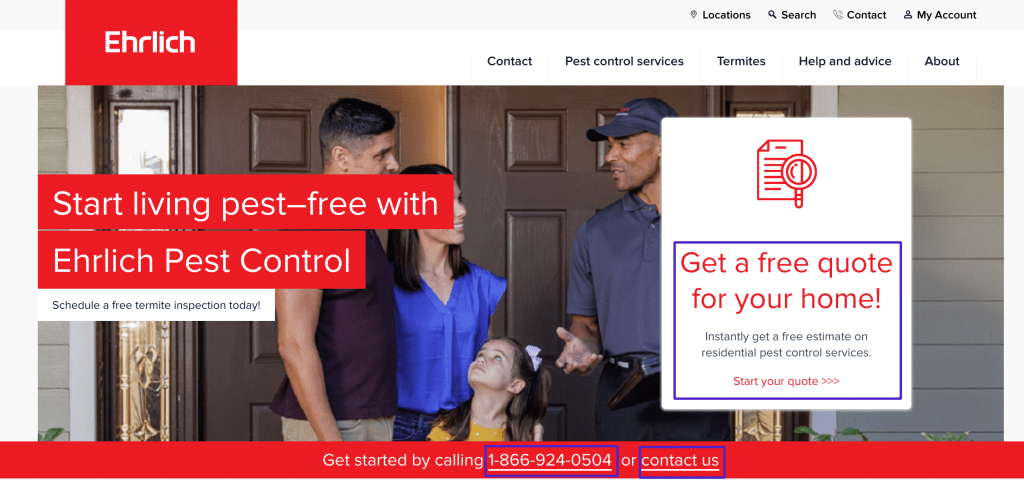 Crafting a strong CTA is a major factor in converting your website visitors into loyal customers who can't wait to take the next step with your business.
Your Time To Take Action
After reading this article, you may be interested in utilizing conversion-driven design to enhance your website. However, before you proceed with a redesign, remember that it's not about your preference for your pest control website's appearance.
Instead, prioritize the user experience for your audience and make it effortless for them to access services, make inquiries, or schedule consultations. By achieving this, you can implement conversion-driven design principles to create a website that maximizes the likelihood of visitors becoming clients.
For a hassle-free solution, consider exploring our Silverback service, specifically designed to assist pest control and field service businesses in establishing a robust online presence.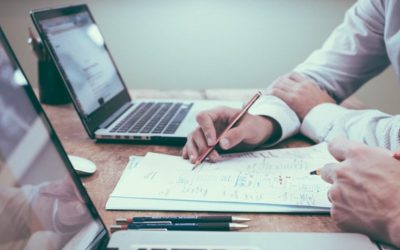 In this post, you'll learn how to become a highly effective leader who can easily review, fairly terminate, and consistently motivate employees.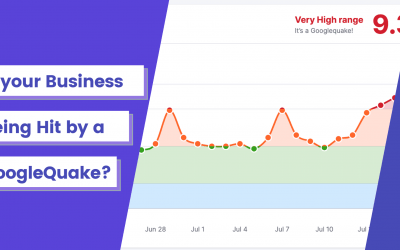 Is your service business facing GoogleQuake tremors? Unravel the Google ranking algorithm's history, assess your site's status, and reclaim your online presence.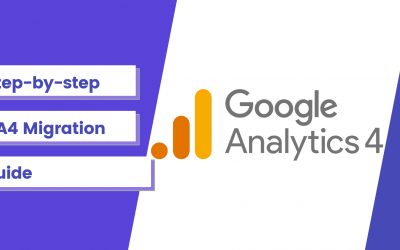 Upgrade your field service business with GA4! Learn why migrating from Universal Analytics is crucial and follow our simple step-by-step guide for a seamless transition. Don't miss out!
Try it free for 14 days. No credit card required. Instant setup.
We will be customers for life
"I can not say enough good things about GorillaDesk it saves us so much time and money. The customer service is the best. I would recommend GorillaDesk to anyone no matter what industry. I trained my employee in 5 minutes on how to use it. We will be customers for life."

Ready to Get Started?
Get all our amazing features and top-rated support, with no credit card required.