Pest Control Marketing: Make Your Phone Ring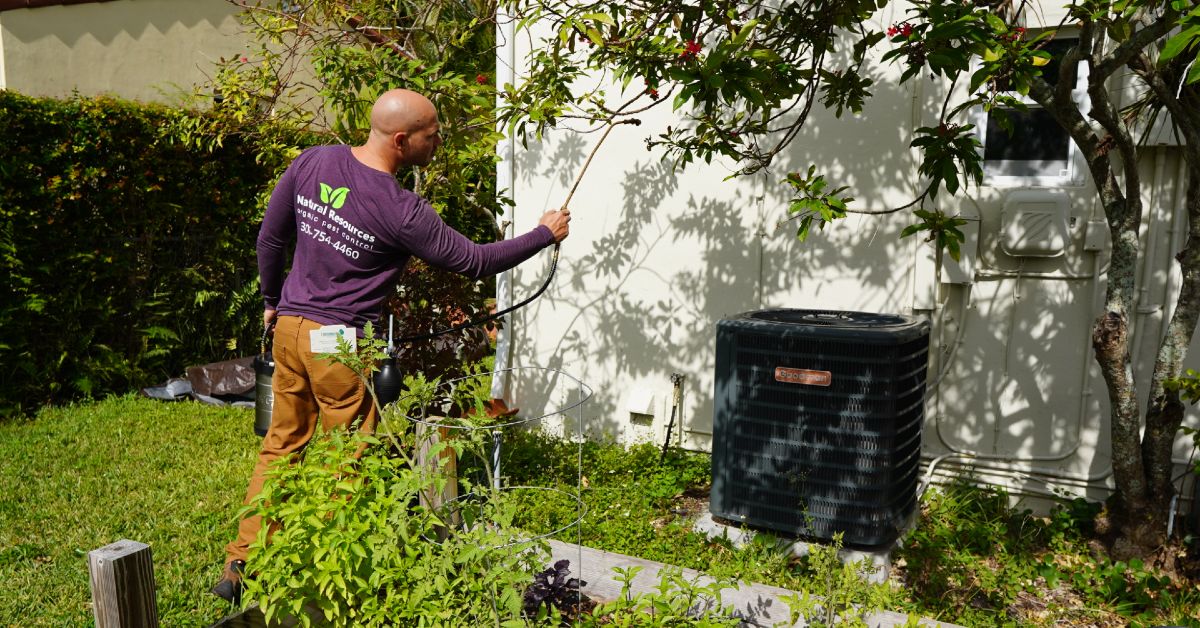 As the small business owner, you need to understand that marketing is the only function that sits at the intersection where your business meets people or potential customers. Real people.
The problem with real people is that they don't see the world the same way you do as a business owner.
We at GorillaDesk listen to our customers very carefully, and when we asked what's the #1 challenge they face in growing their pest control businesses?
The answer is – How to reach more people who are looking for pest control services?
In other words, Marketing.
That's why we at GorillaDesk have put together this ultimate pest control marketing guide to help you attract more customers and make your phone ring.
There are tens of different marketing channels or strategies you can use to promote your pest control business. However, not all of them are equally effective.
So, we decided to cover the three main pest control marketing channels and strategies that are most certainly going to help your business grow. These are:
Email marketing For Pest Control Business
Google Ads for Pest Control Businesses
Local SEO and Google My Business for Pest Control Businesses
Let's get to each of them one-by-one without any further delay.
Email Marketing
With so many options for marketing your pest control businesses, at times, it may get a bit overwhelming to decide on the right marketing channel for your local service business.
If you have experienced the same, we have good news for you.
Email marketing is a must-have for pest control businesses, and different researches support it.
If done the right way, Email marketing drives $44 for every $1 spent.
But wait… That doesn't mean it's easy to get it right.
To be able to see the results, you first need to understand the purpose of email marketing. Ask yourself, why do you want to do email marketing? Is it to:
Convert Prospect to Paying Customers
Build and nurture relationships with existing customers
Having clarity on the objective will help you come up with the right email marketing strategy.
A Right Email Marketing Strategy? – That seems a HUMONGOUS task.
Well, when you are just starting, you don't need to have a perfect email marketing strategy in place. You'll likely need to evaluate and improve it along the way.
You will be off to a good start as your first email marketing plan answers the following questions:
Why am I sending emails?
Who am I sending them to?
What value can I offer subscribers?
What are my email marketing goals?
Once you have the email marketing plan in place, the other things you need to focus on are:
How to grow your email list?
Segmenting your email/subscriber list
Using

 

Promotional Emails

 

to win more business
Using

 

Transactional Emails

 

to convert more prospects into paying customers.
Measuring your email marketing results
Now, that sounds like too much work. Yes, it is.
But as we said, we are committed to helping you grow your pest control business; we have a detailed, ready-to-use email marketing course – The Email Marketing Money Machine.
If you want to be a master at email marketing for your pest control business, check out our FREE email marketing course.
Google Ads or Pay-Per-Click (PPC) Advertising
First offered nearly 18 years ago to help businesses connect with their potential customers, Google Ads is one of the most effective marketing channels for pest control businesses.
For local businesses, Google offers two different types of ad-options:
A) Google Local Service Ads
B) Google Ads
A) Google Local Service Ads
Google Local Service Ads are a godsend for pool cleaning service companies.
'Google Local Service ads' is the fastest way to get in front of people who search on Google for the services you offer. Your ads will show up for potentials in your area, and you only pay if a potential contacts you directly through the ad.
For broad terms like pest control software, DIY pest service, or
From outside your service area
Another good thing about Google local service ads is that you pay only for the legit leads, and it costs you between $6-30 per lead depending on your service and location.
Use this lead cost calculator to get a more precise idea about how much you will have to pay for each new lead in your area.
To be eligible for Google's Local Service Ads, you first need to confirm your eligibility by providing your pool service business license and insurance documents.
Once you're eligible, you can get started with Google Local Service Ads in three simple steps:
Sign up as a service provider
Set your budget
Set your ads on Google
Here is how 'Google Local Service Ads' appears in the search results: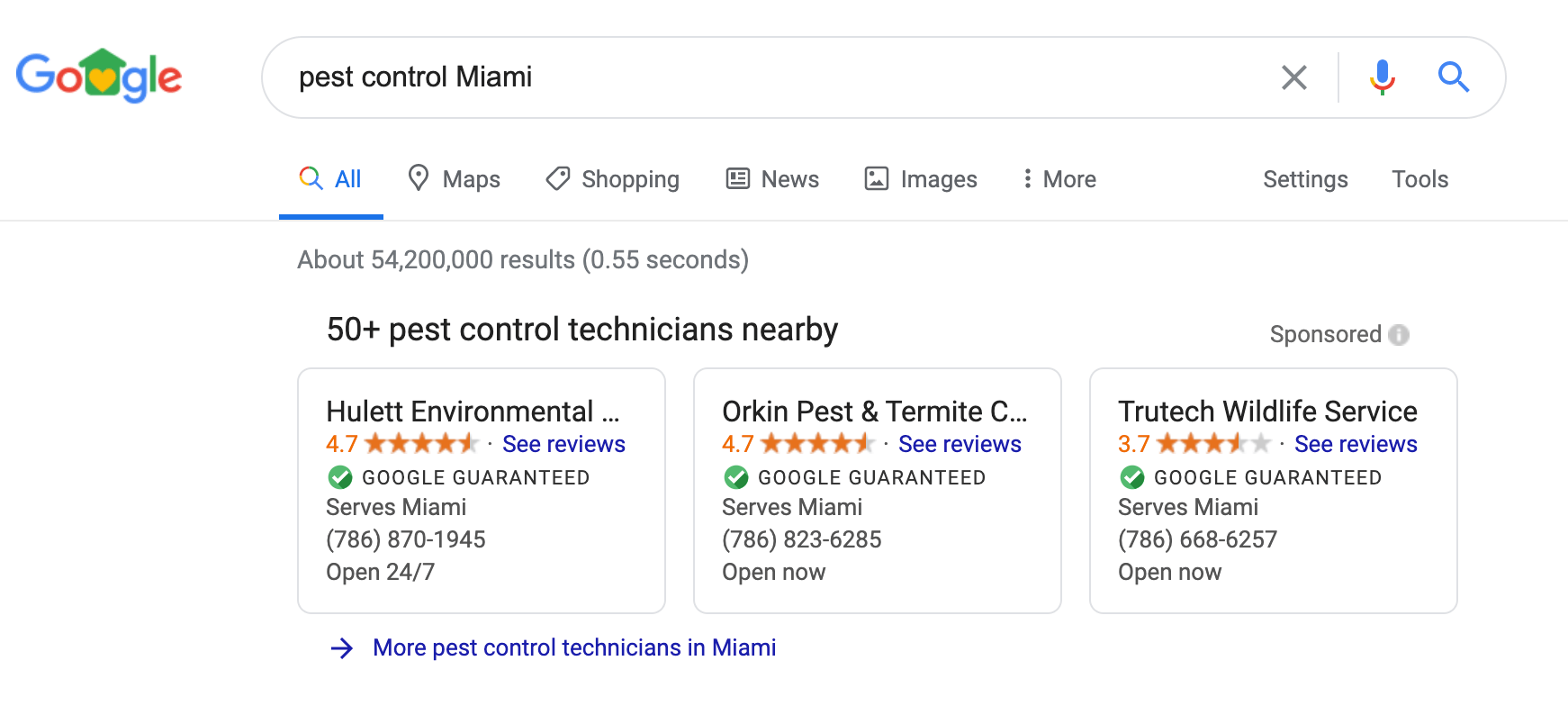 B) Google Ads
When you type something into Google, you are presented with a list of results; or SERP (the search engine results page), which shows organic results and paid results.
Paid search results have a little green box with the word "Ad" before the listing; this is where a company, like yours, has paid to have their page show up at the top of the list.
This can be done through the Google Ads search campaign, which charges you a small amount of money for every person who clicks on that link. Paid search works to drive traffic to your website through relevant ads.
Here is how a 'Google Text Ad appears' in the search results: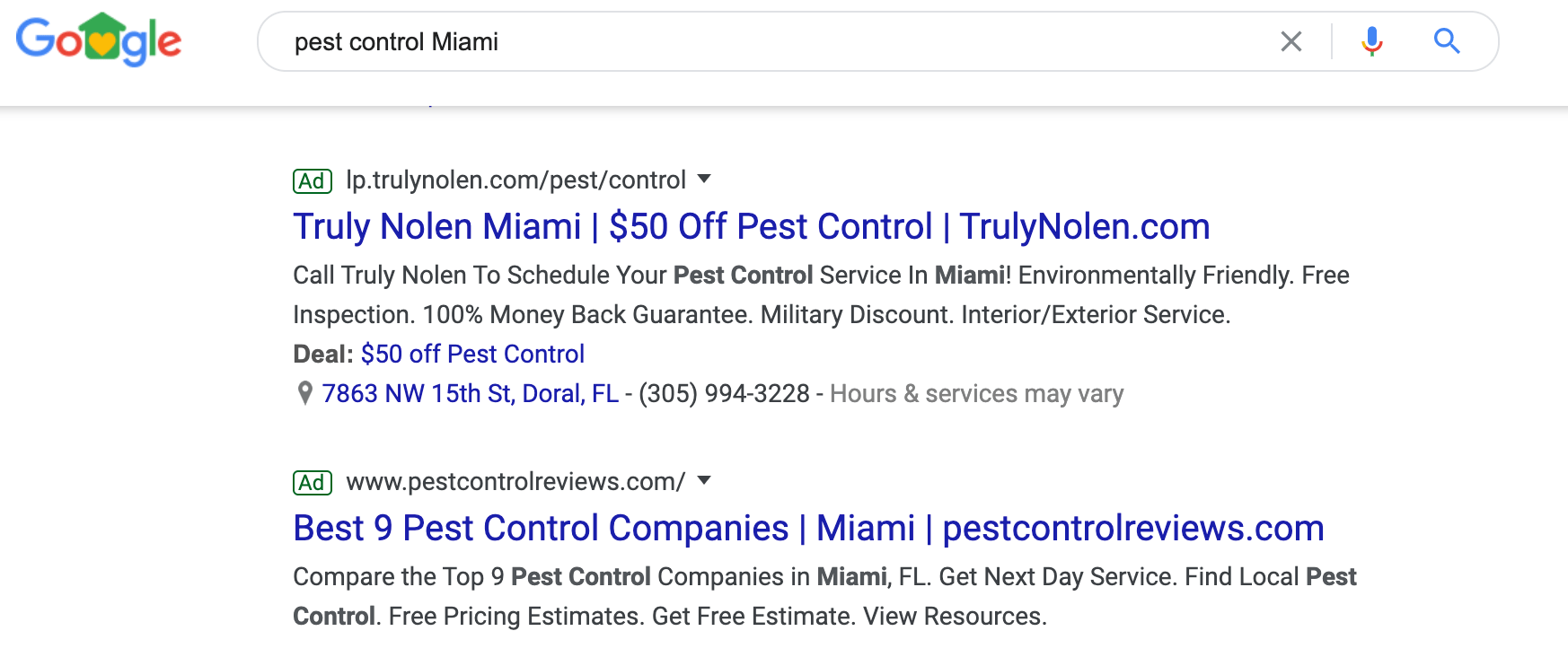 Why use Google Ads for pest control businesses?
Investing in Google Ads for your pest control business can immediately increase the lead and make your phone ring off the hook. With Google Ads:
You can reach your customer when they want your service, no matter what.
You can Precise Target to whom you want to show your ads. You can target based on

Geography
Time of the day
Device (mobile, desktop, or both)
A typical example that a lot of pest control businesses run Google ads only from Monday – Friday from 8 AM to 5 PM. It is due typically because businesses are closed or are slower on the weekends. This can help maximize ad spend.
You can follow your prospects and customers using retargeting.
Depending on your campaign's objectives, you pay only for the clicks and not impressions.
However, it is more of a pay-to-play strategy, so you need when they make sense for your pest control business and how to optimize them.
But how do you do this at a low cost whilst tailoring your strategy to your services and business goals?
A well thought out Google Ads strategy and plan includes the following eight items:
A) Finding Your Unique Selling Proposition (USP)
B) Keyword Research
How to start with Keyword research
Build Your Keyword List
Leverage the Keyword Planner
Use Keyword Matching Options
C) Writing Ads That Convert
Headline
Description
Display URL
D) Experimenting With Ad Variations
E) Setting Your Campaign The Right Way
F) Creating High Converting Landing Pages
G) Conversion Tracking
For someone who is new to the world of marketing or has minimal experience with marketing, this seems too much to handle.
Well. To be honest, you are right. To get success with 'Google Ads,' you need to have someone who can handhold you or show the path.
As the former option isn't scalable, we chose the latter option and created a step-by-step training on Google Ads for pest control business owners like YOU.
The good news…
It's 100% FREE.
You can learn at your own pace or have your admin/office assistant go through it.
It's super easy to follow; it's like Flipping Switches.
It covers everything you need to get started with Google Ads and acquire new leads for your pest control business.
It's 100% practical. Absolutely, no fluff.
Local SEO and Google My Business (GMB)
A) LOCAL SEO
Think about the last time when you wanted to try a new Indian restaurant?
What did you do?
You probably took your cell phone out and Googled, 'Indian restaurants near me.'
Right?
The results you got were something similar to the below screenshot.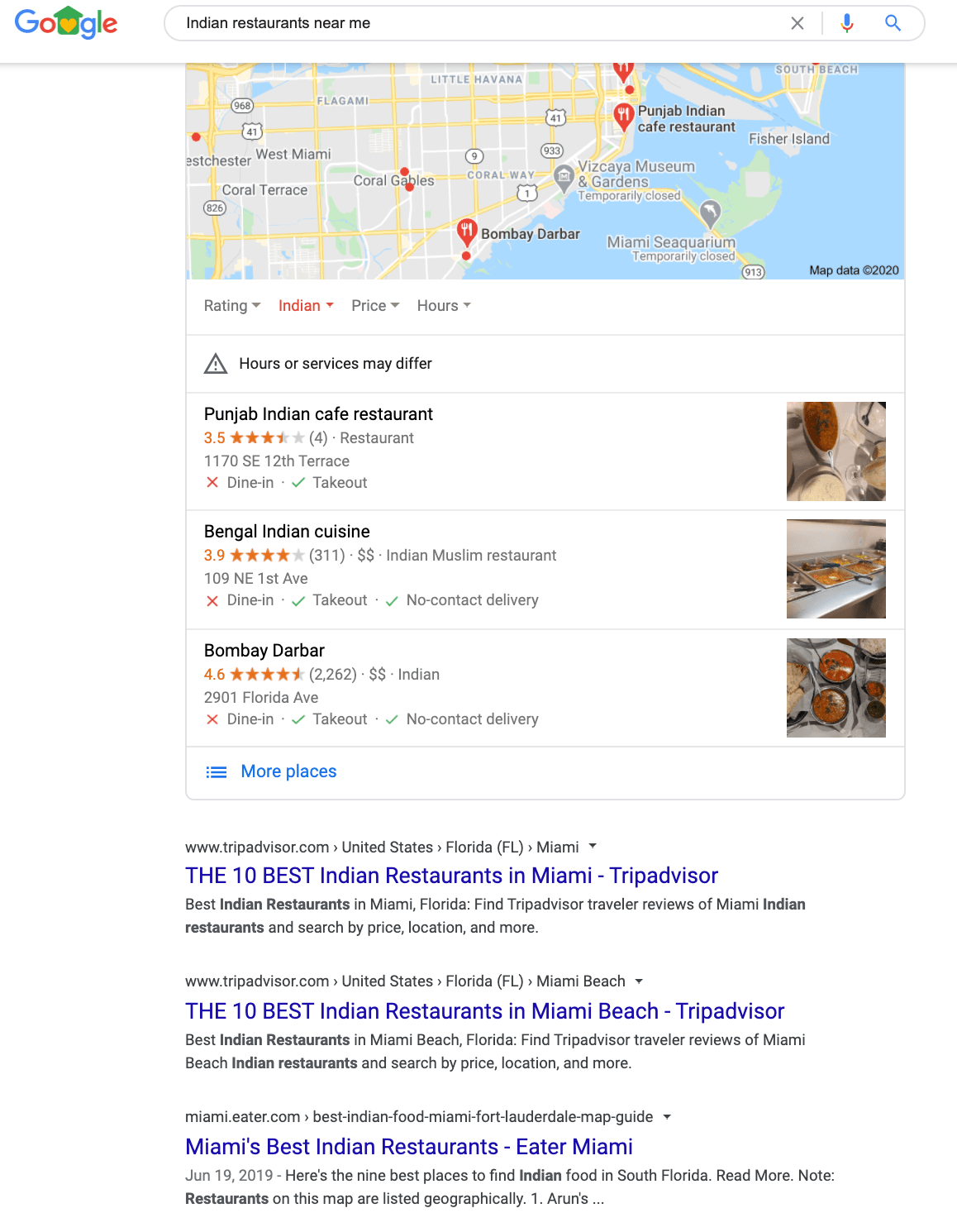 Following this, you probably chose one of the restaurants that showed up near the top and enjoyed your evening.
The exciting thing here is that the steps you took are similar to what a lot of people would do when looking for a pest control business.
Thus, if you own a pest control business, it makes sense you'd want to be near the top of the listings.
But how do you do this?
The answer?
Local SEO.
Using local SEO, you can ensure your website appears near the top of the search listings for keywords that are associated with a specific location and represent your services.
So, if you own a pest control business in Miami, using local SEO, you can get your website near the top of the listings, should someone search 'pest control Miami.'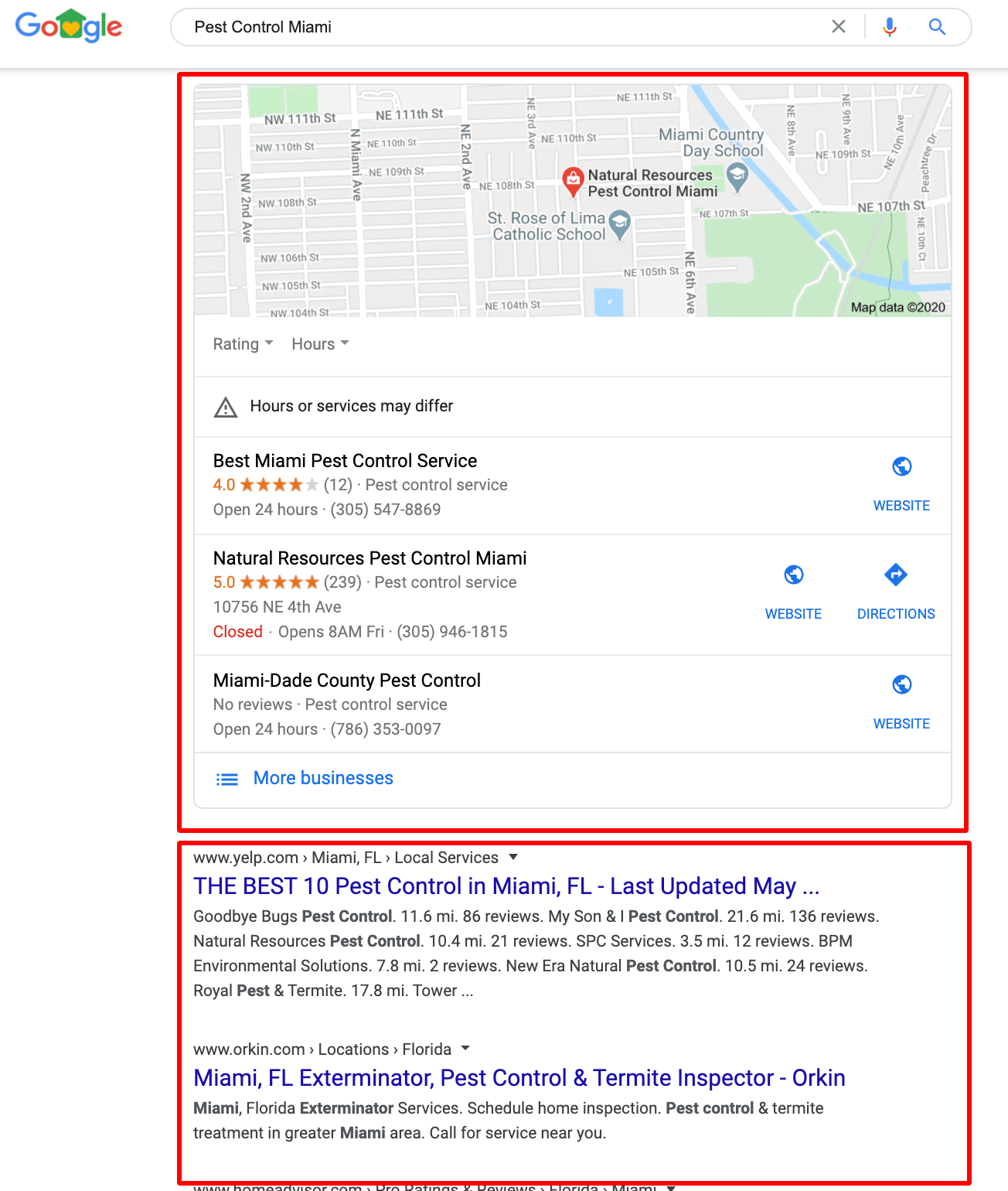 The people typing in this keyword are actively looking to spend money with a pest control business.
And so it's clear to see that if you can do this, you'll experience an increase in the number of inbound leads and phone calls.
Now, all this sounds good.
But what about real-world results? Can local SEO really deliver?
The answer is YES.
Here's a case study associated with one of the pest control companies that has nailed their Local SEO.
Take a look at the number of new calls they generated in the last 30 days (April 8 – May 7, 2020).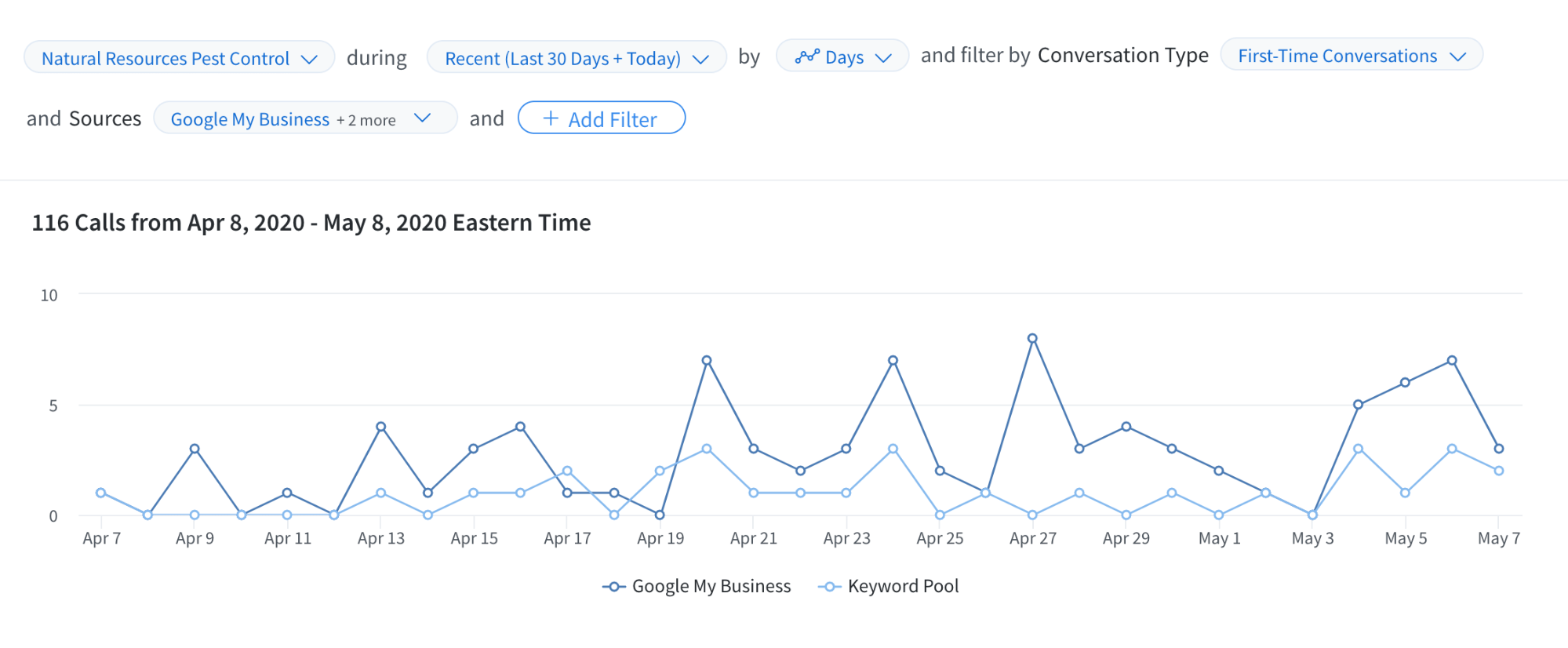 116 new calls in just 30 days from Local SEO and Google My Business.
Remember, these are calls from people that are contacting the company, actively looking for information, and/or looking to spend money.
How would your business, or even life, change if you could achieve the same for your business?
Well, if you understand how to get results with local SEO, you can achieve similar results.
Now that you know what Local SEO is, let's have a quick look at the Factors that affect Local SEO:
It's important to note that success with local SEO comes down to getting several things right. If you can do all of these things well, you should see an improvement in your rankings.
Here are the factors that affect local SEO:
Google My Business (GMB) Page
Local and Standard Citations
On-page SEO & Schema Markup
Backlinks
Customer Reviews
As a pest control business owner, the first and the foremost factor you MUST focus on is – Google My Business.
Once you ace it and have an appetite for learning more about other factors, here is the step-by-step local SEO guide.
This guide is essentially going to teach you how you should approach each of these factors, so you can establish a solid local SEO strategy.
B) Google My Business
Often a lot of small business owners confuse between Local SEO and Google My Business and use them interchangeably.
However, the truth is – They are related, but two completely different marketing channels. Google My Business is the sub-set and the most critical factor that affects Local SEO.
A Google My Business (GMB) listing is a FREE local business listing platform by Google.
Creating a profile on this platform is critical to any local company wanting to show up in Google Maps or search results.
More than just a local listing, it lets you manage how your business appears on Google Search and Maps. As soon as you have your business website up and running; creating and setting up your Google My Business listing should be the priority.
Don't know how to create a Google My Business profile for your pest control business? No worries! Here is a step-by-step guide to help you out.
Once you create your Google My Business and fully optimize it, here is what it looks like:

Unlike Google Ads, It does take a few months before you start seeing results from your Google My Business listing; however, once it starts rolling new calls in, there is no looking back.
Here is how a business appears in Google Search once it starts ranking in Google My Business.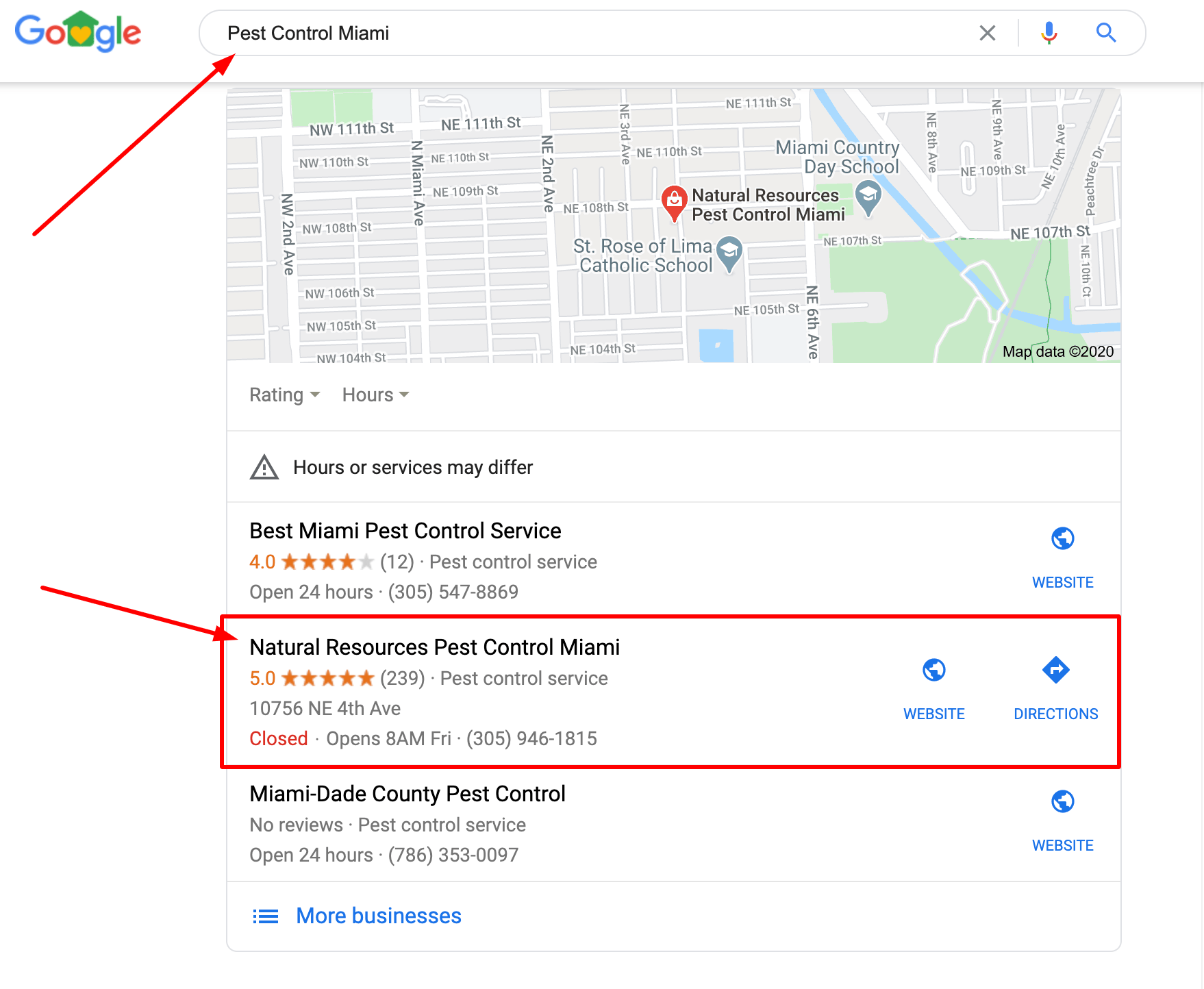 To learn how to make Google My Business work for your pest control business, check out this Free Google My Business course.
Conclusion
There you have it.
In this pest control marketing guide, we covered the three most effective marketing channels for your pest control business. So, let's do a quick recap of what we covered:
Email Marketing
Google Ads or Pay Per Click (PPC) Marketing
Local SEO and Google My Business
Pay attention to all these pest control marketing strategies to make your phone ring off the hooks and start seeing new incoming service requests.
If you choose to ignore and continue to do things the way you have in the past, you may end up losing out to your competition who does the things you don't want to do.
However, if you decide to jump on the bandwagon, be sure to do it now, the sooner you take action, the faster you'll gain a competitive advantage.
We wish you luck on this exciting journey ahead.
Signing off!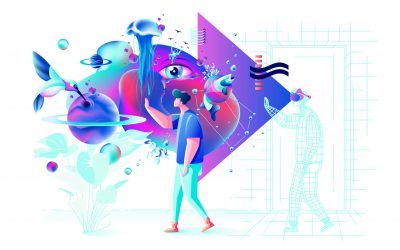 The step-by-step software buying guide to help you identify problems, set goals, map them to find the right pest control software for your business.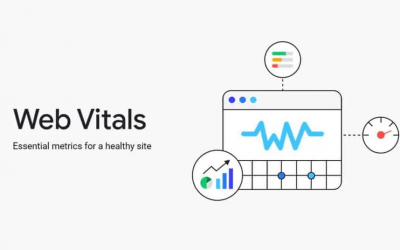 Core Web Vitals – LCP, FID, and CLS – are the newest page performance metrics by Google. Learn how to have your site ready for the latest ranking signal.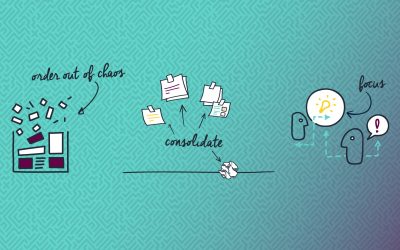 Lawn Care Software Buying Guide for Lawn BusinessesIntroduction Why did we write this buying guide? As a lawn care business owner,...
Try it free for 14 days. No credit card required. Instant setup.
We will be customers for life
"I can not say enough good things about GorillaDesk it saves us so much time and money. The customer service is the best. I would recommend GorillaDesk to anyone no matter what industry. I trained my employee in 5 minutes on how to use it. We will be customers for life."