Local SEO Marketing Service
Double, triple, or even quadruple your leads
Do you want to grow your field service company even faster? Of course you do! Drive more targeted traffic to your website and Google My Business (GMB) listing with our Local SEO Marketing Service.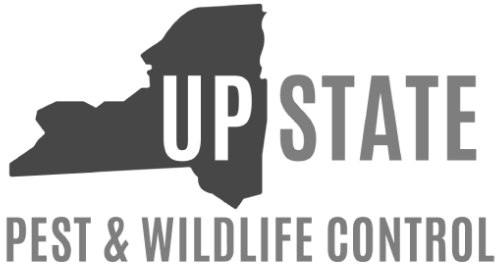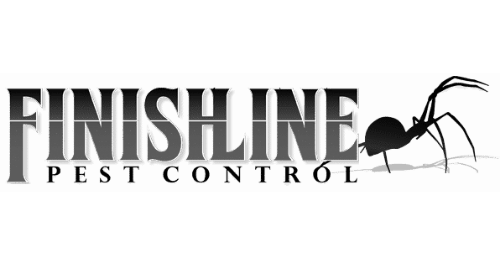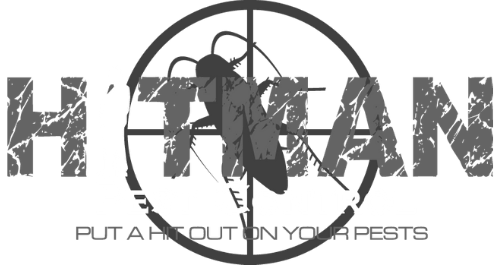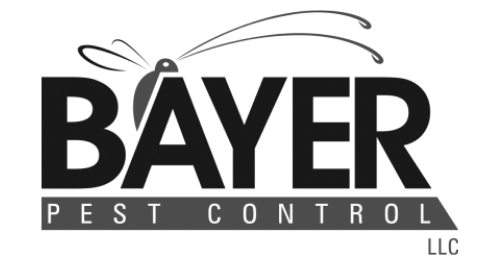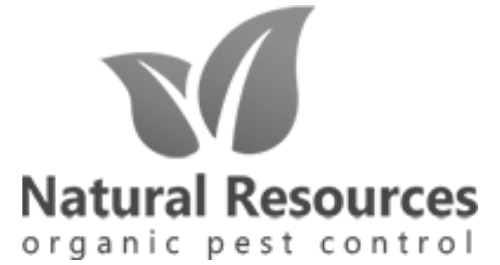 A majority of companies NEVER experience what's possible with online marketing. The lucky few that do receive a MASSIVE return on their investment.
Digital marketing has the potential to propel your company into the future, yet only a handful of pest control professionals are crushing it online. And the reason is simple… Marketing online is harder than ever before. Way harder.
If you decide to roll the dice and try digital marketing on your own, you have to do EVERYTHING right from start to finish in order to attract traffic, convert leads, and close sales. The truth is, crushing it online requires serious manpower and a wide variety of skills. Chances are, you're better served focusing on your strengths. 
And if you decide to work with an agency or freelancer, it's possible you'll be locked into a costly pricing plan, receive carelessly cobbled together campaigns, have a hard time understanding where your precious dollars are going, or worse…all of the above.
As it stands, your company is in a fight for survival against competitors appearing ahead of you and more often than you in Google's search results.
The internet completely changed the way customers find local service businesses. Before, prospects would flip through Yellow Pages—but now, it's all about ranking on Google. 
Google's search engine results page (SERP) is where MANY prospects begin their search and eventually choose a pest control company to do business with.
Would you like that company to be yours?
We've spent the last 18 months identifying the exact activities that will allow you to dominate Google's search engine results page (SERP)
Today, the top three to five sites in the map pack and organic search sections are siphoning away nearly 100% of the customers you depend on to provide for your family and employees.
And we can't allow that to happen.
Not if we want to uphold our promise of helping pest control professionals just like you transform their struggling small businesses into flourishing entreprises.
So we created this Local SEO Marketing Service. It's the perfect compliment to our website builder.
If you're serious about dominating the search engine results page, taking traffic from your competitors, future-proofing your website, and experiencing long-term growth… this marketing service is a MUST-HAVE.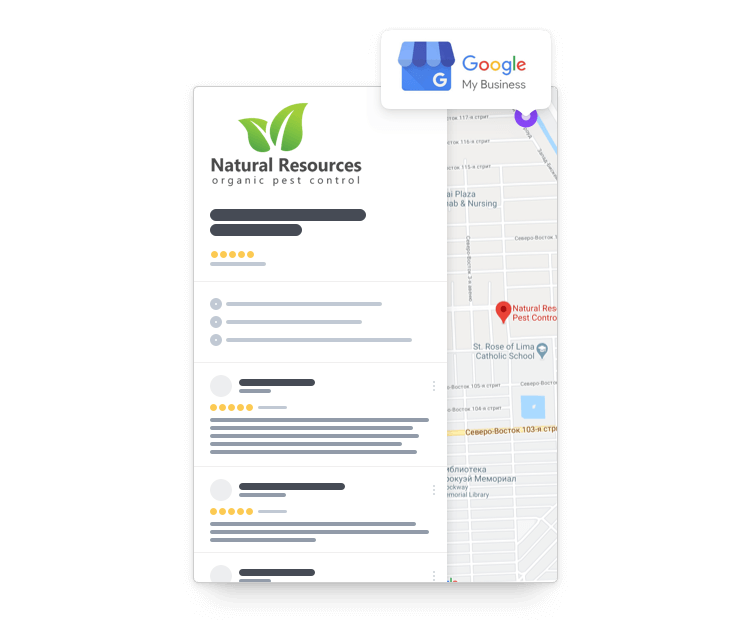 Unlock the power of GMB with an optimized listing
The map pack is the first thing potential customers see when searching for terms like: "pest control near me." So the first thing we'll do is make sure your Google My Business (GMB) listing is set up correctly on the back-end according to Google's best practices. 
By optimizing your account and eliminating common mistakes, we'll help your listing stand out from the crowd. This not only improves your ranking but also compels people to choose your pest control company over the competition. 
WHAT WE DO:
✓ Regularly optimize your account.
✓ Connect with your customers.
✓ Captive your audience with posts.
✓ Increase your rating and reviews.
✓ Feature your products and services.
✓ Fight the good fight against spam.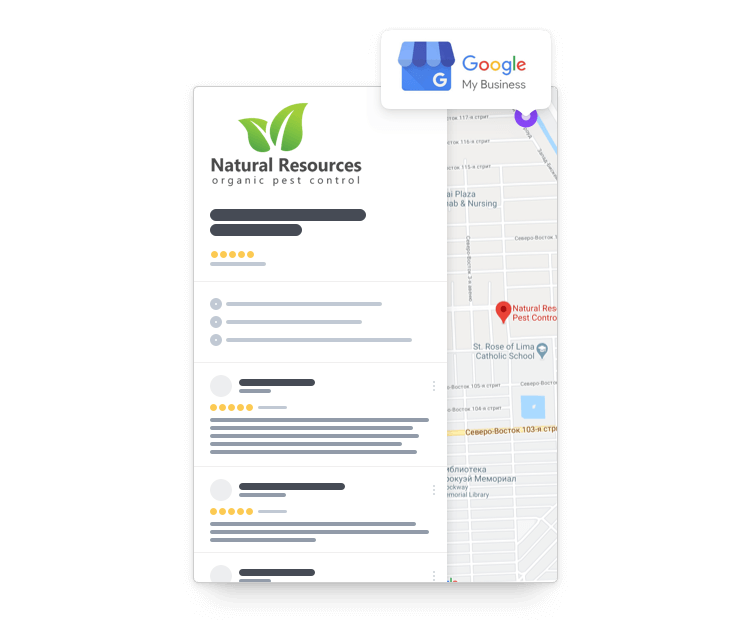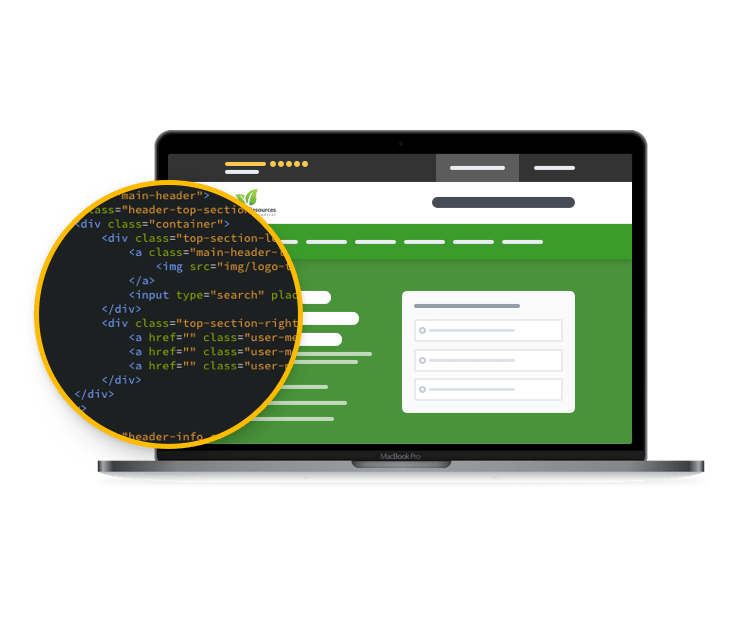 Ensure your website speaks Google's language
Schema is code that's added to your website that speaks directly to Google (and other search engines), ensuring your website and GMB listing are seen. Any marketing agency can handle basic on-page SEO for you (title, meta description, etc.), but very few take it a step further and add powerful Schema markup to each page.
We're the very best at Schema markup, meaning you'll always be in good standing with Google—which translates to maximum visibility, more traffic, and exponential growth. 
WHAT WE DO:
✓ Local Business schema markup
✓ Website schema markup
✓ GeoCoordinates schema markup
✓ Opening Hours schema markup
✓ Areas Served schema markup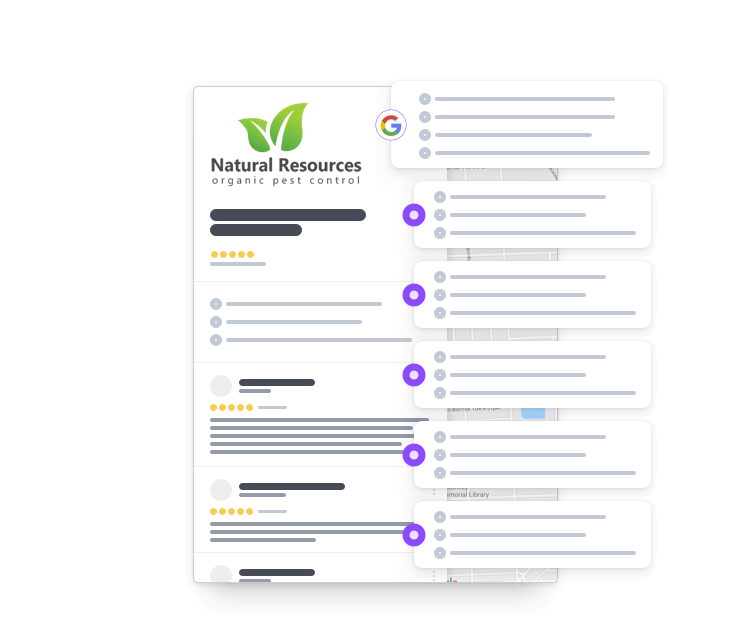 Improve your online reputation with Google
Experts agree citations have a MASSIVE impact on search rankings. In fact, they're considered table stakes, meaning you need at least 80 citations (on average) to rank in the map pack. The problem is, manually building citations is a time-consuming process. 
Years of experience have taught us the tricks of the trade. We follow a careful process to ensure your business is listed on all the top sites. Google rewards you based on how many accurate & consistent citations you have. And we're the best at building citations for pest control companies.
WHAT WE DO:
✓ Create / claim 95+ citations.
✓ Fully optimize all your listings.
✓ Ensure your citations are accurate.
✓ Fix duplicate listings.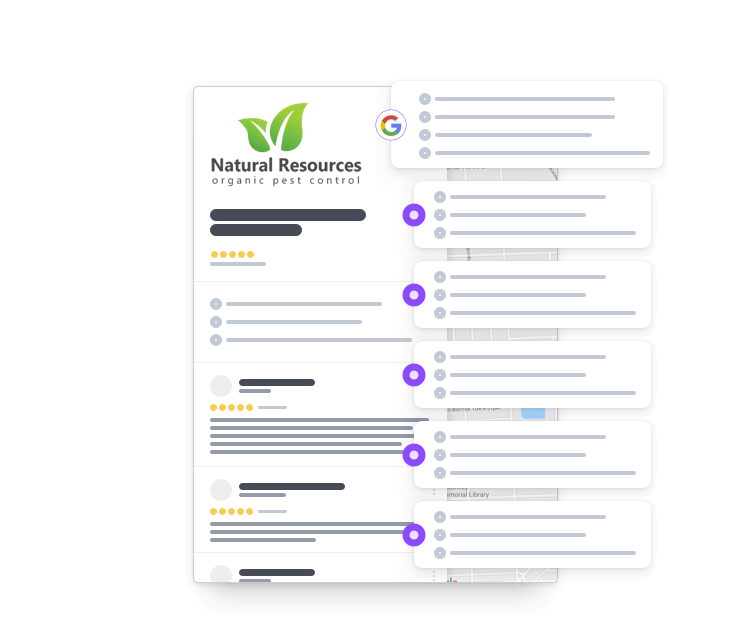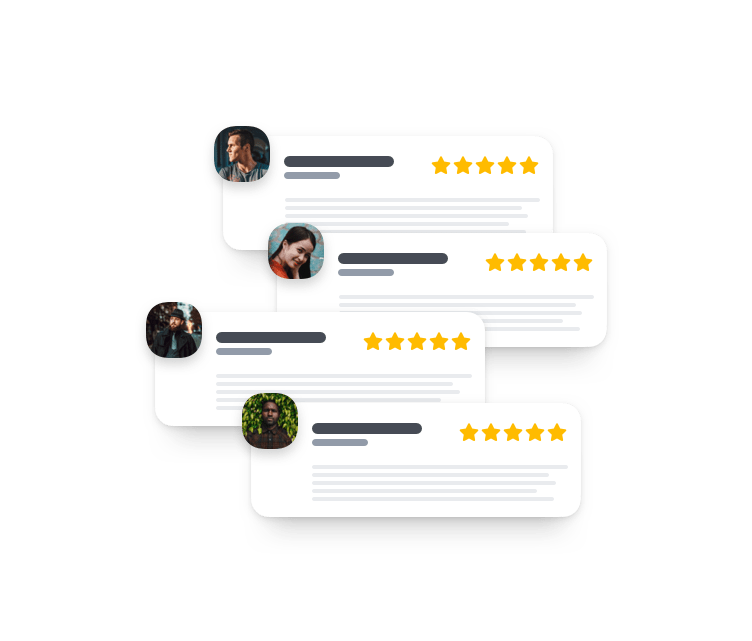 Get more reviews, more often, automatically
Reviews are important for pest control companies because customers trust them. Studies show that 92% of consumers read online reviews before deciding to do business with a company. Best of all, the higher the number of five-star reviews you have, the higher you'll rank on Google. 
The difficulty many companies face is getting customers to take time out of their busy day to leave a positive review, but we make it easy with automation. We'll integrate a shortcode in your customer communications, so your customers are encouraged to leave a review after you complete a job.
WHAT WE DO:
✓ Automate review requests.
✓ Engage with customers.
✓ Strengthen your relationships.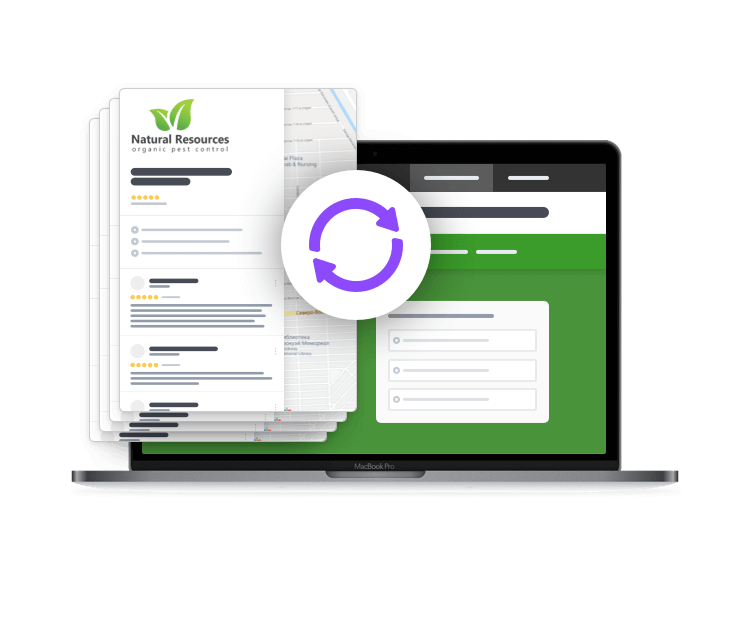 Get noticed on Google's radar & rise to the top
Want to know a secret? Google loves GMB listings that are often updated with photos, statuses, and posts. Most marketing agencies optimize your profile just once because they don't know an active GMB listing is what puts you ahead of the competition—but not us.
We keep your potential prospects engaged and connected with fresh content added to your Google My Business listing.
WHAT WE DO
✓ Regularly optimize your account.
✓ Publish posts to improve your ranking.
✓ Send social signals to your GMB listing.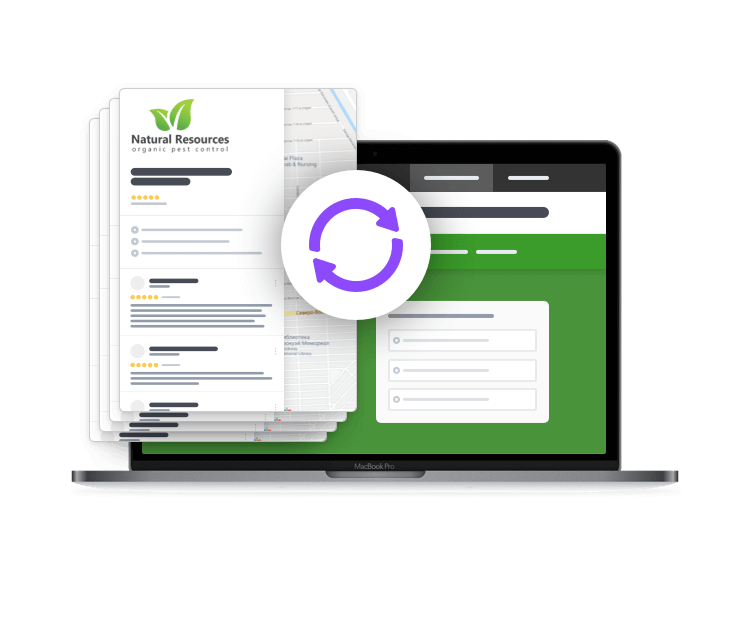 Become the most sought-after company in your area!
4 reasons to choose GorillaDesk
We know we aren't the only show in town, but we are among the highest-ranked and most dependable, plus our pricing beats most competitors hands down. Best of all, we live by the following values…

We act with honesty & integrity
We only work with pest control companies we have 100% confidence in, meaning we know we can help them grow AND we are excited to chase success with them. To purchase the Local SEO Add-On, you must be using our website builder.

We only follow best practices
We will NOT perform any activity that gives you a temporary spike in traffic or leads, but ultimately leads to a penalty from Google. These penalties can cause your GMB listing to drop in rankings or even worse, get your listing completely removed.

We're building an asset for you
Unlike Thumbtack, Home Advisor, and Angie's List, you're building an asset when you invest in our Local SEO Service. Your competitors can't just fork over some cash to compete with you. A lot of time and energy goes into securing your spot in the very top results.

We work with people just like you
When you choose to work with GorillaDesk to rank your business, you're choosing to stand on the shoulders of a giant. Simply put, we have experience helping pest control companies just like yours, win online. We know what works and what doesn't work.
See what our customers have to say
The pest control companies we work with inspire us every day. Discover how they built a business they love leading and life they love living.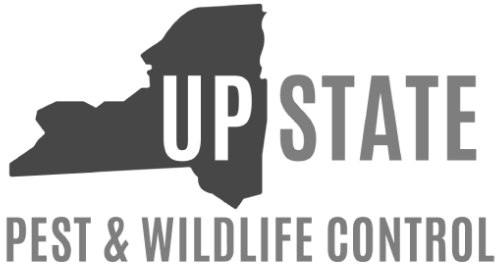 "These leads are exclusively hyper-local leads. We have routes built out where we're doing 15 houses in a 3 block radius and it's pretty much exlusively because of this... because it builds these really tights routes in a really small hyper-local area."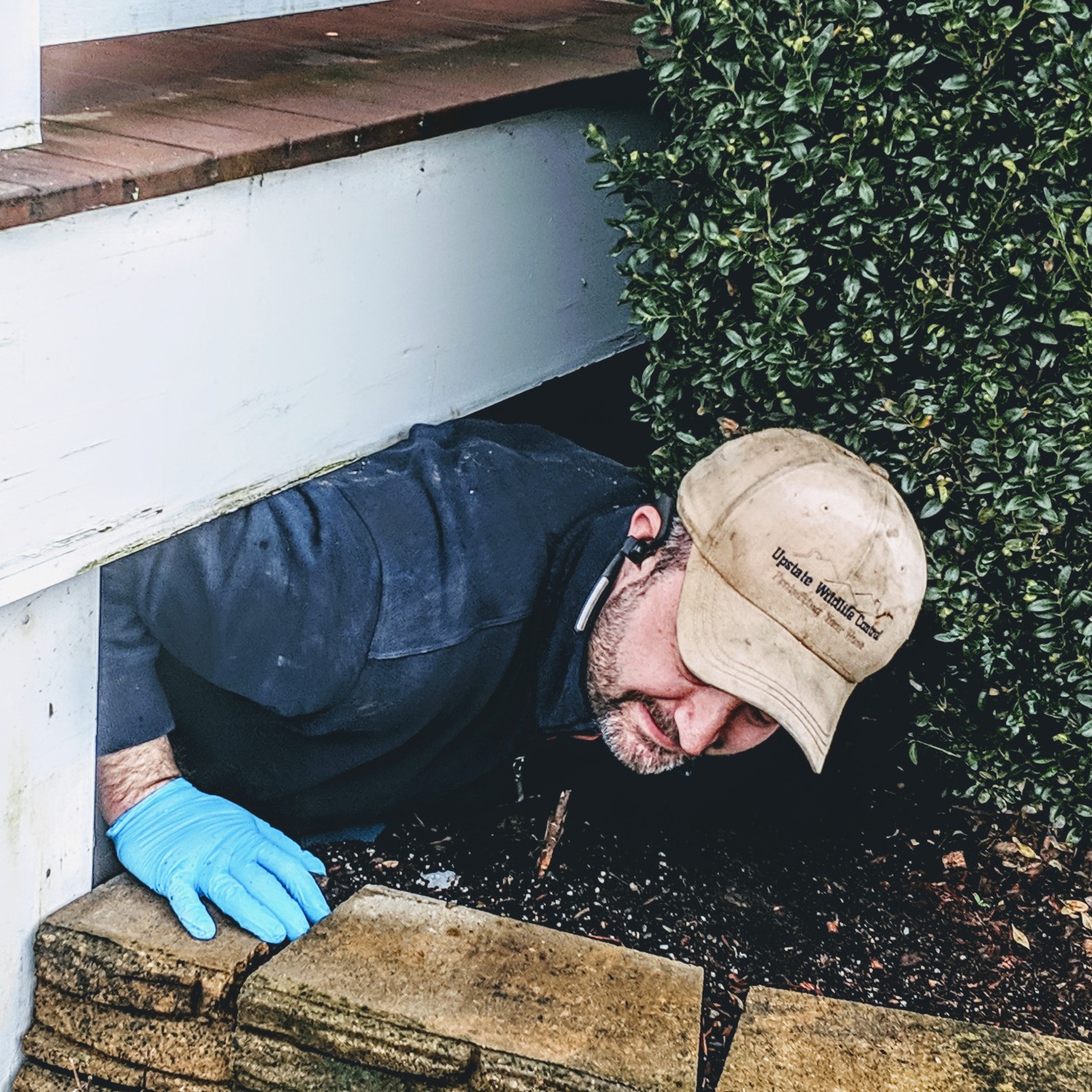 Jake Middleon
Upstate Pest & Wildlife Control
Frequently asked questions
Why do you recommend Local SEO over everything else?
We recommend Local SEO over Pay-Per-Click (PPC) advertising because paid ads can be very expensive. For example, the keyword pest control miami costs $16 to $32 per click. This makes little sense for one-time pest control jobs. If you're lucky, you will break even, which is just as bad as losing money because your money is tied up in an inefficient marketing channel, and you've wasted your time. Something you'll never get back.
Also, with PPC, you are paying to play. The second you stop spending money, your listing disappears. Whereas with Local SEO, you're building a long-term asset that continues to drive traffic to your website and generate high-quality leads.
That said, PPC is great for recurring jobs with low cancellation rates and high-ticket one-time treatments like Bed Bugs and Termites. They also help you get up and running quickly, which is why we HIGHLY recommend supplementing this service with Local Service Ads. You can start with a low budget and if you want, turn the ads off once your website and Google My Business listing start ranking on the first page consistently. 
How soon will I see results?
First, we will install all of our tracking tools and setup robust conversion tracking. Then will we focus on ranking your business in your immediate city or town (plus 10 miles radius around your address) for your primary keyword. From our experience, this takes 3-6 months on average for most businesses.
Once we secure your spot in the Map Pack for a majority of the zip codes in your immediate service area, we will then shift our focus to ranking your business in the Map Pack for any cities, villages, or towns you service beyond 10 miles. Alternatively, if your service area is small (by default or by choice), we will instead target new keywords within your immediate service area.
Do you work with any other companies in my area?
So far, we don't work with more than one company in each service area. But we are willing to work with up to three companies per area. Here's why:
1: No two businesses are the same. Even if you happen to be in the same industry, you are likely located in a different zip code and offer different services. This means you will have a better chance of ranking for search phrases relevant to your location and specific service offerings, and vice versa. These are two ranking signals we do not control (where you're located + what you do). 
2: If a competitor in your service area decides to purchase our Local SEO service, they can not and will not benefit from the work we've done on your account. There is absolutely no information that can be taken from your account and passed onto there's, and the reason is simple. We only follow best practices. That's it. Every company we work with gets the exact same treatment.
3: SEO is a me-too market. Multiple businesses are featured on the first page. On average, Google's search engine results page (SERP) showcases 10 search results and 3 map results. So you want your business to be featured in both sections, which is what this service helps you do. If your business ranks for relevant keywords, you stand a good chance of being chosen by a potential customer. 
4: The only advantage one company has over another is when they begin following Profile Optimization, Schema Markup, Citation Building, and Review Generation best practices, which is what our Local SEO service is focused on. Therefore, if you want an advantage, your best bet is to START NOW, before the competition in your service area catches wind of the success they can achieve by ranking in Google's search and map results.
How do I know if this service is working or not?
For reporting and attribution, our goal is to help you understand EXACTLY where your hard-earned dollars are going and what results are being achieved.  We want to be as transparent as possible. To accomplish this, we have created a dashboard that allows you to easily understand where your visitors, leads, and customers are coming from amongst other things. Month over month, you will see your rankings and the number of leads you receive rise.
I'm ready to double my leads. How do I get started?
To get started, click here to purchase our Local SEO program or call (855) 536-7470 to schedule a call with our sales team. We'll walk you through your options, answer any questions you may have, and help you select the perfect plan to grow your local service business.