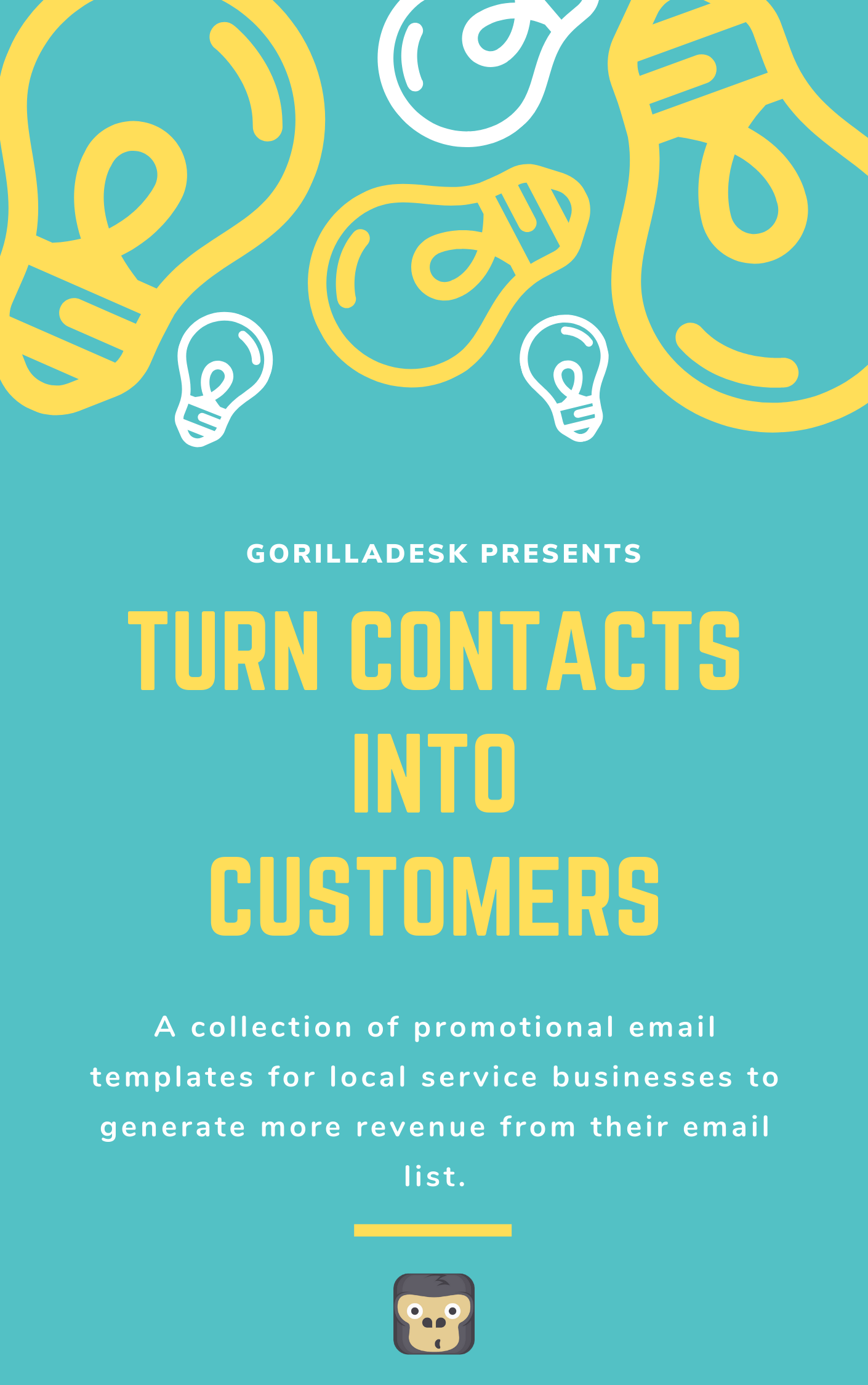 Promotional Email Templates to generate more money from your email list.
Email marketing isn't dead. It's just that most local service businesses send emails incorrectly … and because of that, they generate far less revenue than their business deserves.
But here's your chance to fix that once for all. Use these 13 promotional email templates to acquire more customers and build better relationships with the ones you already have. 
Here's what you'll get:
13 promotional email templates to help you monetize your email list.

Instructions to help you send these emails with just a few clicks.
Promotional emails get a bad rap but when they work… They really work.
Consider that businesses sent a whopping 293 billion emails per day in 2019, and that number is expected to grow to 306 billion in 2020. With so much continued investment, it's clear that businesses take email marketing seriously.
So, why do local businesses (mainly pest control, lawn care, or pool service) struggle to see returns from email marketing?
The underlying issue is that local service businesses have been doing email marketing all wrong — especially promotional emails.
And this guide won't only show you how to use promotional emails effectively, but it'll also give you templates to help you monetize your email list.
The email templates you will receive are…
January Promotional Email
February Promotional Email
March Promotional Email
April Promotional Email
May Promotional Email
June Promotional Email
July Promotional Email
August Promotional Email
September Promotional Email
October Promotional Email
November Promotional Email
December Promotional Email
Bonus: Anniversary Email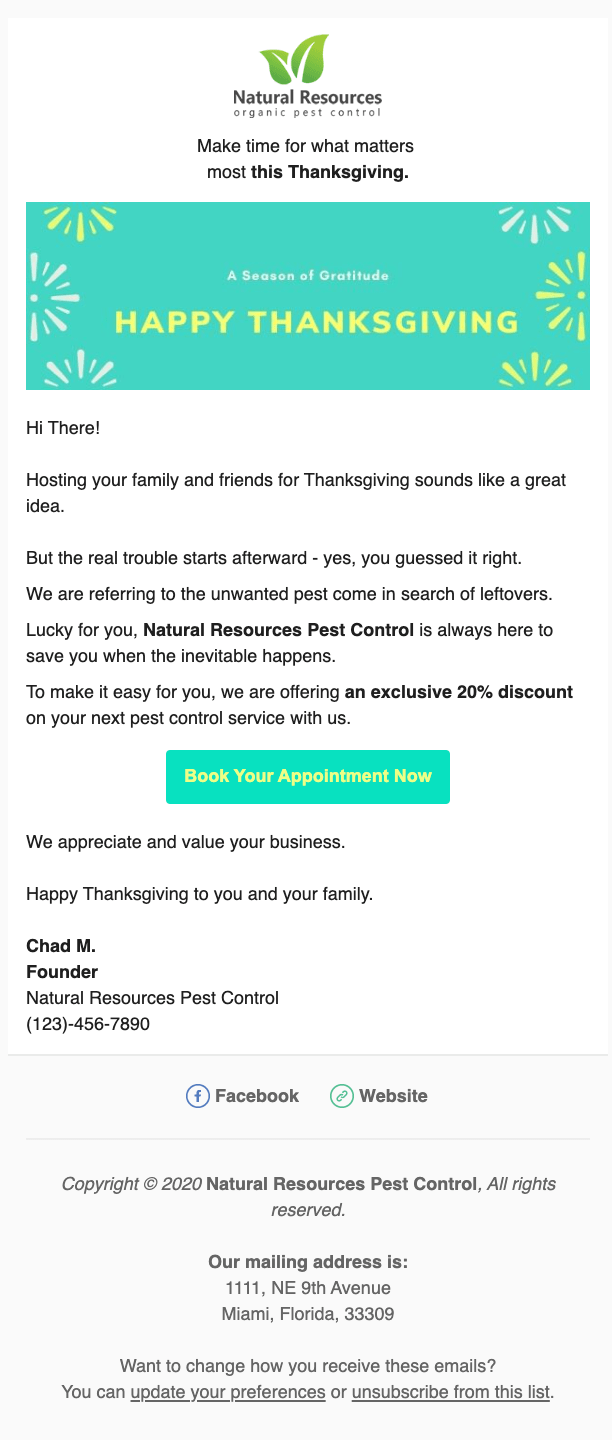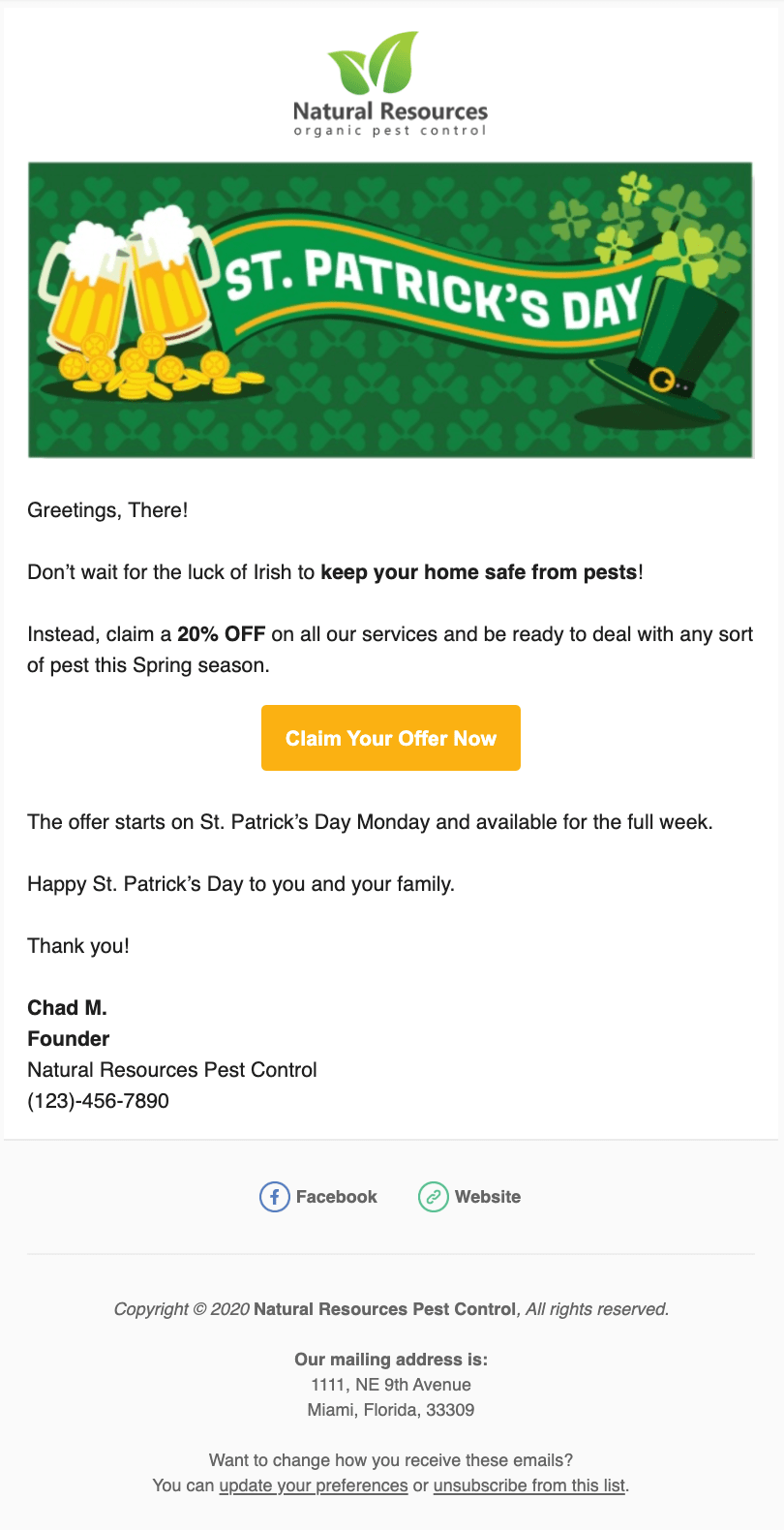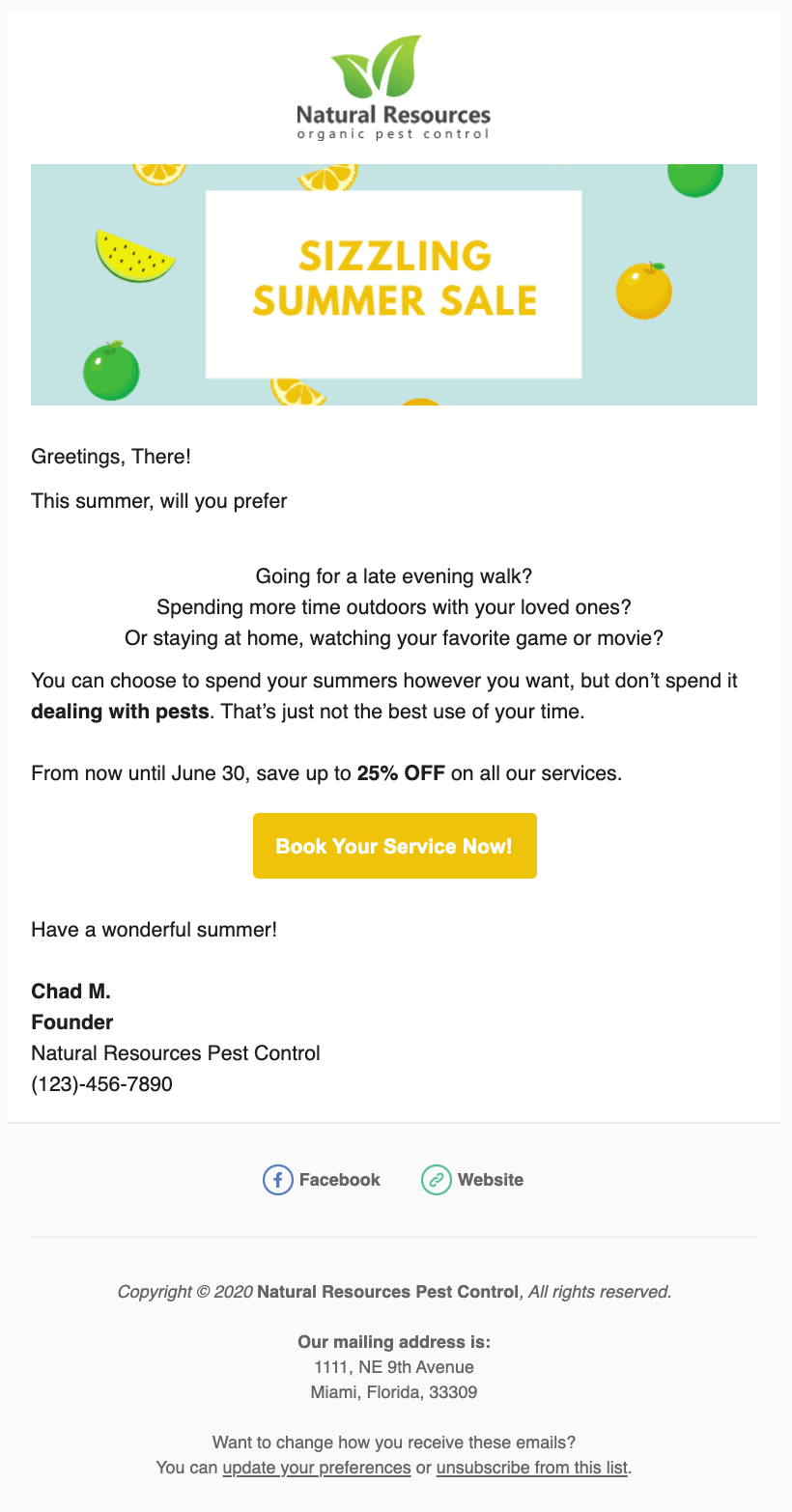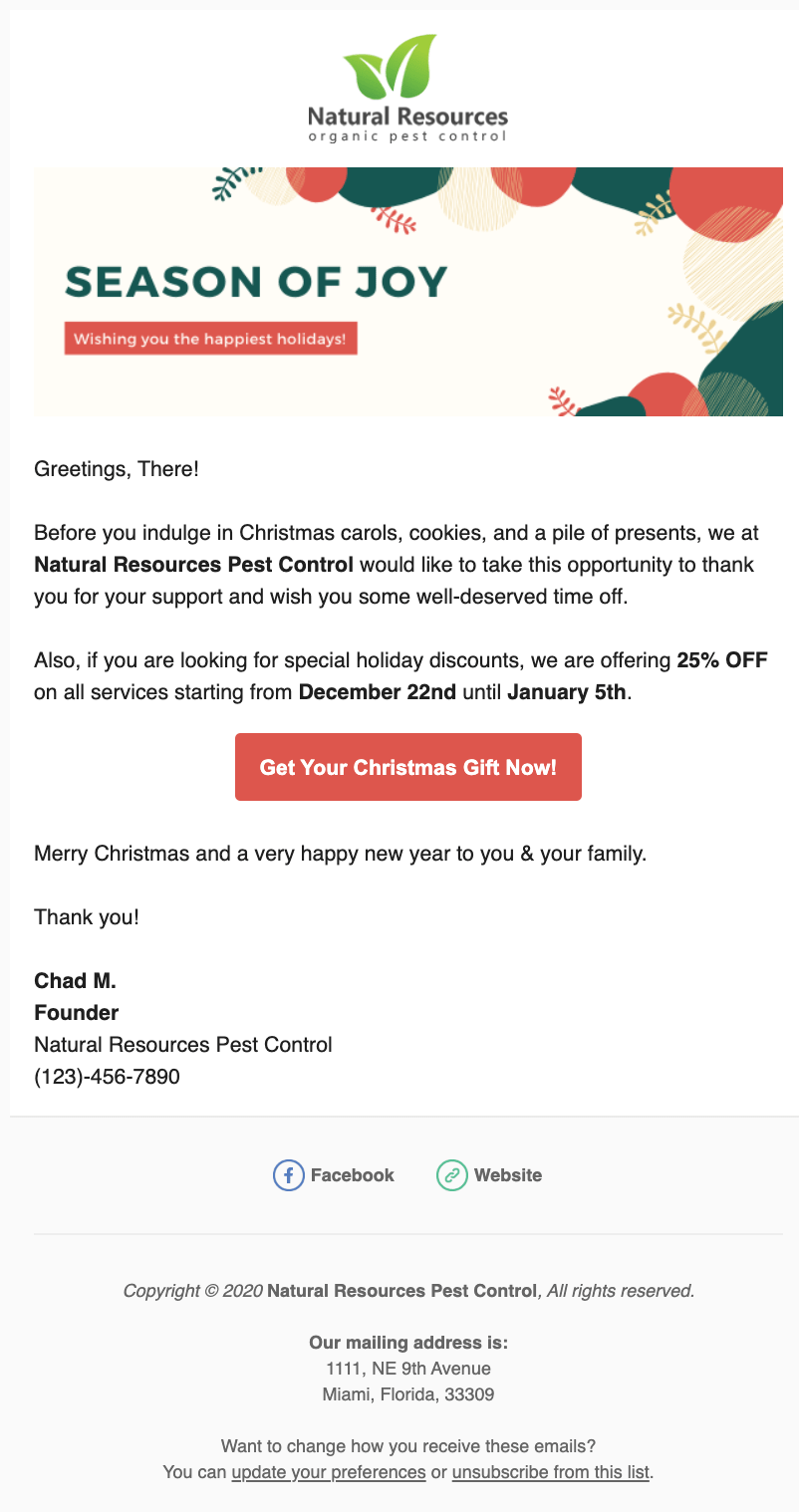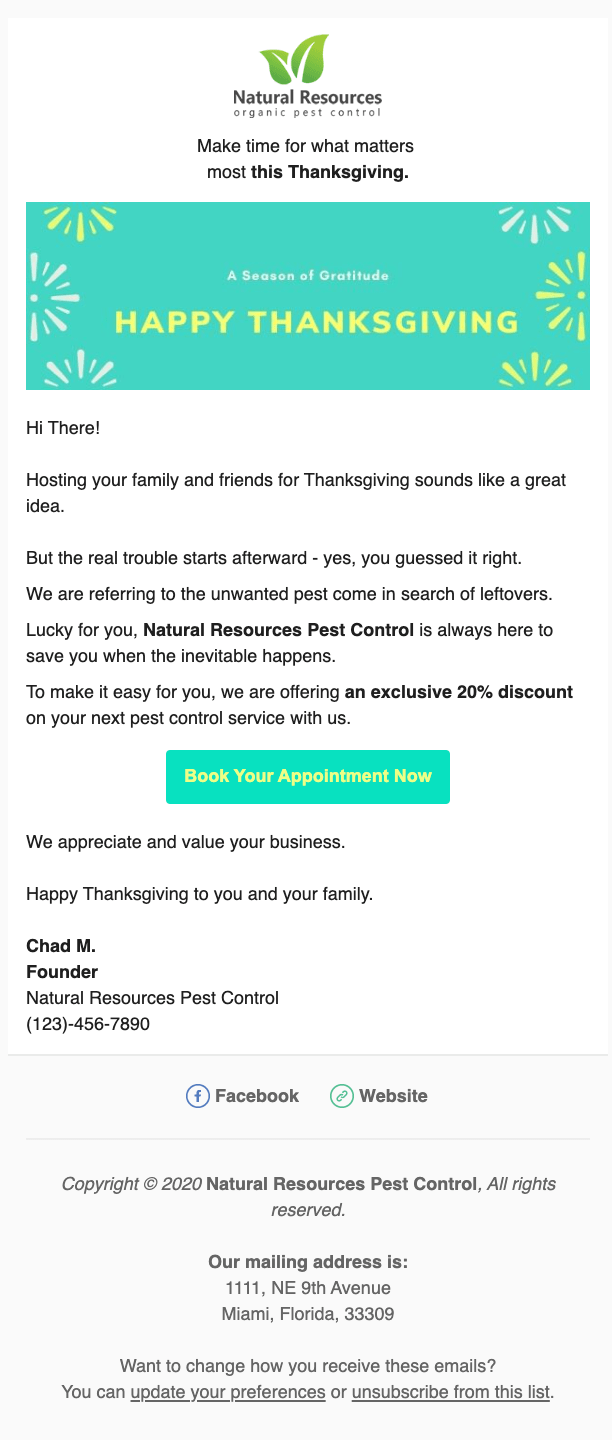 Why Your Local Service Business Should Send Promotional Emails
28%
of consumers would like to receive promotional emails more than once per week.
42.3%
of Americans subscribe to email lists to receive savings and discounts.
40x
more effective at acquiring customers than Facebook and Twitter combined.
Interested? Here's a sneak peak
January Promotional Email
January and the New Year is a perfect time for new beginnings, for both businesses and customers alike. Shake up your new year marketing campaign using our new year's promotional email template.
February Promotional Email
February is the shortest month of the year, but there's still plenty of opportunities to generate interest in your local service business and boost additional revenue.
The most prominent one of them is – Valentine's Day.
Yes, it is the month of celebrating and sharing the love. As a local service business, make sure you share some of it with your customers!
Share the joy of love with our perfect promotional email template.
March Promotional Email
While March is national reading, women's history, and nutrition month, it is widely known as the month to celebrate St. Patrick's Day.
St. Patrick's Day is a particularly fun holiday.
Even if you don't run a promotion, use it as an opportunity to email your customers and build a fun ongoing relationship with them.
April Promotional Email
April is the month when people are ready to welcome some lovely Spring imagery.
It's also a big month for gardening, growing, and "greening" with Earth Day. Thus, it provides local service businesses a lot of opportunities to promote their services and earn some green.
If you need inspiration for a high converting Easter promotional email, check out our email template.
May Promotional Email
With the weather warming up, the month of May is an excellent opportunity for local service businesses like pest control, lawn care, and pool services to attract new customers.
Memorial Day is a perfect time for you to leverage this opportunity to connect with your email list and promote your offers and discounts.
If you need inspiration, check out our email template for ideas to customize your promotions.
June Promotional Email
With Summer right around the corner, June is the month for local service businesses to step-up their marketing game. If you aren't approaching your summer email marketing with a schedule, then this summer may pass you by with a dip in sales.
Need the inspiration to make it the best summer yet for your business? Turn up the heat with our summer promotional template.
July Promotional Email
The Fourth of July is the only strong holiday in July in the US. In other words, consumers aren't burned out on holiday promotions, and they are receptive to new emails. Thus, it is an excellent opportunity for local services businesses to run special promotions.
If you want more sales in the month of July, set off fireworks with this promotional email template. 
August Promotional Email
August is an ideal time to promote your service business: people are back in town after vacation, kids are ready to go back to school, and everyone's ready for a fresh start.
Take advantage of the season's opportunities with our email template.
September Promotional Email
With Summer coming to an end and Fall around the corner, September is the month for a fresh start.
Still, it is an underrated month when it comes to marketing and promotion as most of the local service businesses get busy in gearing up for the Holiday season. Don't be like them!
There are plenty of excellent occasions (like Labor Day) to reach out to your customers with your offers and services. Take advantage of this overlooked month with our September promotional email template.
October Promotional Email
We can't talk about October month without mentioning Halloween.
Halloween and Email Marketing are a match made in heaven.
Understanding the nature of Halloween is essential for an effective Halloween marketing campaign. You're in for a treat (not trick) this October with our free Halloween promotional email template.
November Promotional Email
With the temperature dropping, November isn't the best sales month for some local service businesses, such as pest control, pool service, lawn care, and others. But, with Thanksgiving, Black Friday, Cyber Monday, and many other options for promoting your offers and discounts, it isn't as bad as it appears.
With most of the businesses targeting the Black Friday week, they send fewer emails on Thanksgiving. And the studies show that the open rate is higher for Thanksgiving than of Black Friday emails.
Thus, it is an excellent opportunity for your local service business to cultivate an ongoing relationship with your clients.
You'll be thankful you sent out November promotional email out on Thanksgiving day.
December Promotional Email
Christmas and Holiday emails are a significant driver of seasonal sales for local businesses in the month of December.
If you're wondering just what your holiday email should look like to stand out in the crowd (and the inbox!), our Christmas and holiday email templates can help!
Bonus: Anniversary Email
Customer anniversaries allow you to re-engage your customers and really go a long way towards building loyalty and advocacy.
Not to mention the fact they're also a great driver for repeat bookings or purchases. An automated and personalized anniversary email isn't all that hard to set up.
And to make things even easier, we've put together this email template to help you become a regular repeat-purchase Romeo in no time!
In case you were wondering…
Why do we call these promotional emails?
A promotional email is a one-to-many email used to inform your email list of new or existing services or offers. The objective of these emails is to get the word out about special offers, limited-time deals, or exclusive content.
Promotional emails help with speeding up the buying process, creating new or repeat customers for a business.
How are Promotional Emails different than Transactional Emails?
Unlike Transactional Emails, which are triggered and sent automatically to one recipient at a time, Promotional Emails are timed and sent strategically to your entire email list.
Examples of Promotional Emails include but are not limited to marketing offers, newsletters, announcements, event invitations, and holiday and seasonal promotions. The goal with Promotional Emails is often to drive a purchase or other type of conversion.
Try it free for 14 days. No credit card required. Instant setup.
We will be customers for life
"I can not say enough good things about GorillaDesk it saves us so much time and money. The customer service is the best. I would recommend GorillaDesk to anyone no matter what industry. I trained my employee in 5 minutes on how to use it. We will be customers for life."