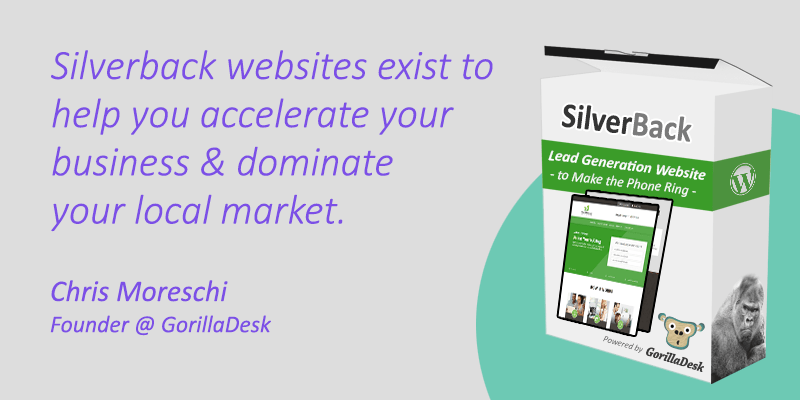 Why Silverback?
If you're a small business owner, chances are you run a fairly lean operation. You focus on necessities and urgent matters, only spending money when you absolutely need to. So it's easy to see why you might believe a professionally high-performance website is a luxury item you can afford to live without.
But the truth is, the first step towards promoting your local service business is to build a professional website. You see, your website acts as a portal, allowing potential customers to learn more about you, where you're located, and the services you provide before deciding whether or not they want to do business with your company.
Even more importantly, your website should be handled by a partner you can trust, who's in it for the long-haul with a solid lead generation strategy at the core.
What You Get
Your Silverback Stack includes everything you need to kick start your growth.
We'll setup your Google Analytics, Search Console, & AdWords accounts.
We'll setup Facebook Business Manager and install your tracking pixel.
We'll optimize your social media accounts (Facebook and Twitter).
We'll optimize your Google My Business account and create 10 citations.
We'll research keywords to determine the best structure for your site.
We'll install your theme and configure your plugins.
We'll add 5 standard pages and 10 flex pages (location or service pages).
We'll ensure your website is fast and mobile responsive.
We'll perform basic on-page SEO for all 15 pages.
We'll send you a draft of your website & perform one round of revisions.
We'll share standard traffic data and call volume with you each month.
Premium Dedicated Hosting
We'll host your website on Amazon Web Server (AWS).
We'll install your SSL security certificate for payment processing.
We'll run a website audit every quarter and handle any found issues.
We'll automatically backup your website every month.
We'll keep your theme and plugins up to date.
We'll provide you with unlimited email support.
Silverback Lead Gen Tools
Contact Forms: give website visitors an easy way to get in touch.
Instant Price Forms: give online quotes and capture qualified leads.
Online Booking: close more sales by letting customers book online.
Coupon Offers: grab more conversions with targeted offers.
CRO Team: our tools evolve to increase your conversion rates.
Cart Abandonment: recover abandoned carts with automated emails.
What To Expect
With this gig, we'll create a website for you with one goal in mind: getting as many of your target customers to move toward a sale and buy your services. Because this is our only focus, your website will be built with conversion in mind from day one.
This means you'll receive more visitors, more leads, and most importantly, more customers ultimately propelling your company towards your business goals.
Want to grow faster and push your lead acquisition strategy? Get on board with one or more of our traction channel packs.
We've identified 2 core traction channels to help you dominate the first page:
• AdWords: Ready Now
• Map Pack: Ready Now
Note: As the owner of a local service business, we know how busy you are. Therefore all of our growth gigs are specifically designed to be low-touch, meaning there will NOT be a lot of back-and-forth communication between you and us once we get going. Instead, we will set up a dashboard for you that allows you to easily understand where your hard-earned dollars are going and what results are being achieved!
What We Need
We'll send you a short questionnaire to gather basic business information. Once we understand what makes your company unique, we'll create a custom website that stands out from the crowd and connects your business with new customers.
Your current website's URL.
Access to your hosting and domain name system (DNS).
Information about your business (Name, Address, Phone, etc).
Information about your service areas (counties, cities, & towns).
Information about your services (pricing, FAQs, & your unique approach).
Your company's brand guidelines (colors and logos).
One hour of your time to verify 2-step citations over the phone.
Frequently Asked Questions
You have questions, we have answers.
How long does it take for delivery?
On average, it takes our team less than 20 business days to build your website from the day we receive your information and completed questionnaire(s)!
Note: Please make sure you fill out our forms fully. This allows us to spend more time building your website, and less time going back-and-forth with you.
What if I need more than one round of revisions?
No worries! With a few simple clicks and no website building experience, you can change just about everything on your website once it's complete.
Do you provide web hosting?
Yes, we provide the best hosting money can buy! Your website will live on Amazon Web Services (AWS) giving your website lightning-fast load speeds and near perfect uptime.
Will you create content for us?
We will not create content for you from scratch. Why? Because you know your business better than we do! Instead, we will send you a three-part questionnaire that guides you through the process of creating content for your own website. We'll then edit and implement the content you provide us with on your website.
This means we expect you to put time and effort into filling out our onboarding questionnaire. This allows us to learn more about your local service business and what makes it so unique. The clients that do this always get the best results!
Will you set up analytics for me?
Of course! We'll set up and connect Google Analytics, Search Console, and AdWords so we can understand where your visitors are coming from and how they're behaving on your website.
Is this a completely custom design?
Have you heard the old adage, "if it ain't broke, don't fix it?" Well, we believe the same is true for web design. Instead of reinventing the wheel and creating a custom website from scratch, you will choose a design from our collection of templates which are designed to convert your website visitors into leads. We'll then add your content and lightly customize the theme from there. If you're interested in making the phone ring, this is the BEST option for you.
Can I use content from my existing website?
Yes! However, we will not pick and choose which content to use. You'll need to let us know exactly which photos or copy you want to include on your new site and where. You can do this when you fill out your onboarding questionnaire. 
What happens to my website if I stop using the service?
In the unlikely event that you no longer want to grow your business with GorillaDesk, we will work with you to export your content and give you a copy of your theme. It is then up to you to handle things from there.
How do I get started?
To get started,
click right here
or call
(855) 536-7470
to schedule a call with our sales team. We'll walk you through your options, answer any questions you may have, and help you select the perfect plan to grow your business.
What happens after I purchase?
It's pretty simple, after your purchase, we'll send you a short questionnaire to gather your basic business information. From there, we'll either send you a series of videos with instructions to collect your content (for Silverback DIY) or schedule a 60-minute discovery call to create your content (for Silverback DFY).
Silverback Website
We'll create your website while you run your business. Ready to get started?
Ready to Streamline Your Workload?
Get started today with no credit card required!