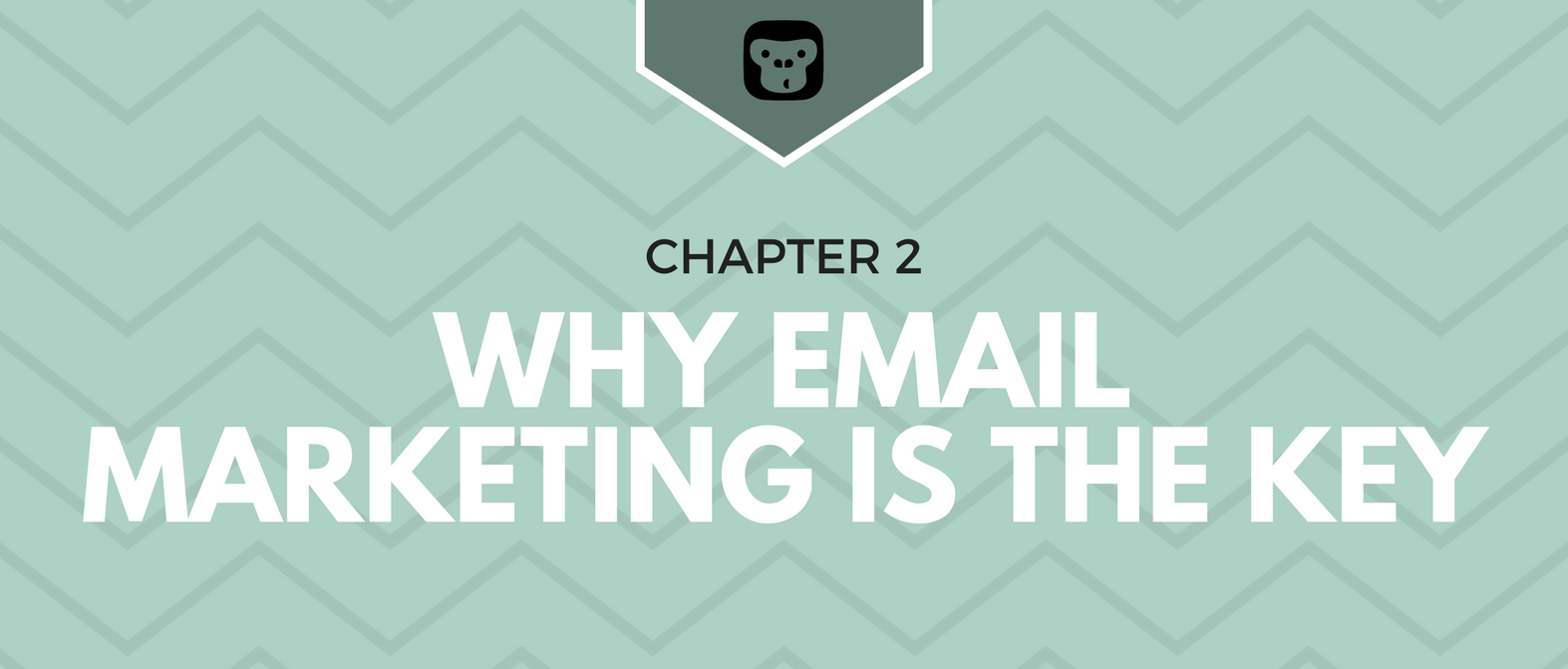 Most people who visit your website are new visitors who will never return…
Unless you do something to keep them coming back.
Building an email list helps you avoid this common problem and retain a greater amount of the traffic you worked so hard to get to your website.
You see, your email list and campaigns drive repeat traffic back to your website by providing subscribers with an incentive to return (either through discount offers, valuable content, new services, etc.) and directly communicating those incentives on a regular basis.
In other words, if your small business hasn't taken the time to adopt email marketing, then you're leaving money on the table.
Here are five reasons you need to build your email list.
1. Email Outperforms Social Media for Selling Online
As you know, Social media is the place to be for distributing your content and marketing messages.
However, this study points out that email marketing is 40 times more effective than Facebook and Twitter when it comes to making a sale.
The reason why email is so much more efficient at driving traffic and generating sales is that you're taking the conversation about your company and services to your customer's most personal digital space: their inbox.
You see, while platforms like Facebook and Twitter are great for free content distribution and engaging your community, they're also crowded.
Plus, your audience may not be on them when you post an update.
Your emails, however, are there waiting for them when they open their inbox.
2. The SEO Landscape is Constantly Changing
The truth is, climbing the search rankings on Google is getting harder and harder.
A lot of the tried and true SEO strategies that have been used in the past to earn higher keyword rankings are being devalued by Google.
This has put many businesses that have used these techniques (low-quality content, keyword-based anchor text, paid links, etc.) in the famous Google penalty box, and many more businesses in a state of constant fear they may lose their ranking in the future.
Most of the SEO strategies still working well (like Content Marketing) take time before desired rankings are achieved, leaving many small businesses with only one option to get on the first page quickly: Paid Search.
This is why smart business owners are investing in Paid Search and Paid Social to grow their email lists.
This way, instead of getting a one-time click from search, they are opening the door to future communications with their target audience.
One where you don't have to rely on a third-party platform or worry about getting penalized.
3. Email is Content Marketing's Trusty Sidekick
Content Marketing is a strategic marketing tactic where you create and distribute relevant content your audience finds valuable.
This is why collecting email addresses from people visiting your website is so-so-sooo important.
It gives you a way to keep in touch, gently guides your audience through your Conversion Funnel, and ensures that all the time and money you've spent on Content Marketing results in more than just a one-time visit to your website.
4. Email Marketing Drives Traffic and Sales
With the ability to communicate your message to targeted segments of your email list, you can leverage email to reach your customers in a wide variety of ways.
Here are a few ideas to get the ball rolling:
Newsletters provide your subscribers with the latest information on new services and updates to your small business.
Drip campaigns are a series of emails sent at strategic times with the goal of engaging and educating potential customers over time until they book a service.
Special occasion emails for seasonal, birthdays, and other personal events.
Abandoned booking form reminders ensure customers complete the booking process.
Reward your best customers with exclusive discounts.
Re-engage former customers who have not booked a service in a while.
Collect feedback and encourage testimonials from customers.
Trigger campaigns to send specific emails when subscribers take a specific action.
As you can see, email marketing allows you to engage with your customers in a better way and as a result, generate sales and drive traffic to your website.
5. Email is a Relationship Building Tool
While Social Media and Paid Search are great channels to get discovered by future customers, Email Marketing is the best way to foster and strengthen that relationship over time.
You see, online consumers prefer to buy new products from brands they are familiar with.
This shouldn't shock you if you've purchased anything online before.
You're much more likely to purchase from brands and companies you've formed a relationship with.
3. Establish Your Email Marketing Goals