Review Generation Secrets
Learn how Finishline Pest Control generated over 497 new customer reviews (and how you can too)!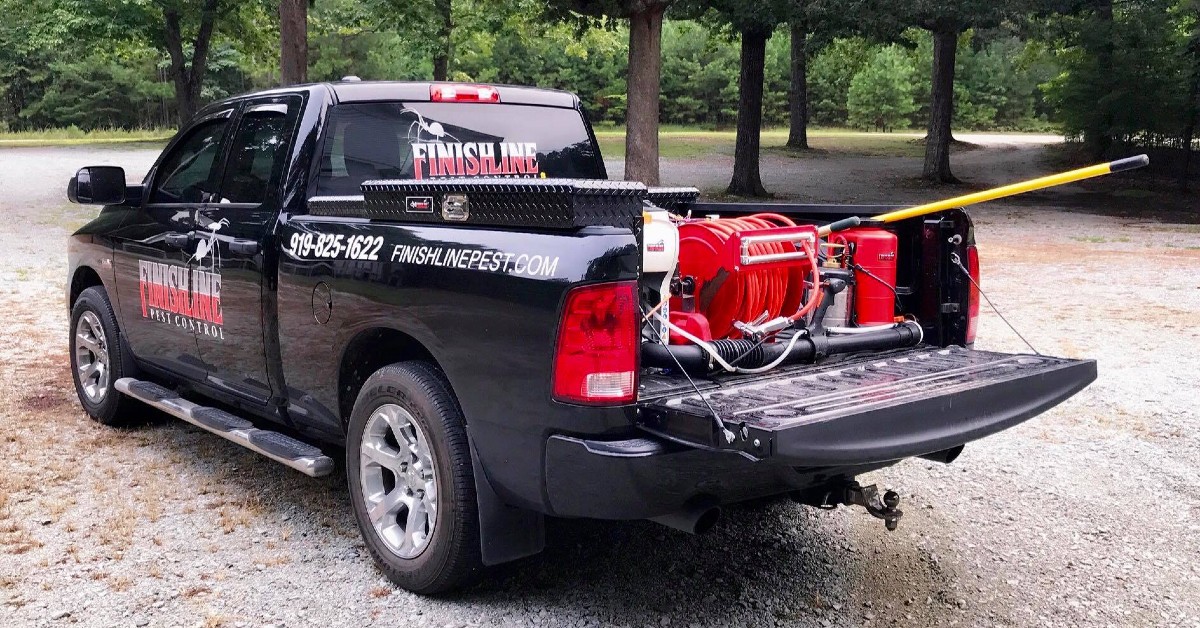 Whether you like it or not, people are going to look at your online reviews before they do business with you.
Think about it.
When you're looking to try a new restaurant or find a service, what do you do?
You might get a recommendation from friends or family, but you probably also do a "near me" search in Google.
After doing this, you might check out everything that's on offer, but ultimately many end up spending money with the business that has the highest rating.
The pest control industry is no different, and if you have a competitor that has more positive reviews than you, there's a good chance you're missing out on a good chunk of change.
Of course, generating reviews isn't easy, and many service businesses find it difficult to generate reviews, even if they provide an excellent service.  
Fortunately, we've found a way to crack this problem. That's because, after months of testing, we've created a process that'll help you generate tons of reviews, on autopilot.
In this post, we're going to breakdown this process, and highlight how this method allowed a pest control company to generate over 70+ reviews, with minimal effort. Use the tips below, and you'll have the knowledge you need to become the highest-rated pest control business in your local area.  
Let's begin!
Why Customer Reviews Are Important For Your Field Service Business
As a local service business, reviews are your lifeblood.
Before someone spends money with you, they're going to read reviews online to learn about the experiences of past customers. If they read good things, they'll probably spend money with you. If they read bad things, they'll most likely spend their money with one of your  competitors.
So it's clear that reviews have a massive influence on whether or not someone wants to to do business with you.
However, that's not the only reason you should attempt to attract a lot of positive reviews.
It's also worth noting that reviews help people FIND your field service business in search engines.  
Research by SEO giant Moz, shows online reviews are the second most important factor when it comes to dominating local search rankings.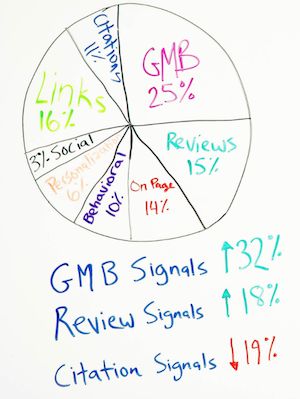 Thus, collecting reviews isn't just about showing people you can provide them with great service. A high number of positive reviews can actually encourage Google to put your business in front of people that want to spend money with you.
This then amounts to a 'positive cycle.'
Positive reviews mean more people find your business via Google.  A greater number of people will then spend money with you because you have positive reviews, and this, in turn, leads to more positive reviews, which leads to greater exposure, and so on and so on.
Therefore, if you can figure out how to build a process that generates reviews, it's not hard to see how you can quickly rack up a huge number of positive reviews.
With that being said, we've built such a process.
If you read the next section, you'll learn exactly how this process works and how it allowed one of our dear pest control companies gather a huge number of reviews in a short amount of time. 
How Finishline Pest Control Generated Over 497 New Customer Reviews.
Finishline Pest Control is a company located in North Carolina.
It was founded by Josh Wilson, who after 15 years working for one of the nation's largest and most highly regarded pest control companies, ventured out to start his own firm.
Being a progressive pest control owner/operator, Josh understands and appreciates the importance of leveraging  technology to make his company more effective.
GorillaDesk has a full review generation feature.  
Josh was one of the first to give it a spin, and he followed the step-by-step process (covered later in the post) and managed to get the feature up and running in no time.
As recommended, he attached the feedback short code to the invoices he was sending out. This allowed Josh to set things up so customers were automatically asked to write a review after a service or job was completed.
Following this, it didn't take long before the review generation tool started to work its magic.
In the first three days, Finishline received six 5-star reviews. (Jumped from 18 to 24).
Here's the experience he shared.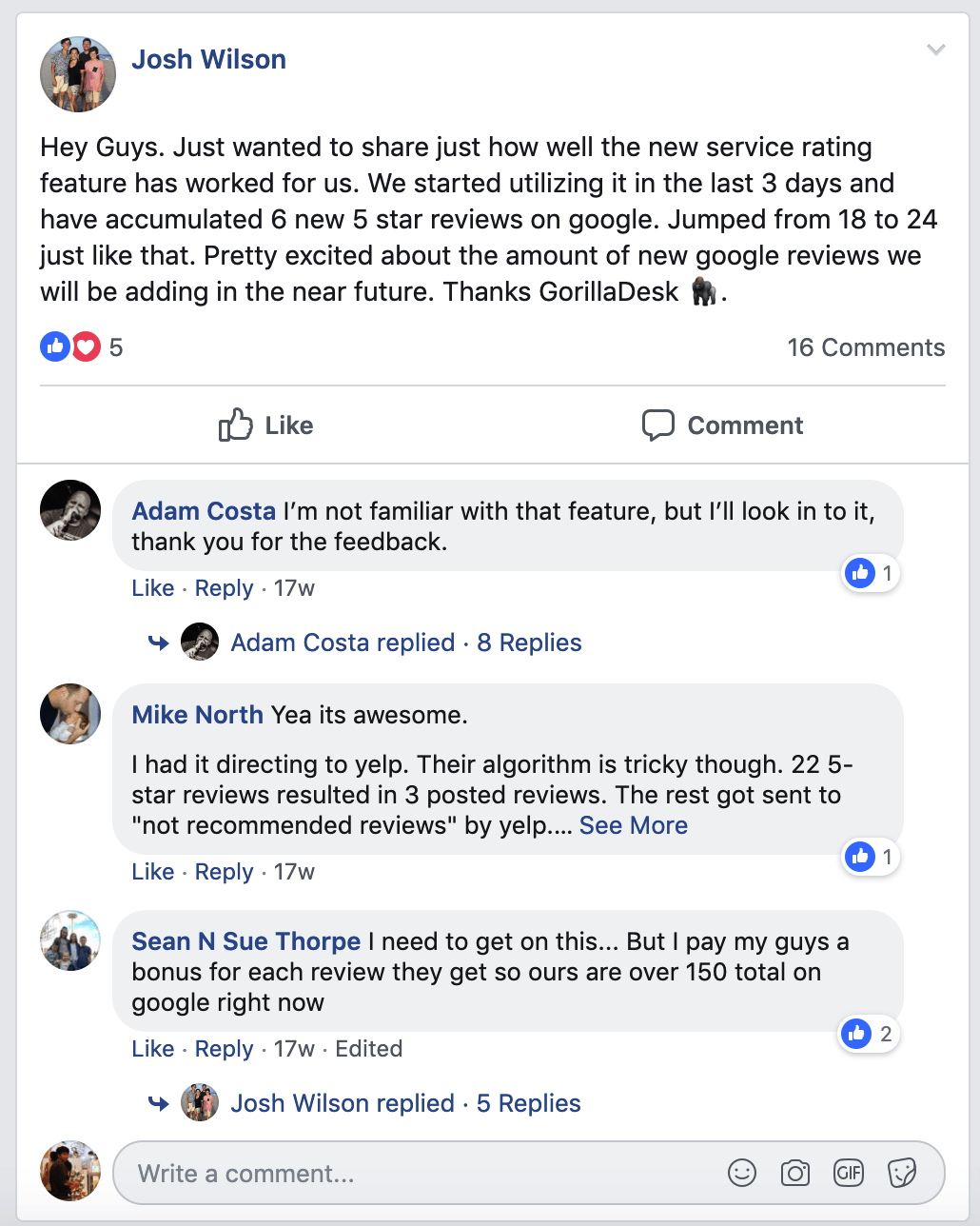 The feature continued to work its magic behind the scenes, and new customer reviews kept on rolling in.
The result?
Finishline's Google My Business review count reached 497.
From 16 to 497 Google My Business reviews
That's a 3006% growth!
Here's a quick screenshot of a Facebook post by Chris,  the founder of GorillaDesk.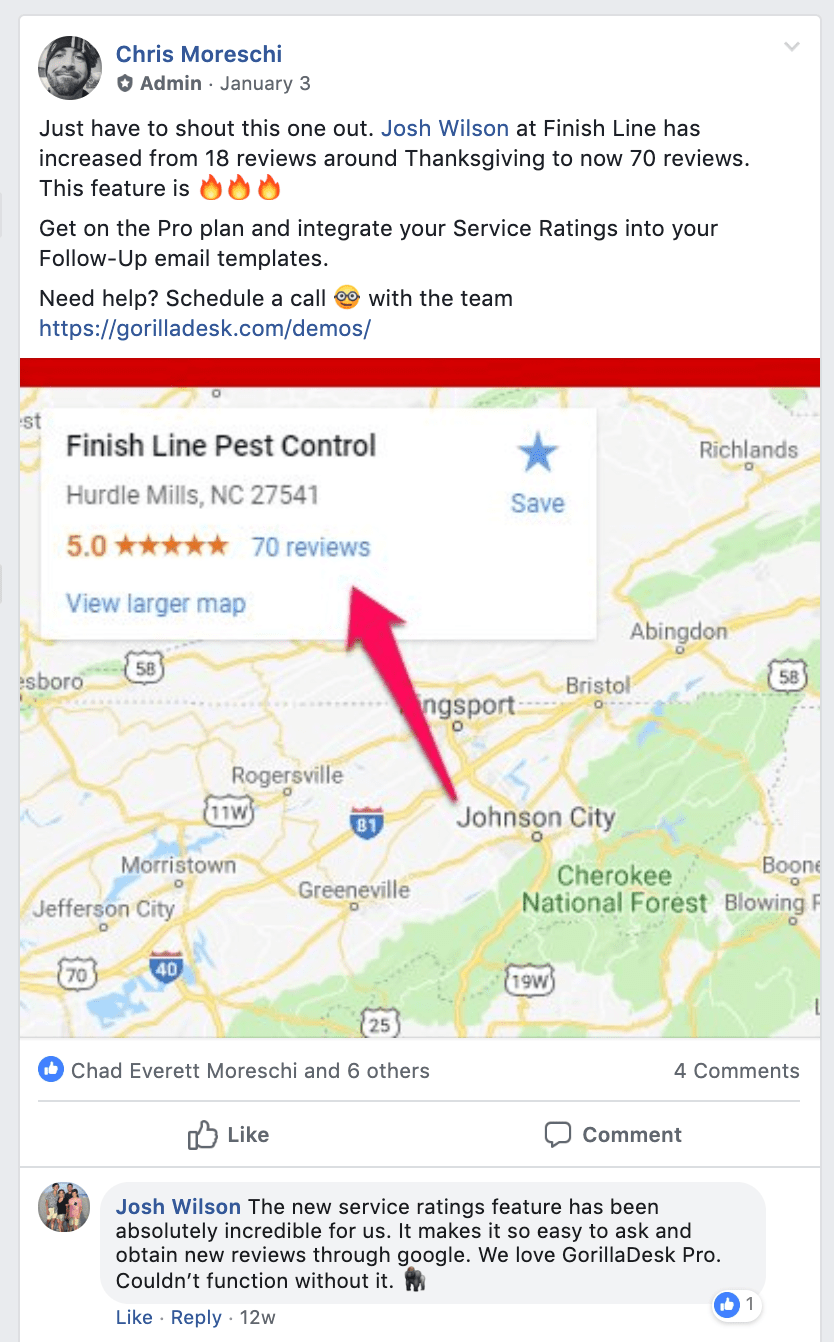 It was posted on Facebook, and it tells the story of how Finishline managed to gather so many reviews in such a short time frame.  
The reviews continued to pour in, Finishline crossed the 497 reviews mark.
From 16 reviews to 497 reviews, that's a 3006% growth.
Josh no longer has to manually reach out to customers, asking them to leave a review. Now, he has an automated process working for him 24/7, allowing him to gather reviews on autopilot.
The best part?
The team set this process up in under half an hour.  
Thus, if you're looking for a way to generate more reviews, and you want to make things easier on yourself, the method described above is something you should consider. To get started:
How to Get Customers to Write Reviews for Your Pest Control Business
So, how do you get your customers to write glowing reviews?
After all, Josh may have set up a process that requested reviews – but why did people actually leave a review when prompted to do so?
Well, it comes down to the fact that customers are usually more than happy to leave a review when asked to do so. A recent local business survey found that, of the 74% of customers who were asked to provide feedback, 68% were willing to do it.
So don't be intimidated by the prospect of asking your customers for a favor – because all you have to do is ask, and they'll be happy to help you out.
Of course, asking for reviews won't automatically lead to an influx of positive ratings.
That's because before you ask anyone to comment on your service,  you first need to make sure you….
Provide a stellar experience.
No strategy, process or tool will work if you provide a low-quality service.
Of course, if you're confident about the quality of your service, the next step is to reach out to past customers, and request that they review your business.
So, how do you do that?
Well, you could do this by manually reaching out to all the customers you've dealt with in the past, and letting them know where and how they can review your business.
The other option, though, is to use GorillaDesk to automate the process so that you can leverage a 'set and forget' approach.
Let's take a look at how you can get that done.
Step-1: Add the "share your feedback" option in the invoices you send to your customer after every service.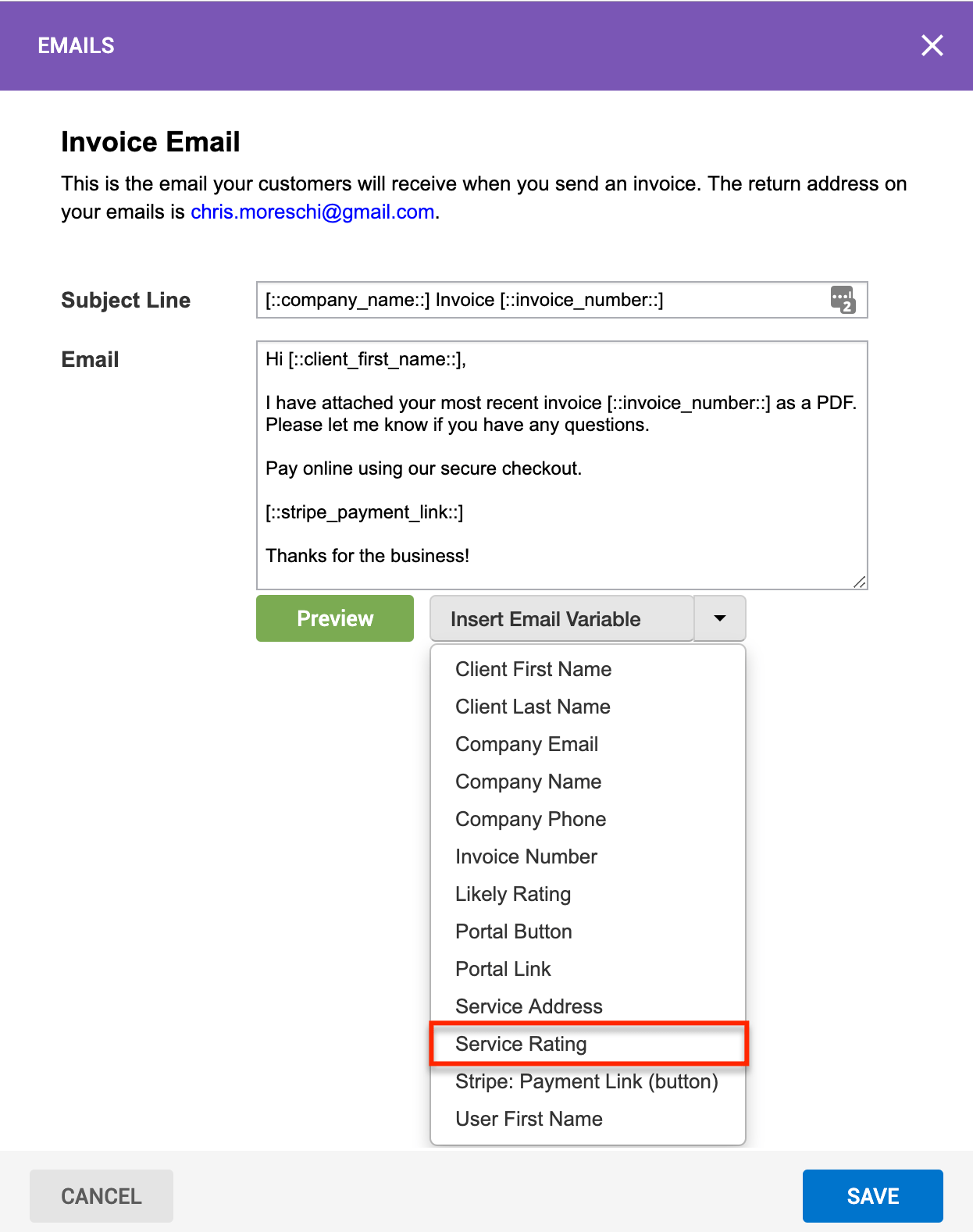 Step-2: Once you add the "share your feedback" option, here's what an invoice looks like: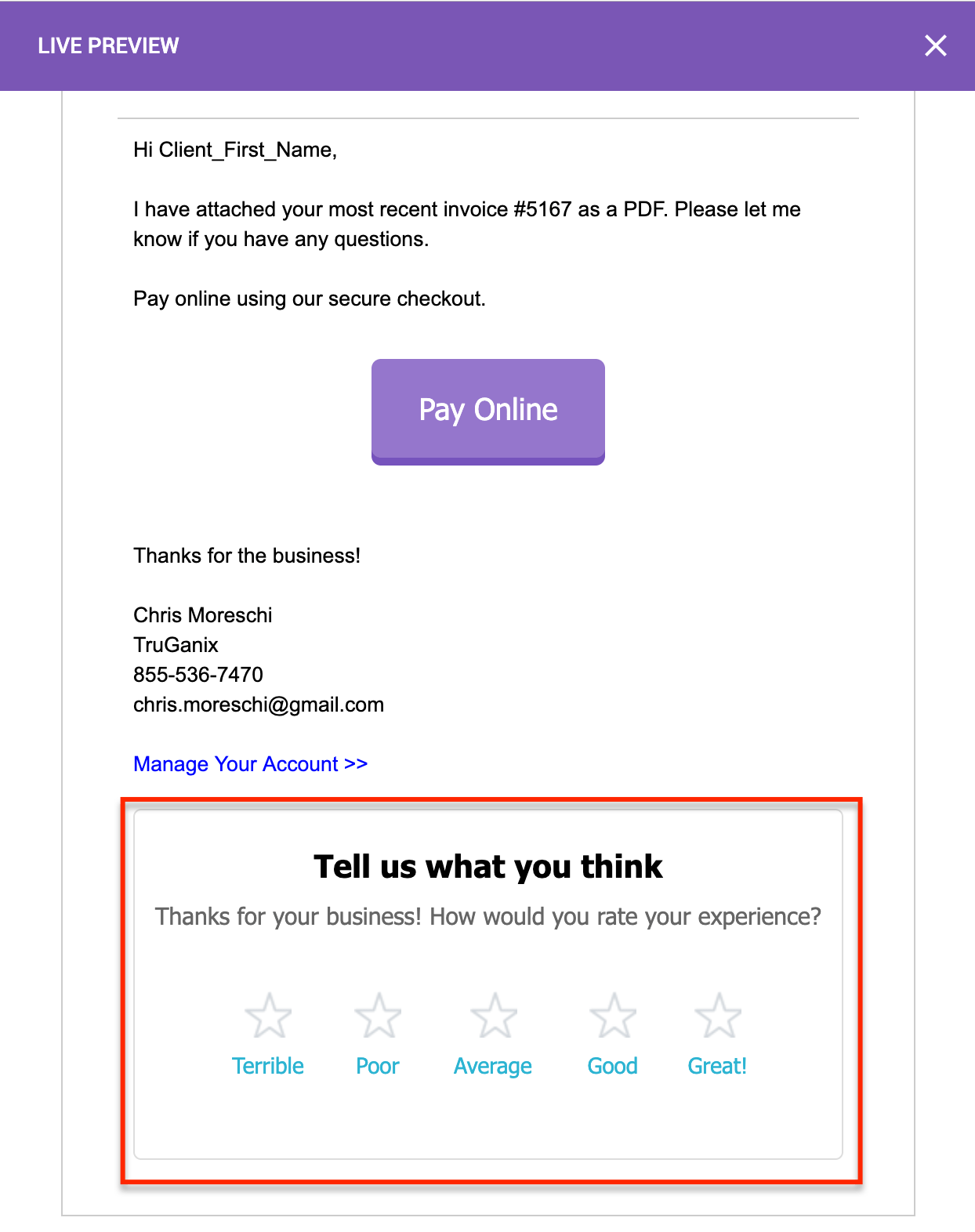 Step-3: Set up the flow to automatically send out an invoice as soon as you mark a job or service as completed.
Step-4: As soon as a customer rates her experience (be it one star or five stars); redirect them to your Google My Business listing where they can add a review.
Step-5: Set up a follow up email for those who don't share the feedback or rate the service in the first attempt.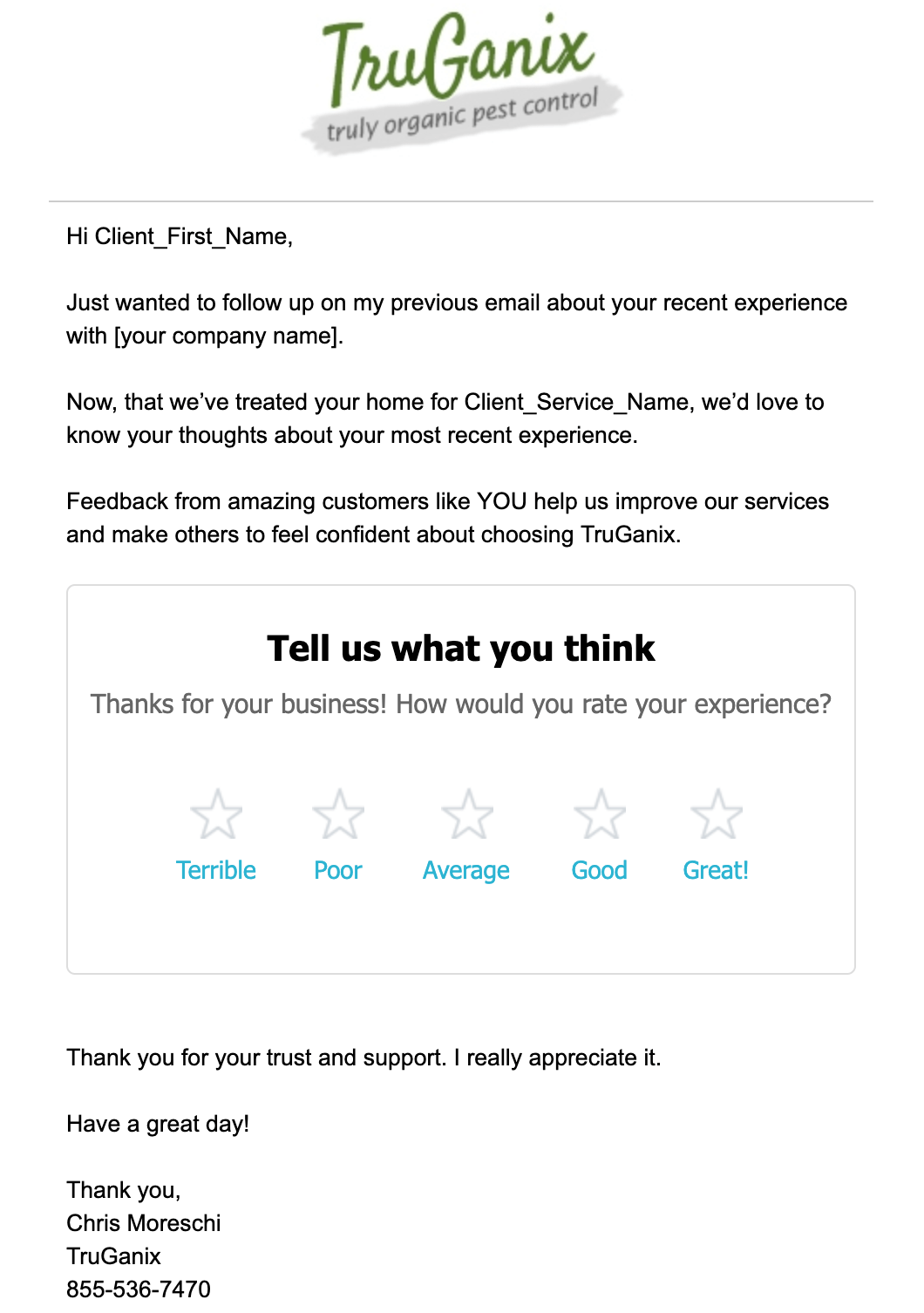 That's it!
Set things up and it won't be long before new customer reviews start coming in.  
Will Reviews Help You Make The Phone Ring?
After reading this post, you should understand the importance of reviews, and how gathering reviews will boost your bottom line.
It's up to you whether you choose to do things manually, or if you decide to use an automated process like the one offered by GorillaDesk. The automated option is probably the best route for many, as it maximizes your odds of success and allows you to take a hands-off approach.
Either way, the most important thing is that you make it a priority to start collecting reviews and that you begin the process as soon as possible.  
To begin with, a few five-star reviews here or there will do little to impact the growth of your pest control business.
But, if you focus on collecting a large number of positive reviews, over an extended period, you'll eventually find yourself with more clients than you can handle.
If you are still unsure about whether or not it will work for you? Don't worry! We want you to be 100% confident before you commit anything. To see how our review generation feature can change the way you accumulate new reviews:
I can't wait to see your field service business becoming the next success story. Go, crush it.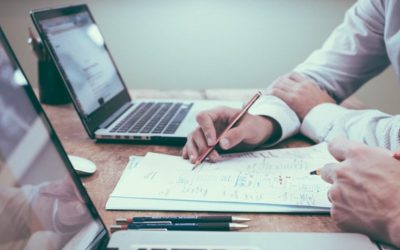 In this post, you'll learn how to become a highly effective leader who can easily review, fairly terminate, and consistently motivate employees.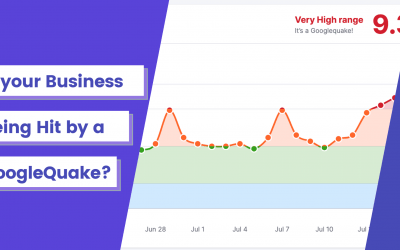 Is your service business facing GoogleQuake tremors? Unravel the Google ranking algorithm's history, assess your site's status, and reclaim your online presence.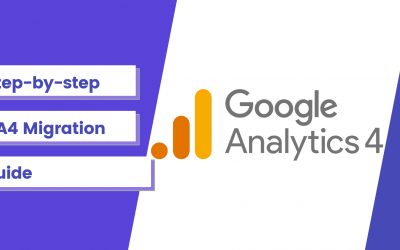 Upgrade your field service business with GA4! Learn why migrating from Universal Analytics is crucial and follow our simple step-by-step guide for a seamless transition. Don't miss out!
Try it free for 14 days. No credit card required. Instant setup.
We will be customers for life
"I can not say enough good things about GorillaDesk it saves us so much time and money. The customer service is the best. I would recommend GorillaDesk to anyone no matter what industry. I trained my employee in 5 minutes on how to use it. We will be customers for life."

Ready to Get Started?
Get all our amazing features and top-rated support, with no credit card required.